I remember the first time I ever used Airbnb. It was a studio in the 18th arrondissement of Paris, with a slice of the Sacre Coeur visible from the window. I'd rented it for a month from a woman roughly my age, and it was her first time being a host. As she handed over the keys, I could sense we both felt the same thing: relief that, so far, this strange transaction—brokered by a San Francisco startup that had only launched in France the year before—was actually going okay. The whole process had a charming, homespun quality that I remember fondly.
In the years that followed that moment, in 2013, I used Airbnb a lot. For two years, lacking a permanent address, I more or less lived out of spare rooms from Berlin to Ho Chi Minh City to Cape Town. And in that same period, Airbnb grew from a scrappy, idealistic startup to a global behemoth valued at $30 billion—more than Hilton and Hyatt combined—and all without owning a single room to rent.
No success story is without its bumps, and Airbnb has gone through a particularly rocky phase of late. Its recent problems go beyond the quality control pitfalls of a business in the sharing economy—negligent hosts, the occasional bed bug infestation, or, more chillingly, hidden web cams. The headlines the company is most worried about these days are of another type entirely: gentrification, urban housing crises, racial discrimination, and the thorny ethical question of whether it's okay to skirt local laws for cheaper accommodation.
Personally, I've found that as Airbnb, the whimsical website you can use to to "belong anywhere," has become Airbnb, the multinational travel company accused of raising housing prices and ruining once-beloved parts of some cities, it's hard to feel as warm and fuzzy about the proposition as I did that day in the 18th arrondissement.
Where once I was nervous about whether or not the linens would be clean (all but once, they were), these days I often struggle to find listings that aren't of the "airspace" variety. First described by Kyle Chayka in The Verge, this refers to the global creep of aesthetic gentrification where every listed apartment from Mexico to Malta bears the aesthetic of Williamsburg, Brooklyn, rather than the local culture where it's based. When booking a recent trip, I found that the "Homes" section of the interface was buried behind new offerings like paid "Experiences" and featured destinations I had no interest in going to. I ended up booking a boutique hotel at a similar price point.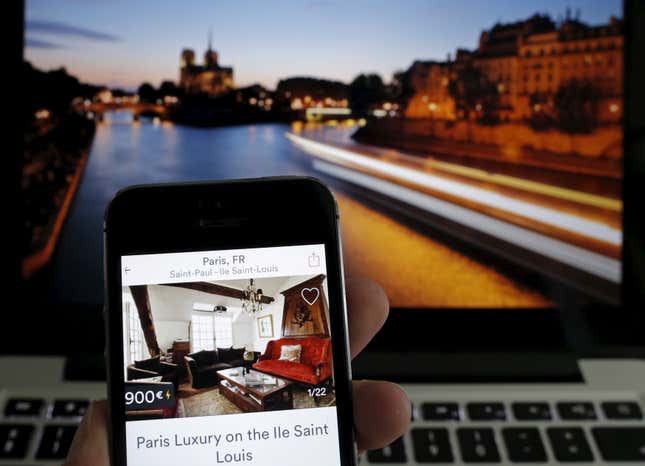 The idea of a "global community" that sounded so great when the company was founded in 2008 might be wearing off for some of the company's employees, according to a recent report from the Information. The cost-cutting measure of firing 50 full-time employees and 100 contractors involved in the company's much-loved food service operation—which was often described to new hires as emblematic of the company's "be a host" value system—prompted an outcry among company employees.
As a non-listed company, Airbnb's financials are not public, so anything citing their earnings is, at least in part, conjecture. That said, sources told the Information that while the company had met its growth goals for the year, "Airbnb saw a slowdown in the number of 'nights booked' earlier this year" and employee surveys reflected a "downturn in morale." A recent report from Morgan Stanley also noted that the company's growth had plateaued, despite profitability. (The report only surveyed users in the US and Europe, not the fast-growing markets of Latin America and China.)
While internal company politics and financials don't necessarily mirror public perception—the company's recent financials were strong, at least according to "sources familiar"—it's fair to say that the global community that Airbnb treats as a main value proposition is imperiled in general these days. In the past twelve months, Airbnb founder Brian Chesky has been forced to wade into highly politicized issues ranging from white supremacy to refugee rights. While the company's generally progressive stance in these areas may have pleased most of its core millennial demographic, the fact remains: This is no longer a boutique travel company providing DIY authentic experiences. It's a major economic and political force. With that that comes a lot of complexity that's hard to conceal with slick branding.
It isn't just a macro shift in our politics that has complicated Airbnb's brand; there's an actual, quantifiable backlash, too. The company has been blamed for everything from declining populations in central Paris to putting immigrant enclaves like Berlin's Neukölln and Kreuzberg on the fast track to unchecked gentrification through the rise of "Airbnb clusters." The Hotel Association of New York City recently put out an ad connecting the company with the disgraced Donald Trump campaign manager Paul Manafort, who's been accused of putting his New York City condo on Airbnb as part of a money laundering scheme. There have been crackdowns ranging in severity in Paris, London, Berlin, Barcelona, New York, Amsterdam, and San Francisco, to name a few. The city of Santa Monica, in West Los Angeles, has gone after the company particularly hard.
While the locally-imposed rules and regulations affect hosts by imposing, for example, limits on the maximum days one can rent per year, they are increasingly seeping into guests' experiences too. There have been reports of listings which ask guests to keep quiet about the fact that they are using Airbnb. This is in some cases to avoid detection from local officials, but perhaps more damning, the ire of fellow building tenants who are tired of transient arrivals, too. While it's nice to help a local pay their rent while I'm traveling, it feels more complicated when the local residents whose lives I'm trying to emulate clearly don't want me there.
It's important to note that, while the backlash has has appeared definitive in the headlines, the data that supports the claim that Airbnb has an adverse effect on the housing crisis is not as black and white. There are a bevy of factors that contribute to increases in rents, which vary widely by city and country. Much of the research done showing Airbnb has an adverse effect on the housing or rental market (or no effect at all), is either funded by groups who have a vested interest in their outcome—such as affordable housing advocacy groups, or the company itself—or met with skepticism due to the scope of their data.
According to Andy Cunningham, a veteran Silicon Valley marketing and brand strategist, the reason my feelings have changed about this brand I once loved is at least in part because they failed to update their narrative.
"Airbnb developed a really great brand strategy early on when they were able to gain a foothold. It was so great that they don't know how to evolve it as the world changes around them," Cunningham told me. "When you are one of the forces that is changing the world, like Airbnb, you have an even bigger responsibility to adjust your narrative going forward. Instead, they keep introducing new products, without shifting the narrative of how that connects to the company at all."
A year since launching the "Trips" part of the platform—which includes Experiences, which the company recently announced has "grown by 20x since January 2017, with guests paying an average of $55 per booking"—users can now use Airbnb not just to find a place to stay, but also what they should do when they get there and where they should make a dinner reservation, too. It's worth noting that, in the early days of the platform, these are all things I used to ask my host about, for free. But with its co-hosting feature, Airbnb even offers hosts a way to circumvent what was once the whole appeal—interacting with their guests—by paying for someone to do it for them.
In a sense, the whole platform has started to feel less like a tool to plan the kind of trip I want to have, and more like a travel company that wants to plan my entire trip for me—and make money off it at every step in the process.
Is it possible to have the kind of spontaneous, Rioja-sipping evening with a mandolin-playing bohemian that I've had in the past while using Airbnb? Sure. Does Airbnb still offer benefits over a hotel that mean I will probably use it again? Absolutely. But as Airbnb has grown, so too has my sense that maybe I should just get a hotel, book a trendy hostel, or stay with friends.
It's a hard thing to measure—and maybe, at this point, the company doesn't even care—but for me, the romance is gone.