A raccoon, a cat, two foxes and a pair of amiable aliens are in a heated race to win the hearts of Japanese kids. Surrounded by cheering students at a Dec. 7 media event at the Kakezuka Elementary School in Tokyo, organizers of Tokyo's 2020 Olympic summer games unveiled three sets of finalists for the Olympics and Paralympics mascots. They also announced that for the first time in Olympic history, the host country's children will make the final choice.
"We decided to encourage children to participate in the preparations for the Tokyo 2020 Games by having them select the mascots, as our children represent a future that Tokyo 2020 wants to embody through the Games," said Ryohei Miyata, commissioner for cultural affairs and chair of the mascot selection committee. "We hope that many schools and classes will take this opportunity to help shape the Games."
Students in registered elementary schools and Japanese international schools are eligible to vote. More than 4,000 primary schools across Japan have signed so far, reports Japan Times.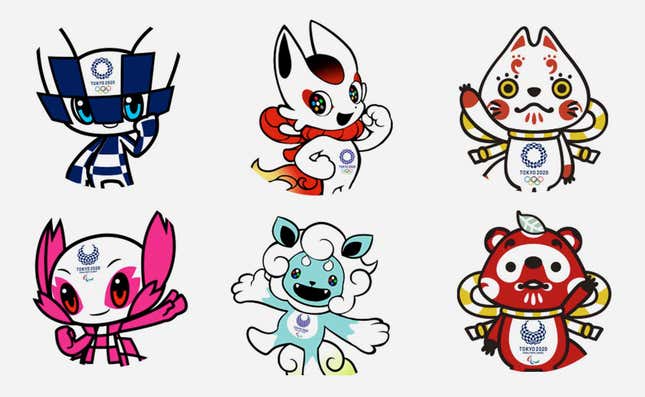 It makes sense to poll Japan's 6.5 million school kids—the target audience for the adorable ambassadors. The ambassador program began almost five decades ago with Schuss, a squiggly skier for the 1968 winter games in Grenoble, France. It was made into small toys and souvenir pins but never appeared as the kind of formalized, plush, life-size mascot we know today. The first official Olympic mascot was Waldi, a pert dachshund for the 1972 Munich Olympics.
While the mascot selection process is certainly about having fun, it also serves as early education in critiquing design for young Japanese students. To guide kids, the organizing committee has set up a special website that reads very much like a design brief. The ideal mascot must be unique-looking, genial, social media-ready, good at "laughing and crying with spectators" and must "make the athletes smile." Aside from greeting sports fans, the mascots will appear on promotional materials, websites and millions of pieces of licensed Olympic swag.
The Japanese have a discerning eye for mascots. Called "yuru-chara," government agencies, businesses, and tourism boards regularly deploy the cute characters to deliver messages to the public. A "grand prix" of regional mascots is even held every year to crown the country's most effective plush ambassador.
Although the Tokyo 2020 committee emphasized that only the opinion of school children will count, many adults couldn't help but express their two cents about the mascots on social media.
The Tokyo games organizing committee hasn't had the best luck with design competitions. They scrapped the original stadium design by the late Zaha Hadid and had to redo their official logo after allegations of plagiarism. Hopefully, the school-organized design referendums will go smoother.
The winning mascot will be unveiled on February 28. Its name will be determined by adults in the organizing committee.