Forget about pacing yourself. The sublime Netflix series Kantaro: The Sweet Tooth Salaryman is best consumed in one or two sittings.
Adapted from the popular manga serial Saboriman Ametani Kantarou, the show follows the comic adventures of Kantaro, an IT guy turned book sales rep and his quest to sample all the best desserts of Tokyo. Kantaro's sweet addiction motivates him to accomplish the day's tasks at a record pace to leave himself enough time to sit down and savor each dessert without anyone suspecting. Because taking such indulgent breaks is apparently forbidden in Japan, Kantaro's detours must remain a secret. He writes a confession via a restaurant review on his blog called "Sweets Knight." It's a 12-episode morality play about the necessity of small, daily luxuries—especially in the middle of a stressful work day.
For those uninitiated in Japanese TV shows, Kantaro may feel like an odd concoction: salaryman politics, office romances, zen philosophy, Tokyo travel guide, fantastical reveries topped with salacious food porn segments. The lead character played by kabuki actor Matsuya Onoe may seem too robotic and unsympathetic, at first.
But stay with it, and stay with the subtitles.
Each episode is named after a Japanese dessert and features a real life Tokyo restaurant that serves its highest expression. (Foodies, take note.) Within a few episodes, Kantaro's basic formula becomes apparent: A sales call in a part of Tokyo, a local dessert shop, a wacky, hyperbolic daydream and a reckoning with an authoritarian figure. The climactic encounter with each dessert is introduced with a brief critique of the establishment's interior decor—asserting that good design makes food taste better.
"When they all mix in perfection in your mouth, our face will surely turn to heaven," says Kantaro's love interest savoring the gloriously syrupy savarin cake in the "relaxing" French-themed Yokohama patisserie, Café Recherche.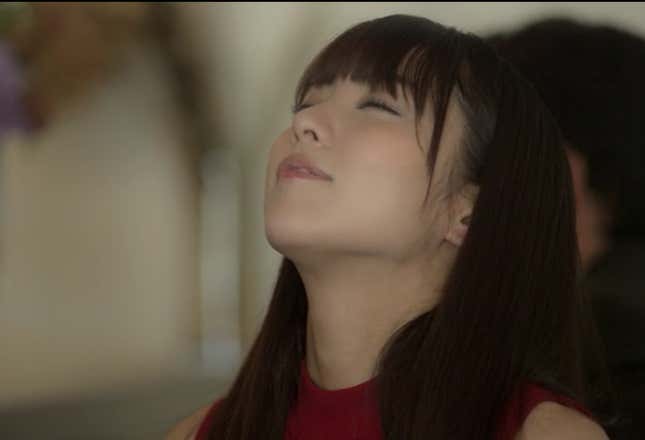 The series offers plenty of aphorisms about modern life: "If you do your job properly, you can play hookey properly," Kantaro advises an underperforming colleague. "It's important to be kind and sweet to yourself sometimes too," he says to his fitness obsessed arch nemesis to coax him inside Tokyo's bean-to-bar chocolate shop, Minimal.
At times, Kantaro turns dark and uncomfortably sensual. Describing a revealing episode centered around Kantaro's mom, blogger PDX Food Dude, "It's so perfectly wrong, everyone in my living room was shrieking, cringing and laughing all at the same time…Watch it with friends, and keep a pile of desserts on hand."
Kantaro is a caloric, heady, high-caliber farce worth binging on.