Traveling by plane is remarkably safe. Last year, just 2 out of 35 million flights flown were involved in accidents that caused fatalities, according to aviation consultancy To70.
That's a fatal-accident rate of 0.000006%, or odds of one out of 17.5 million, for the year. To70 told The Independent that this is a historic low.
Here's To70's data for air-travel accidents over the last 17 years, published as part of its annual civil aviation safety report: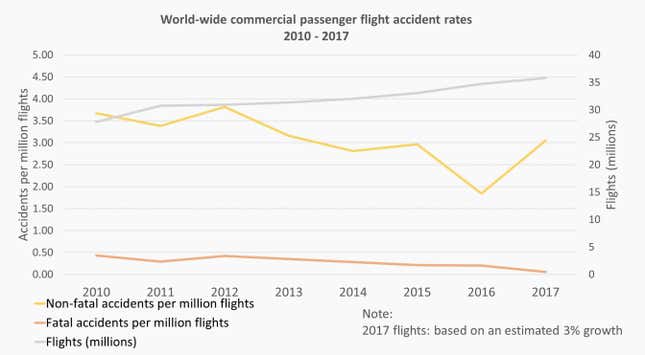 The two flights last year that had fatal accidents caused 13 deaths. They were crashes in Angola and Russia on planes operated by regional airlines. While the number of accidents involving fatalities was minuscule, the total number of accidents involving civil aircraft was slightly up. There were 111 accidents in 2017, compared to 71 in 2016.
The reason for last year's record low in aviation fatalities? Probably luck, a senior aviation consultant at To70 told The Independent. "It is unlikely that this historic low will be maintained; in part, these very positive figures rest on good fortune," he said.
The consultancy flags lithium ion batteries in personal electronics as a future source risk to safety on planes. While airlines have trained their crews to respond to potential fires in the cabin, making sure the batteries aren't checked in to the aircraft's baggage hold is the greater challenge, the consultancy said.
Correction: A previous version of this story said the fatal-accident rate in 2017 was 0.00000006%.