Germany's Birkenstock is known for its comfortable cork sandals, perennially revered by nature-loving, outdoorsy types as well as posh Los Angeles hippies.
American designer Rick Owens is known for malevolent-looking leather jackets, drop-crotch shorts, and out-there creativity. In his Los Angeles store, chairs in the fitting rooms are made to look like Owens himself, supine with his knees bent to his chest. It creates a seat out of his body, and you sit on the artificial Owens' rear end.
Improbably, these two brands are coming together. Owens is redoing three of Birkenstock's classic styles—the Arizona, Madrid, and Boston—in four different materials, army felt, suede, full-grain leather, and longhair pony. (It's actually calf or goat leather with the hair left on but shaved down to resemble a horse's hide.) Birkenstock and Owens are also releasing two styles of legwear. Update: A representative for Birkenstock says the collaborations will be available for pre-order starting April 2, and go on sale April 17.
So far Birkenstock has only shared images of the pony-hair sandals. But they are as dark and unusual as you would expect from Owens, who is one of fashion's reigning boundary pushers.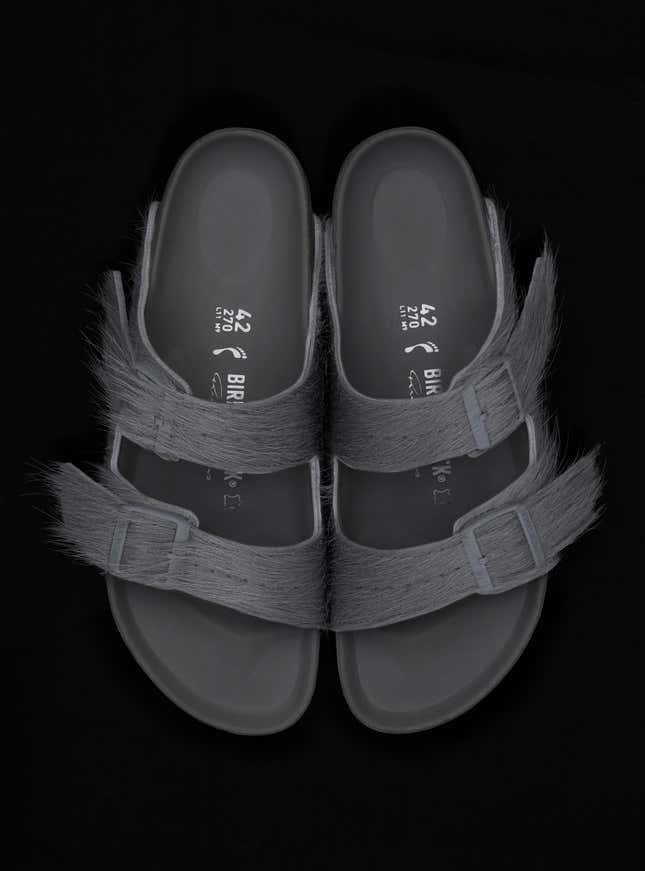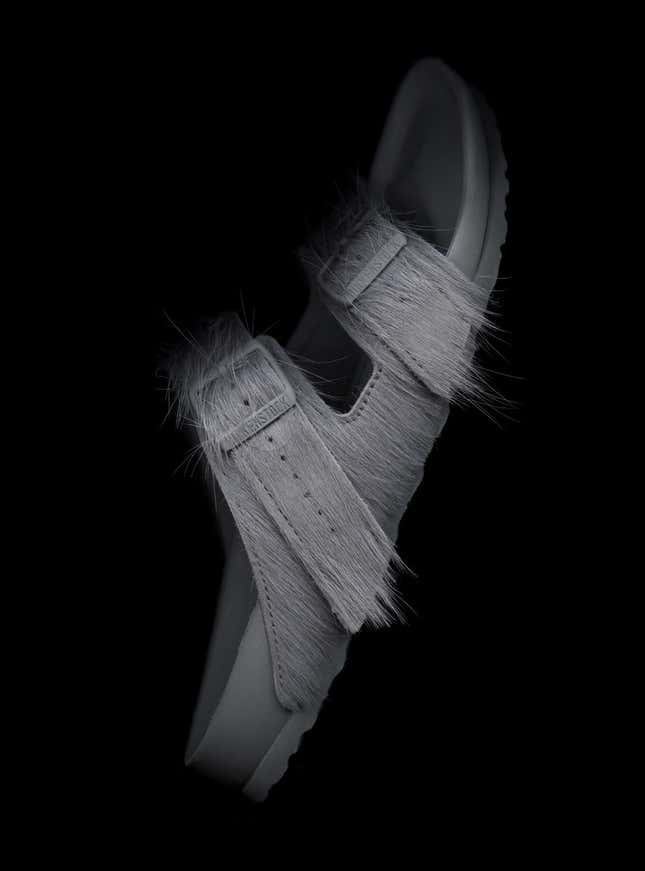 Birkenstock has been enjoying a renaissance in fashion circles for the past few years, its popularity buoyed by a taste for all things slightly ugly and ungainly. While the company has long sworn up and down that it would never chase fashion trends, it has been doing its share to capitalize on its current brand heat. In June 2017, it even held its first-ever show at Paris Fashion Week.
Not long after, it also launched a pop-up retail concept, called The Box, which is what the Rick Owens collaboration is tied to. It's a mobile freight container that the company sets up at different shops, intended to be "like a blank canvas" for its partners to fill in, CEO Oliver Reichert told Business of Fashion (paywall).
The Box debuted in summer 2017 at the luxe Berlin retailer Andreas Murkudis, and has since been making its way to other shops, such as Barneys New York, where it appeared during New York Fashion Week in September. The partnership with Barneys included some Birkenstock Arizona sandals, reinterpreted with a pink, furry footbed.
On April 18, The Box will station itself outside of Owens' Los Angeles store on La Brea Avenue (the one with the Owens chairs). The space will carry a limited selection of classic Birkenstock sandals, as well as an assortment of Rick Owens clothing, accessories, objects, and furniture.