One misconception about fashion designers is that they're all in the business of making beautiful clothes. But beauty, in the sense of design that is graceful and harmonious, that seeks to please the eye and strives toward the exalted and sublime—is not always the goal.
"Nothing is so boring as something beautiful," the designer Dries Van Noten said in a 2012 interview. "I prefer ugly things, I prefer things which are surprising." He'll often start a collection by identifying colors he doesn't like, he explained, and then putting them to use.
Right now, ugliness is having a moment. The labels getting the most attention make clothes that are often deliberately gawky and ungainly, in a clamor of lurid or mismatched colors that knock about glaringly in an outfit.
The names pioneering the look include Gucci, which overloads its gangly garments with a riot of clashing details, as well as Balenciaga and Vetements, the two labels headed by designer Demna Gvasalia, who has used deliberately awkward proportions and downmarket fabrics to create a look that feels aggressively unglamorous.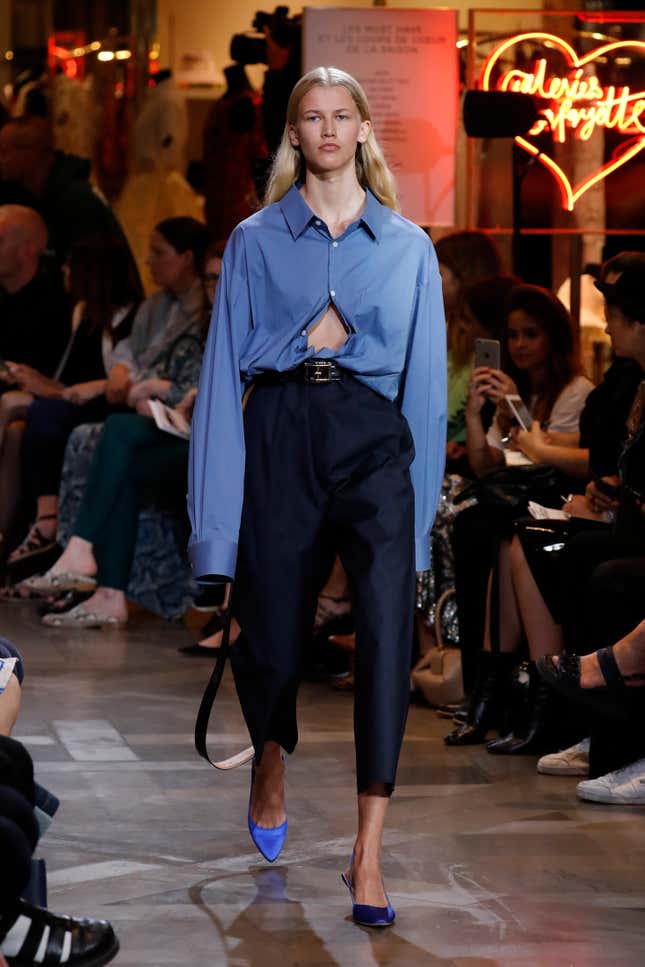 Many more are testing the limits of taste too. In his latest men's collection, Van Noten, a designer fully capable of making beautiful clothes, showed jackets that were intentionally "off," drab plaids mixed with chintzy florals reminiscent of old wallpaper, and weird square-toed shoes. Fashionable women have been seeking out ugly shoes and unflattering pants, and guys are on the hunt for garish, clunky sneakers.
The trend has been gathering momentum for some time—arguably since "normcore" rose to prominence. Normcore was an attitude—or perhaps just a giant in-joke—first given a name in 2014 that embraced flavorless, nondescript clothing.
What's most interesting about the recent trend is that its roots go much deeper. It reflects fashion's deep and longstanding attraction to ugliness and bad taste. As much as beauty, these have their own irresistible allure.
What "ugly" is, exactly, gets hard to define. It's a slippery concept, especially in fashion, where preferences shift as fast as what's trending on social media. But even speaking generally, it is hard to pin down, as design and cultural critic Stephen Bayley pointed out in his 2013 book, Ugly: The Aesthetics of Everything.
It's often just framed as the opposite of the beautiful, and while beauty has been scrutinized at length through history, ugly hasn't often received the same treatment. It also shifts along with cultural ideas, which themselves change with time. "I'm not much inclined to paddle in the pools of relativism," Bayley writes, "but the more you think about ugliness, the more you look at ugliness, the more elusive the idea becomes."
You could perhaps describe ugly as having qualities we know we're not supposed to like, in contrast with beauty's usual good manners and restraint. In that sense, it subverts the status quo, defined by the culture at large, which exerts its authority through notions of "good" and "bad" taste. One collection by the legendary Yves Saint Laurent that mashed together a variety of clashing patterns was featured in a 1971 Vogue story titled "Is Bad Taste a Bad Thing?" (Designer Anthony Vaccarello also played with bad taste in his debut outing as the brand's new creative director last year.)
Those supposedly undesirable qualities can exert a strong pull. In 18th-century France, for instance, a brief craze emerged for clothing in a color known as caca-dauphin, a shade of brown meant to resemble the excrement of the infant prince Louis-Joseph, son of King Louis XVI and Marie Antoinette. The historian Carolyn Purnell writes in her new book, The Sensational Past, that the wealthy wore it to demonstrate how fashionable they were, as well as their support for the monarchy.
Bayley's book recounts instances of ugliness in design and art history, such as Quentin Massy's portrait of Margaret of Austria from around 1513. Officially entitled An Old Woman, but known more commonly as The Ugly Duchess, the painting of the malformed lady is a hugely popular attraction at London's National Gallery and one of its most popular postcards, Bayley says.
The painting, he says, illustrates "the curious law that ugliness is by no means necessarily repugnant," a notion that offers up countless more modern examples. In France, there is the concept of the jolie-laide, a woman who is considered at once ugly and pretty, framing beauty as a complex spectrum rather than a binary.
To the list you can add harsh, domineering Brutalist architecture and the buildings of Le Corbusier—a man once described as ruining a century of cities—or the mass-manufactured kitsch that Andy Warhol fawned over. (He once wrote that the most beautiful thing in Tokyo, Stockholm, and Florence was McDonald's.)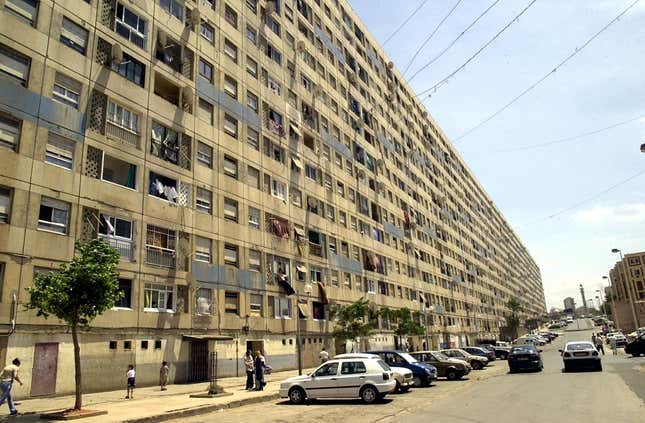 Very much in that vein is a lot of the clothing fashion insiders are currently flocking to, such as the monstrously bulky running-style sneakers that have become an improbable object of lust for a segment of style-conscious guys. This embrace of the traditionally unappealing has even become a way to communicate a level of insider knowledge about what's cool at the moment.
"The other day I saw a guy wearing a dad hat, a t-shirt with a flip phone graphic tucked into high-waisted, high-water black jeans, and some Raf Simons adidas Ozweegos," wrote Melvin Backman, a former Quartz writer, in a recent issue of his newsletter devoted to fashion writing. "In any other context, I'd say that the guy looked dumb. But I've read enough streetwear blog posts to know that he was killing it, and I hated myself for having that knowledge."
Part of the attraction is that these designs are anything but bland. At the very least, they are in no danger of being "basic," a pejorative in fashion that's avoided like a disease, as an editor at Marie Claire told Fashionista. For better or worse, ugly designs have character that can't be ignored.
Ugly offers other draws, too. "The investigation of ugliness is, to me, more interesting than the bourgeois idea of beauty," Miuccia Prada, probably fashion's most vocal proponent of the ugly, said in a 2013 interview. "And why? Because ugly is human. It touches the bad and the dirty side of people."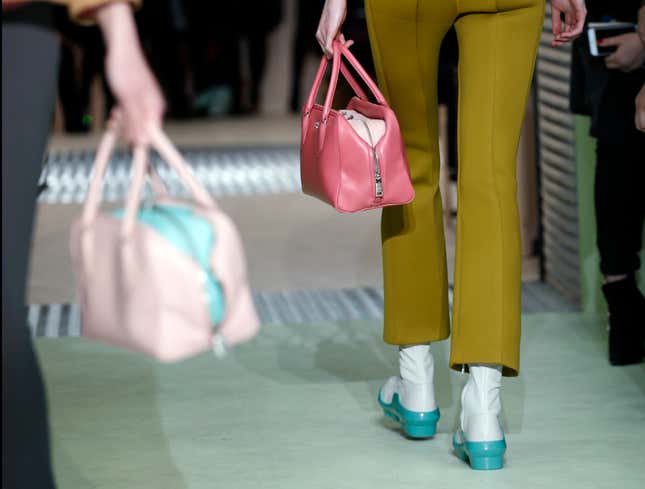 Gvasalia—of Balenciaga and Vetements—and his compatriots from the former Soviet Union, designer Gosha Rubchinskiy and stylist Lotta Volkova, are often dubbed "realists," deservedly or not (paywall), because of their embrace of odd fits, cheap-looking fabrics, and sometimes outright trashiness. A beautiful gown, by contrast, with its perfect lines and exquisite handwork, evokes a fantasy far removed from the messiness of human life. (It's worth noting that certain elements of the current trend, such as the odd-fitting pants many women are wearing, aren't easy for people of all body-types to wear, which calls into question just how relatable it always is.)
Cool as ugliness and so-called bad taste may be right now, they're clearly more than passing trends. They're a constant that turn up time and again, even in the work of those known for their ability to create genuine beauty.
It's probably not even fair to call ugliness the opposite of beauty at all. They're interrelated, each seductive in its own way.