Five women have accused the actor and filmmaker James Franco of "inappropriate or sexually exploitative" behavior while he was their acting teacher or mentor, the Los Angeles Times reported today. In addition to highlighting how cruelly difficult being a young actress can be, the accusations reveal how abuse in Hollywood takes many forms, including some that are disguised as "art."
Franco, who just won a Golden Globe for his performance in The Disaster Artist, has developed a reputation as a tireless actor who pursues his craft with a polarizing earnestness: Some find it off-putting, while others find it endearing. Between acting in mainstream movies and working on his own pet projects and intellectual pursuits, Franco taught acting classes in Hollywood and, in 2014, founded his own acting school, ostensibly to help other young actors pursue their dreams.
Though the LA Times notes that many of Franco's former students had positive experiences working under Franco, at least five alleged that the actor crossed a line and exploited young students' vulnerabilities.
One woman told the Times that Franco became angry and "stormed off" when no actress wanted to take their tops off for a scene inside a strip club. Another said during a "bonus" orgy scene on one of his films, Franco removed the plastic guards covering actresses' vaginas and continued to simulate oral sex on them without the barrier. Franco disputed all of the accusations through his attorney.
Actors, of all genders and sexual orientations, are always exposed and vulnerable. That's the nature of a profession that puts their bodies, faces, and emotions on display. But actresses have been exposed to the most abuse, and young actresses who haven't secured any clout are often treated as disposable. Last year, The OA writer-actress Brit Marling spoke of the "economic exile" that abusive Hollywood men could banish young actresses to.
"We had all internalized on some level the idea that if we were going to be cast we'd better sell what was desired—not our artistry, not our imaginations—but our bodies," she wrote in a piece for the Atlantic. "I quickly realized that a large portion of the town functioned inside a soft and sometimes literal trafficking or prostitution of young women (a commodity with an endless supply and an endless demand)."
Franco's accusers say this ugly reality was present in interactions with him. "I feel there was an abuse of power, and there was a culture of exploiting non-celebrity women, and a culture of women being replaceable," said Sarah Tither-Kaplan, who publicly called out Franco on Twitter following the actor's Globes win.
Franco claimed that he was reserving certain roles in his films specifically for his students, but they were almost always nude roles, one of his former students told the LA Times. She said she would receive mass email requests from Franco to play parts that required getting naked or performing sexual acts on screen. "He just took advantage of our eagerness to work and be a part of something bigger," Natalie Chmiel, a former student, told the LA Times.
Franco said the accusations are not accurate, but went on The Late Show with Stephen Colbert this week and partially accepted responsibility for them (video), pledging to do what it takes to "fix" them. (Tither-Kaplan said Franco had already reached out to her to apologize for making her feel uncomfortable.) Cynthia Huffman, one of Franco's attorneys and a casting director who worked on one of Franco's film sets, told the LA Times she personally checked on actresses to make sure they were okay. "I feel horrible that anyone was made to feel uncomfortable but we went to great lengths to make sure all the actresses in the nude scenes felt comfortable and safe," she said.
The picture of a passionate but disrespectful artist painted by Franco's accusers immediately brings to mind Tommy Wiseau, the earnest and manipulative director of The Room, whom Franco potrayed in The Disaster Artist, which he also directed. Wiseau reportedly once insisted on performing nude with an actress for the realism, then berated her appearance—an incident that was depicted as both disturbing and hilarious in Franco's film.
"Art" is often the argument for nudity, of course. There's an expectation that women must perform nude scenes before they're taken seriously in the film industry, like some kind of perverted rite of passage—while men can go their entire careers without being asked to show so much as a butt cheek.
All kinds of sketchy behavior by men towards women in Hollywood has long been rationalized as simply part of the process. Boundaries are pushed, and people become uncomfortable. It's an oft-quoted chestnut in the industry that director Alfred Hitchcock had real birds attack actress Tippi Hedren during the filming of The Birds to film her authentic fear and horror. (Decades later she revealed the sexual abuse he also subjected her to.)
Earlier this month, Meryl Streep divulged that Dustin Hoffman actually slapped her during filming of a scene on the Oscar-winning 1979 film Kramer vs. Kramer. (It was one of the first major roles for Streep, who was 29 at the time.) "It was overstepping," Streep told the New York Times.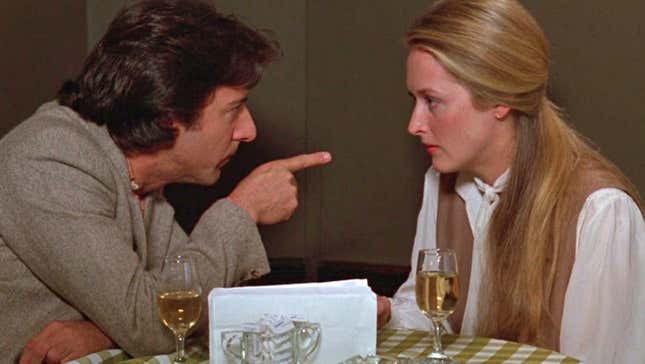 In one of the most egregious documented incidents, it emerged last year that Last Tango in Paris director Bernardo Bertolucci had admitted in an interview that he and actor Marlon Brando essentially conspired to rape the 19-year-old actress Maria Schneider on screen. They intentionally didn't divulge the full details of the brutal scene they were shooting in advance, in order to get "her reaction as a girl, not as an actress," he said. "I wanted her to react humiliated." Perhaps in part because of Bertolucci's and Brando's successes as artists, neither were ever forced to reckon with the exploitative scene.
While it's too late for Schneider, who died in 2011, it's clear now that being an auteur doesn't excuse using one's fame or artistic capital to abuse women. Still, in theaters and on film sets across the world, young actresses must persevere through reprehensible exploitation, in order to advance their careers.
It's a ruthless occupational hazard, one that's shielded by the lofty ideals of filmmaking. But for Franco, and for the rest of Hollywood, that exploitative culture's time may soon be up. Explaining away abuse as the inevitable behavior of a great man at work just doesn't work in the post-Harvey Weinstein #MeToo era.