Pyeongchang, South Korea, is expected to be painfully cold when the Winter Olympics begin there this February. A harsh wind from Siberia regularly tears south across the Manchurian Plain and into the mountainous region, creating wind chills in the single digits Fahrenheit, the AP reports. Several people in the area have already had to be treated for hypothermia this year.
But the US team should feel toasty when they march out in their Ralph Lauren gear during the opening ceremony. Inside their red, white, and blue parkas will be an electronic heating system, made of flexible carbon and silver ink printed directly onto the fabric—in the shape of an American flag, of course.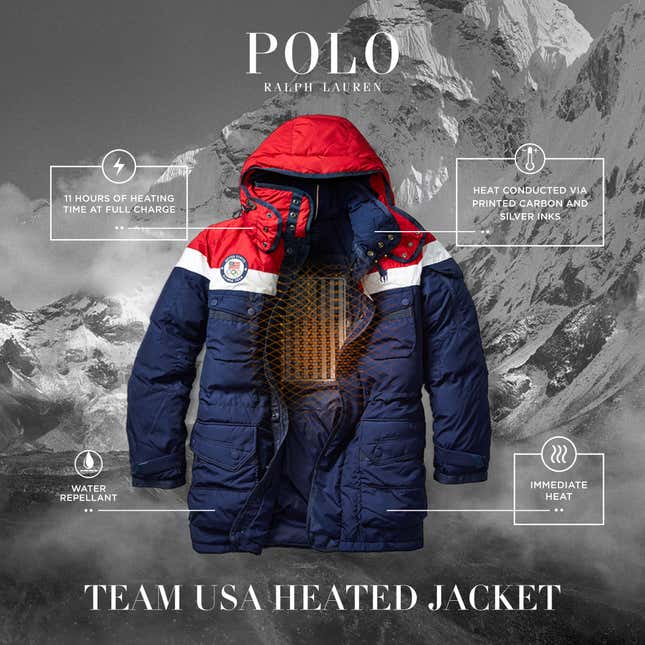 The ink, according to Ralph Lauren, is conductive, and connects to a battery pack that can be set to high, low, or off. At a full charge, it provides five hours of heat on the high setting, and 11 hours on the low. "The heat is immediate—it can be felt as soon as the button is pressed," the company says. David Lauren, its chief innovation officer, led the project to develop the technology.
The rest of Ralph Lauren's opening ceremony outfit includes a navy wool hat, a wool intarsia-knit sweater, slim-cut jeans, and brown suede mountaineering boots. The standout accessory, though, is definitely the beaded suede gloves with fringe.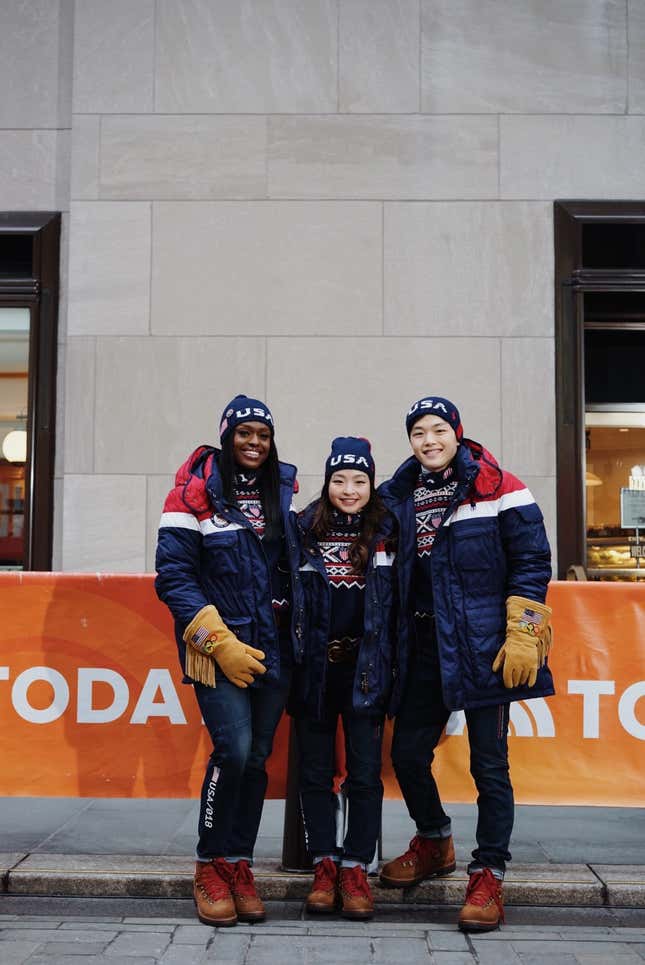 To promote its self-heating jackets, Ralph Lauren is also launching a social media campaign. It will donate one dollar, up to a max of $100,000, to the US Olympic Committee for each of the likes on its #HeatTheWayForTeamUSA posts on Instagram, Twitter, or Facebook from today (Jan. 22) to Jan. 24.
Ralph Lauren isn't alone in thinking that cold-weather clothing could use a technological boost. French label Courrèges made a trio of coats with interior heating systems similar to the kind automakers use to allow your car seat to warm up.
And the US military has devised a coating of fine silver nanowires to make ordinary fabrics like cotton or polyester conductive, so that a few volts of electricity are all that's needed to make the fabric heat up. The goal is to allow soldiers, who wear up to seven layers of clothing when operating in extreme cold, to stay warm without the bulk, even in temperatures as frigid as those expected in Pyeongchang.