Fashion and technology have been like two kids awkwardly trying to ask each other to dance. And when they have come together, it hasn't always been the perfect union: see the Apple Watch.
But yesterday (Mar. 2) at Paris Fashion Week, French label Courrèges offered its own take on tech-enabled fashion in a trio of beautiful coats, which were notable because, at first glance, they didn't appear to involve any tech at all. But their interior is fitted with a heating system, similar to the kind used to warm car seats, according to AFP. Press the control buttons on the left bicep, and the back, shoulders, and even pockets heat up.
The secret is a rechargeable battery that can be plugged in using a regular iPhone cable, fashion critic Vanessa Friedman reports at the New York Times. A charge lasts up to six hours.
A great deal of wearable technology has struggled to blend form and function. It's the reason Fitbit, the industry leader in fitness trackers, partnered with New York fashion label Public School to give their wristbands a makeover, and why Apple teamed up with luxury label Hermès for a series of watch bands. High fashion, meanwhile, has mostly left experiments with technology to others.
Courrèges' creative duo, Sébastien Meyer and Arnaud Vaillant, decided to use tech to make an already stylish coat better at its job. "If each day technology gives us miracles in our hands, can't it do anything for our shoulders?" the show notes read. (Courrèges did not reply to requests for clarification about which coats feature the heating system, but there's only one trio in the collection, narrowing it down to the style pictured).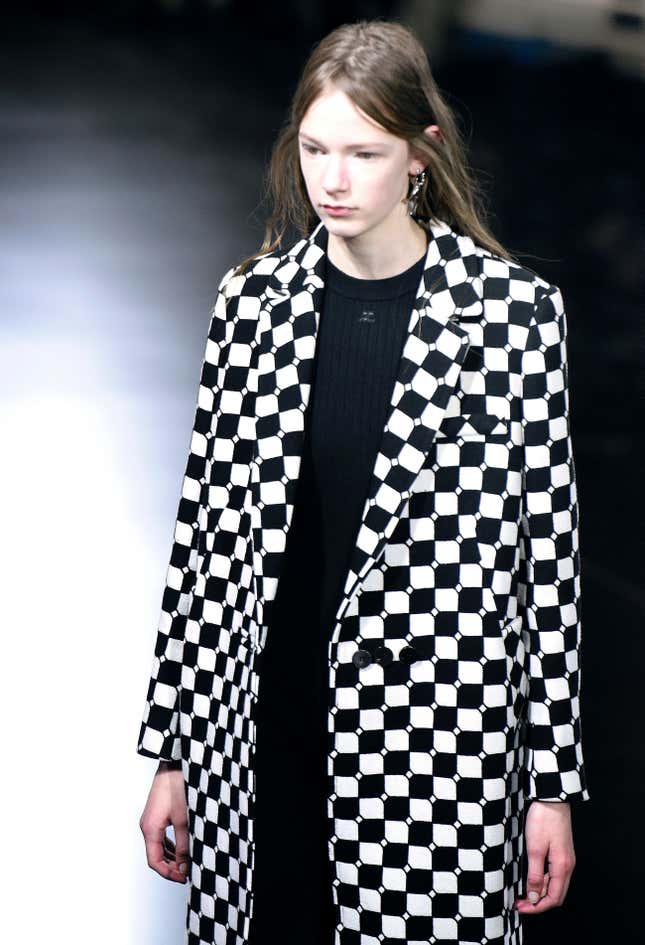 Their collection as a whole focused on that sort of practicality. Versatile bodysuits were prevalent, and seams on some of the garments, such as the color-block sweaters, allowed them to fold flat, making them easy to put away or pack for travel.
Frederic Torloting, co-president of the brand, told AFP that Courrèges has more creative ideas for making technology glamorous. "This is only our first step," he said. "We are going to do lot of other thing in this area."
If there was one thing that André Courrèges, the house's founder, always loved, it was futurism. He's the guy who was responsible for a lot of the fun, space-age womenswear of the '60s.
Meyer and Vaillant, who only showed their first collection for Courrèges in October, are continuing to design in that vein, but for them, the future isn't necessarily about a new cut of skirt. It's about clothes that work as much as they look good.