Staying warm at Davos could be a challenge for the world's political and business leaders, with the Swiss Alpine town seeing its heaviest snowfall in 60-something years. 
To fight against the blistering cold, Alibaba founder Jack Ma has brought one of his favorite items of clothing to the annual World Economic Forum meeting: A Canada Goose women's parka.
Chinese journalist Liu Peng spotted Ma at the scene, and provided Quartz with the following pictures: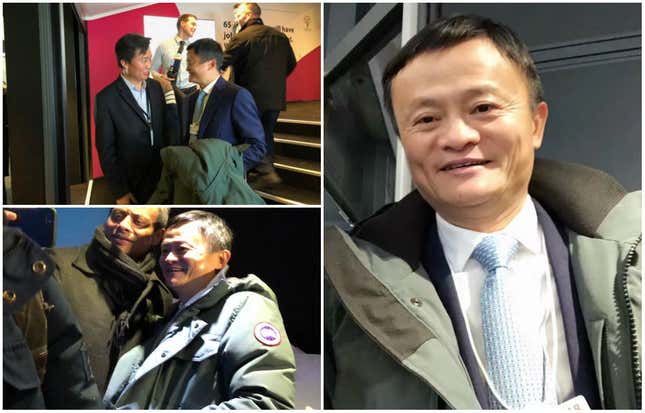 Ma has been seen wearing this jacket on many occasions in the past, including while he was waiting to meet US president Donald Trump at Trump Tower in Manhattan last January. According to Chinese netizens (link in Chinese), Ma's choice is the Canadian apparel maker's Montebello Parka for women, which retails at C$795 (around $634) on the brand's website. The netizens say they are confident about their conclusion, because the dark-green color sported by Ma is only available for women.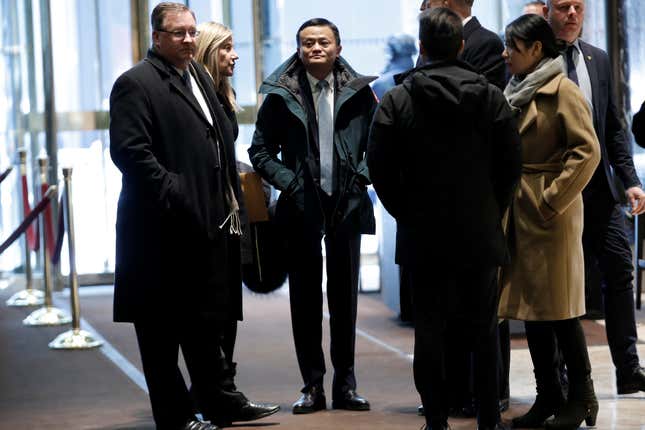 Of course, there's no particular reason that a man shouldn't wear a jacket arbitrarily labeled "women's"—or vice versa. As parents have complained about sexism in clothing for children, a growing customer base, including adults, is looking for genderless clothing—and many forward-thinking fashion labels today are putting out items or entire lines that don't specify gender.
Canada Goose raised $256 million in its initial public offering in March 2017, and its share price has since soared more than 150%. The US and Canada are the brand's two biggest markets, together accounting for about 70% of its annual sales in 2016, and its jackets are worn by some of the world's most famous celebrities.
Ma may have unwittingly served as the perfect brand ambassador for the Toronto-based company if it hopes to make greater headway into the Chinese market. But the brand is already quickly growing in popularity in China: Canada Goose recently sued a network of unnamed Chinese businesses for selling knockoffs of its jackets online.