There's a way to escape the tired Brooklyn hipster look.
London-based architect and designer Rabih Hage has an intriguing remedy for the epidemic of store-bought nostalgia that's seemingly seeped into every city in the world. Instead of piling on more Edison bulbs and random antiques, he suggests letting a building's history guide design decisions.
Using an approach he calls "rough luxe," Hage champions the purposeful juxtaposition of old and new materials that may sound especially counterintuitive for Pinterest addicts. The design process starts not with mood boards or a stack of design magazines, but by researching a space's history and literally peeling off paint from the walls. "It's a kind of urban archaeology. It's 'un-design,' in a way. I'm unmaking the layers which are much valuable than anything new," explains Hage who met with Quartz in Paris last month.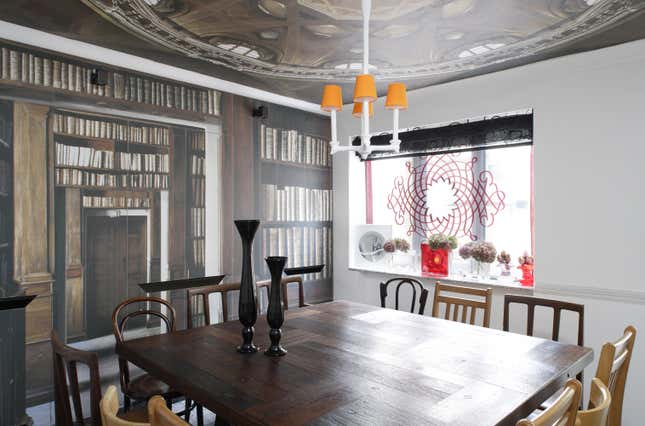 Starting with a budget hotel in London's King's Cross area in 2007 where he peeled off six layers of wallpaper from the walls erected in 1836, Hage has deployed the discerning bricoleur sensibility in numerous high-end residential projects. With every commission, he finds a way to highlight a space's patina, with a genuine interest in the stories of its former inhabitants. Nicks, scratches and imperfections are virtues to be preserved not sandblasted.
Hage considers time as a factor in his designs. At times, he'll introduce a wallpaper and anticipate how it will look better after it's been scuffed after a few years. "You design with how people will evolve in space and how the place will age."
This brand of high-low, old-new design has seeped into the design of many spaces, as the 2011 book Rough Luxe illustrates. It's common in adaptive reuse projects such as old factories that have been converted to condos or churches transformed to boutique hotels.
One particularly dreamy example is "Casa d'Artista," a 13th c. ruin in Civita di Bagnoregio filled with modern Italian furniture and transformed by the town's mayor into an AirBnB. Designed by Milan-based DWA Design Studio, the space has been outfitted with stylish modern conveniences and high end furniture—Utrecht armchairs, clusters of Le Corbusier-designed Tabouret side tables—without erasing the romance of sleeping in a remote, hilltop built by the Etruscans in the 7th century BC.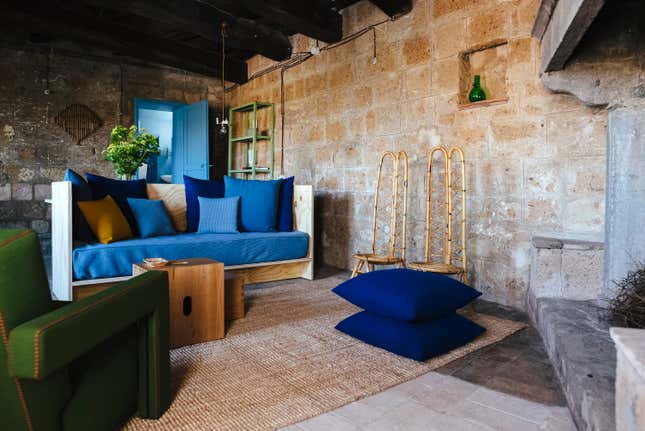 La Semilla, a nine-room bed and breakfast along Mexico's Playa del Carmen also uses rough luxe to create a unique environment. The hotel's owners highlight the original features of their 1990's building and make a virtue out of patchy walls and imperfect tile work. They use crates as end tables, mismatched chairs in the breakfast area, and accessorize with flea market treasures original to the Yucatán Peninsula.
These properties conform with Hage's insistence that rough luxe can't be fabricated. It's not about combining junk and fancy period props, like how the Brooklyn hipster aesthetic–or its precursor, "shabby chic"—has become. Rough luxe is a principle grounded in a place's unique character. "It's about authenticity and experience," Hage emphasizes.
Rough luxe is also Hage's treatise on luxury. Describing a bedroom with peeling paint and a gilded bed, he points to the wall as the most prized element. "The wall is more luxurious because it's part of the spirit and the soul of the house," he says. "It's irreplaceable, inimitable and it's authentic."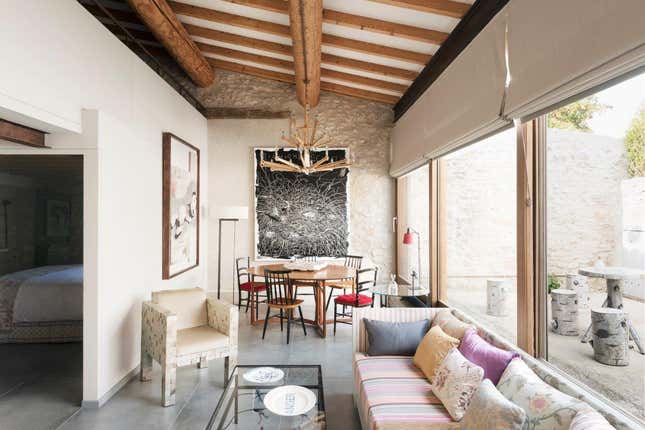 Born in Lebanon, Hage reflects that seeing destroyed façades in Beirut as a child shaped his outlook.  "I was born in a place where the mark of history was on the walls, and I thought we should preserve it so future generations can learn from it. There's beauty in washed out façades and broken windows…you can see this faded grandeur," he explains.
Hage's rough luxe sensibility also manifests in his taste in furniture. A prolific collector of modern design and the publisher of the DeTnk Collectible Design Market Report, Hage delights in the genius of Johnny Swing's sinuous furniture made from found coins or Dutch designer Piet Hein Eek's scrapwood furniture.
"I'm always in search for working with discarded materials to make something intelligent, functional and luxurious," he says.
In many ways, rough luxe is a revival of the founding ideal of the Brooklyn hipster aesthetic. Before it was packaged and commercialized, hipsterism was, in large part, a reverence for methods and superbly crafted goods from a bygone era. Similarly, rough luxe reminds us that attentiveness to a place's particular history results in better design.