Philippine fast-food chain Jollibee—known for superb fried chicken, tasty fruit pies and quirky noodle dishes—is getting ready to open a branch in Milan, a stone's throw away from the historic Duomo.
Starting as an ice cream parlor 40 years ago, Jollibee has become one of Asia's largest and most valuable restaurant groups, with over 3,200 branches worldwide. Represented by a spritely bee mascot dressed in a blazer and chef's hat, Jollibee is a veritable global ambassador for the country's fun-loving spirit and adventurous palette. Canadian prime minister Justin Trudeau and foodie idol Anthony Bourdain have eaten there.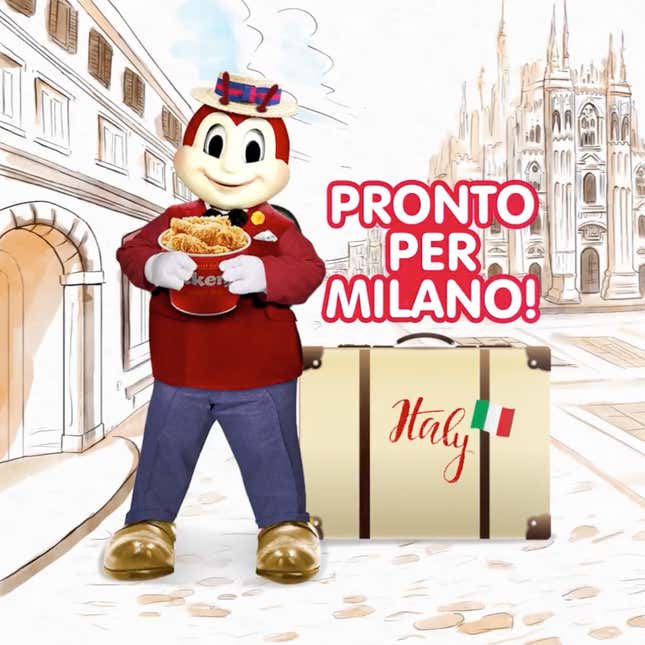 There's one item on Jollibee's menu that will surely raise eyebrows in Italy: the spaghetti. A homey concoction of extra-soft noodles smothered with a sweet red sauce made with banana ketchup, liver spread, and red hot dogs will confound purists in the birthplace of pasta. Esquire Philippines even suggests that the recipe includes canned condensed milk. Yikes.
Origins of sweet spaghetti
Of course there are various adaptations of Italian cuisine around the world, but how did Filipinos stray so far, even with a culture that mashes up diverse influences from Asia, Europe, and the Americas?
Food critic and sociologist Clinton Palanca explains that Jollibee's spaghetti is actually more Chinese than Italian. He suggests that Jollibee's bestselling pasta is closer to egg noodles that Fujianese grandmothers would make. "Think pancit noodles with a mapo tofu sauce on top for a quick lunch or snack," says Palanca, who writes a food column for the Philippine Daily Inquirer. This taste would also have been appealing to Jollibee's founder Tony Tan Caktiong, whose parents immigrated from Fujian to Manila.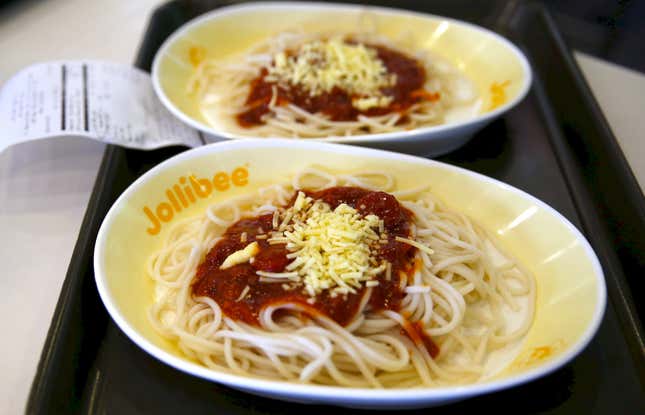 Palanca says that the sugary sauce—a very rough approximation of bolognese—caters to the Asian preference for sweet foods. "The southeast Asian region in general uses sugar in their savory dishes to various extents, mainly because it's an area where sugar cane grows. This includes the coastal areas of China such as Fujian, whose cuisine is disparaged by the northern Chinese as being excessively sweet," he explains.
The Filipino spaghetti recipe is also peppered with ingredients from the American pantry, explains Palanca. "The addition of hotdogs is more likely due to our love of US military surplus canned goods…"[It's] a mashup of things that we Filipinos grew to love because of the war and the American bases: Banana ketchup was invented during the war years, as was the soft cheese that travelled well."
So how will Jollibee's sweet spaghetti fare with Italians?  "I think the Italians would be horrified," says Palanca. "Our spaghetti is soft and meant to be eaten with a spoon and fork, rather than al dente and twirled around a fork…I don't think you could sell this to Italians as spaghetti so much as an oriental snack that happens to have the same ingredients as spaghetti."
Jollibee Milano, which has yet to confirm its opening date, is the first European outpost for Jollibee. It also announced plans to open a restaurant in London next year.