The t-shirt was originally designed to be a basic undergarment. But over the years, the world's most ubiquitous fashion item has become a powerful political weapon.
This radical history of the t-shirt is the subject of the newest exhibition at the Fashion and Textile Museum in London, UK. The exhibition—titled T-shirt: Cult – Culture – Subversion—showcases over 100 of the most influential t-shirts of the 20th century, including originals by British fashion designer Vivienne Westwood and Malcolm McLaren, the former Sex Pistols manager and influential figurehead of the punk movement.
"It's a great barometer of social change," says Dennis Nothdruft, the museum's curator. It wasn't until after the Second World War that the t-shirt was used as a popular outer-garment, particularly among teenagers. This shift has largely been attributed to Marlon Brando's searing performance as Stanley Kowalski in 1951's A Streetcar Named Desire. Brando tight-fitted t-shirt turned him into a sex symbol. James Dean's 1955 Rebel Without A Cause further cemented the idea that the t-shirt was the rebellious garment of choice. By the 1970s, the punk movement took t-shirts in a radically different direction. It was then "about shocking and outraging people and challenging the status quo," says Nothdruft.
The protest t-shirt really came of age during the 1980s—thanks in large part to Katharine Hamnett. The English fashion designer reached cult-like status after she was photographed shaking hands with then prime minister Margaret Thatcher in 1984 in a "58% Don't Want Pershing" t-shirt. (The t-shirt highlighted public opposition to putting US Pershing missiles in the UK). The image made the front page of a number of major newspapers, putting a spotlight on the nuclear disarmament campaign. Hamnett's bold gestures inspired copycats across the world.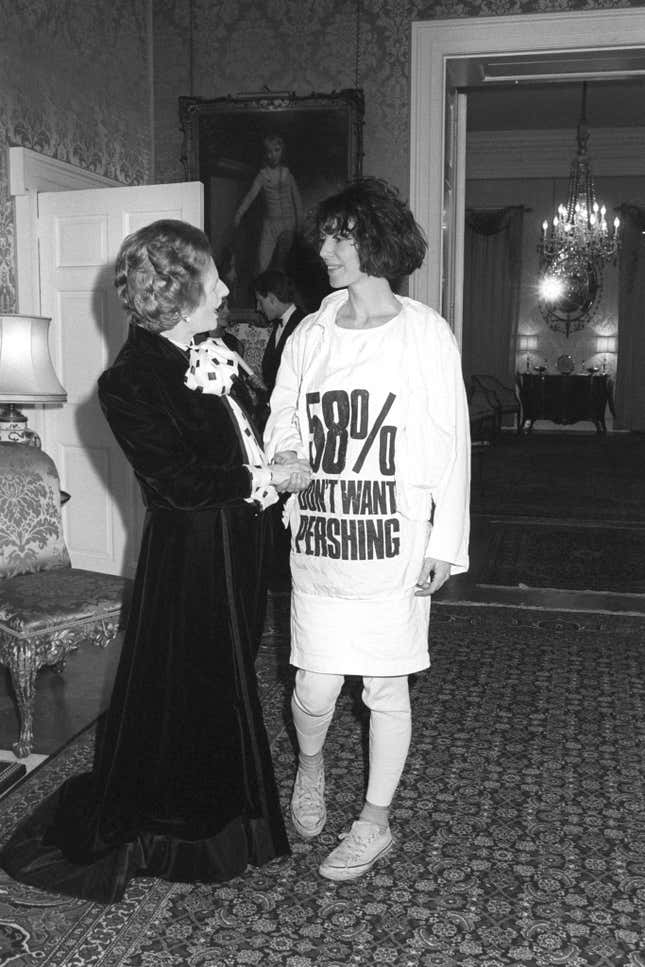 The protest t-shirt hasn't always been universally embraced. In 2016, Maria Grazia Chiuri's Dior debut featured a simple t-shirt that read: "We Should All Be Feminists." The famous quote by Chimamanda Ngozi Adichie was the most notable moment of the show. But while many praised Grazia, the fashion designer was also criticized for commodifying an important message (the shirt cost $710 each). Dior later announced a percentage of proceeds from t-shirts will go to The Clara Lionel Foundation, Rihanna's non-profit organization.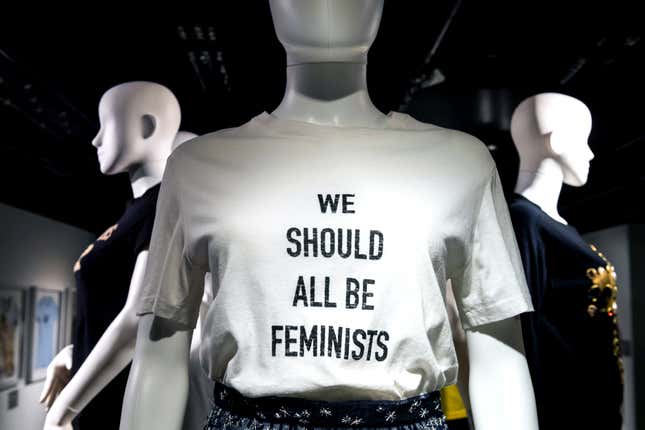 The t-shirt is featured in the exhibition. "That photograph was on every newspaper and the cover of every magazine," says Nothdruft. "All of a sudden you've got a message that is being disseminated worldwide. So whether you disagree with the commodification, you can't deny the fact that its actually is spreading the message."
The Fashion and Textile Museum says the exhibit has been popular with the public. "Most of us will never wear couture gowns, but we know what its like to wear a t-shirt. We can relate to it," Nothdruft explains. "I think people get that immediacy when they see it at the exhibitions."