It's not available outside of China yet, but Bite of China III, one of the—best food shows produced anywhere on the planet—premiered during the recent Spring Festival (happy Year of the Dog!). The first episode highlighted woks made by ironworkers in Zhangqiu, Shandong province, and after it aired the factory featured on the show saw its entire inventory sell out in an hour. Even more impressive, the factory booked enough orders to keep its 50 artisans occupied for the next two years.
According to Bite of China, each pan requires 12 different steps to produce and is fired at a temperature of 1,000 Celsius to create a mirror-like, non-stick surface ideal for achieving wok hei— the beautifully caramelized finish and deliciously charred flavor that stir-fries get when properly cooked in a very hot wok.
Wok madness is not new in the heated world of stir-fry aficionados. On her blog, stir-fry guru Grace Young writes about the hand-hammered woks that used to be made in Shanghai by the Cen brothers. Though designed slightly differently than the woks from Shandong, they became a cult cooking item after one appeared on the cover of Young's book, The Breath of a Wok. 
Williams-Sonoma carried Cen Brothers woks before the duo retired in 2016, turning what was once a workaday object into a bit of luxury cookware. Today, it's nearly impossible to find a Cen wok anywhere—though Young is giving one away via her Wok Wednesdays Facebook group.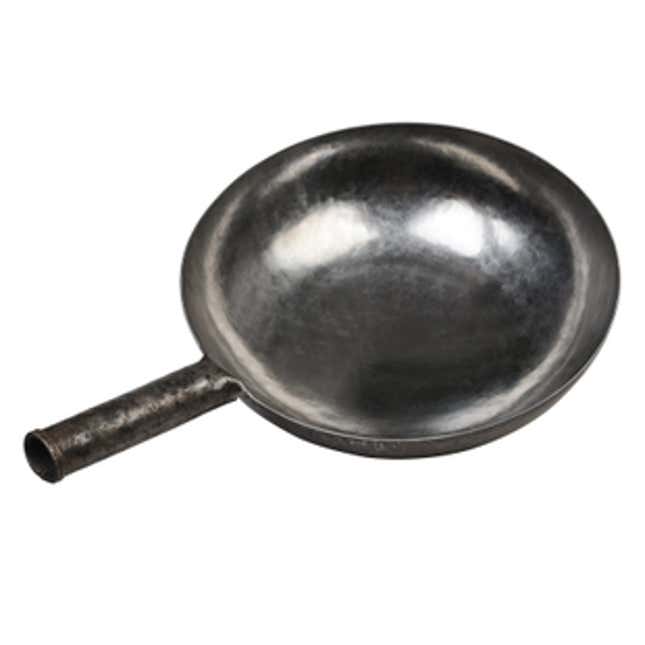 While you can find pans that claim to be hand-hammered Zhangqui woks on Amazon and Taobao—an Alibaba-owned e-commerce site— it's pretty dubious that they are what they claim to be. Still, even if you could snag an authentic version, Young doesn't necessarily recommend this kind of round-bottom wok for Western home cooks. "The classic round-bottomed wok, originally intended for use on a hearth stove, fit snugly over a hole where the flames could hug the bottom and sides of the wok," she writes in Stir-Frying to the Sky's Edge.
"A typical Western residential range cannot simulate that intense heat, and consequently, requires a flat-bottomed wok that is specifically designed for a less powerful stove." Trying to balance a round wok on a flat burner isn't just counterproductive, it's tippy and dangerous.
If you're suddenly inspired to get a wok—and stir-frying is an under-mastered cooking technique that can really up your weeknight dinner game—Young recommends a simple flat-bottomed carbon steel wok with a long handle. She doesn't like American-made cast iron woks, even though they're beautiful, because they're too heavy and take too long to heat up. She has lots of specific recommendations, but one clear edict—under no circumstances should you stir-fry using a non-stick pan.