A year ago, New York's Metropolitan Museum of Art embarked on an ambitious project to give everyone free access to images in its collection. Using the Creative Commons zero license (CC0), the third most visited museum in the world has essentially turned over a trove of high resolution images to any individual or business who wish to use, copy, or modify them for their projects—with no conditions attached.
Users don't even have to ask permission nor are obliged to credit the source. Any image on the museum's website tagged with "Public Domain 0" is free for the taking. Imaginably, this could be useful for remix artists, crafters, souvenir makers, graphic designers, scholars or even book publishers who often have to struggle for the rights to use an image—much less obtain a high resolution version.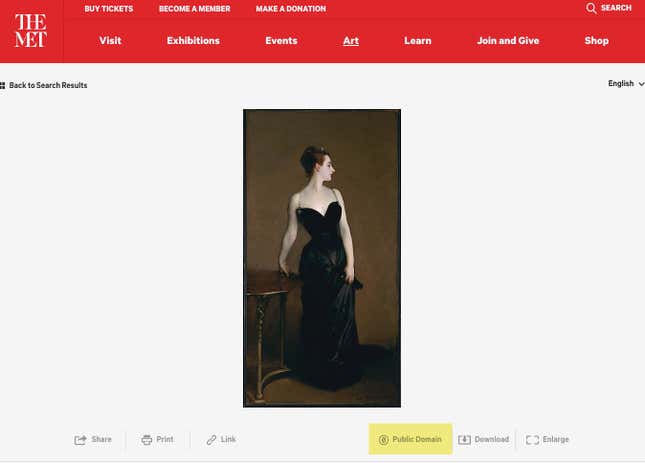 The Met is so eager to push this project out into the world, that they've partnered with Wikipedia, to "Met-ify the Wiki," as Loic Tallon, the museum's chief digital officer, puts it. "It is beyond our website that the impact of Open Access has been most compelling, and nowhere more so than through The Met's partnership with the Wikimedia Community and on Wikipedia," writes Tallon in a blog post. He reports that about 10 million users are now seeing the Met's images on Wikipedia every month, which is quadruple its online audience just a year ago.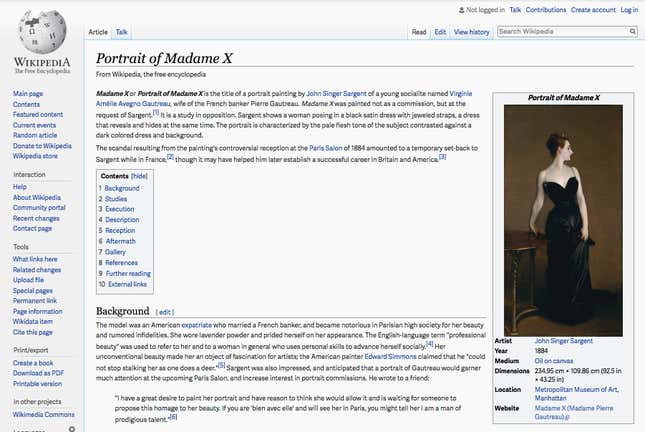 There were 375,000 high res images when the Open Access initiative last February as Quartz reported; today that number is over 400,000—with more items added to the free gallery just as quickly as the Met's digital department can process them (a team of photographers and media specialists convert them). To get the highest resolution into the public domain, the Met upgraded its photography equipment to high-end Hasselblad cameras and is even experimenting with producing 3D images of some artifacts using FARO laser scanners. To goal is to get its entire collection—1.5 million objects—into the public domain.
What does the Met have to gain by giving its image collection away? Tallon says it's all about relevance. "If we could preserve the art world in a nice old pickle jar, but I don't think that's going to happen," he explains, noting the imperative for institutions to meet the internet's demand for good information about a particular work. "I genuinely believe that for the museum to maintain its relevance, we have to participate in that conversations," Tallon tells Quartz. The Met has also released the key information (a.k.a. "tombstone data") about each artwork it has released with the title, maker, date, culture, medium, and dimensions accurately codified and compiled in a CSV document on Github.
Several creators have already taken advantage of the Met's offer.
The most publicized art series emanating from Open Access initiative were created by New Mexico-based software developer Simone Seagle. She started with a humorous interactive project which played with the eyes of stodgy portrait sitters. Seagle who creates educational software for a living, then graduated to animating entire paintings using Java Script. (In the spirit of open access, she's also published a tutorial on her blog.)
Publishing stunning, high resolution images online is not intended to usurp the irreplaceable experience of encountering art in person—but a way democratize access, Tallon elaborates. The Met's efforts to bolster its free online image bank, could allay some frustration about its decision to charge non-New York residents the full admission price of $25 to see its collection. The Met's stance on unconditional image-sharing also presents a counterpoint to Google's new restrictive policy that bars users from downloading images directly on its site.