H&M is in the midst of a massive clearance sale.
On its site right now, and in its many, many stores, you can find discounts like a $6 tank top marked down to $3, $20 skinny jeans cut down to $13, or this $15 off-the-shoulder, zebra-stripe dress reduced all the way to $4. The big price drops on H&M's already-cheap clothing are signs of a problem for the company—and you can expect even more markdowns in the months ahead.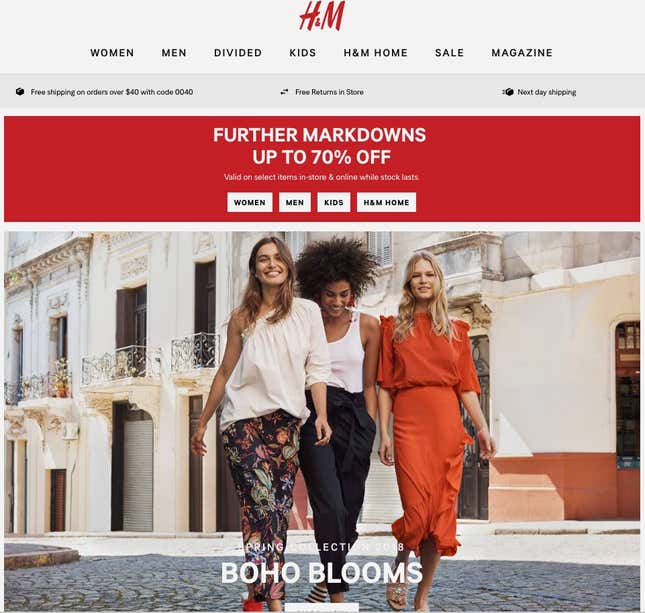 The Swedish fast-fashion brand has been struggling for some time. It has admitted to building too many stores, and being slow to prioritize e-commerce even as more shoppers go online. It's facing competition from younger, faster, digital-savvy competitors such as ASOS and Boohoo. And the company, though one of the pioneers of fast fashion, isn't as fast as it needs to be today. H&M still produces a large portion of its clothes far ahead of time in factories in Asia and then ships them to major markets in the US and Europe, rather than following Zara's lead and doing more of its production closer to home. It hasn't been particularly good at predicting what clothes shoppers want, sticking it with all that unsold inventory.
In fact, the company has more than $4 billion worth of unsold inventory on its hands, according to its latest financial release (pdf). For months, it has been unsuccessfully trying to get shoppers to buy that excess through major clearance sales. That, combined with an unusually cold February in Europe that kept people from buying spring clothing, has put a dent in its profits. In the most recent quarter, H&M saw a 61% drop in profit versus the same period last year. Company stock, already on a downward slide, fell to its lowest price since 2005 overnight on March 27.
The company does expect to be able to reduce the markdowns eventually, but not until the second half of the year.
In the meantime, H&M will soon have another place to unload the items it couldn't sell in its main stores. In January, it announced it's launching a discount marketplace called Afound, which the company describes as a "style- and deal-hunting paradise." The first Afound store will open in Sweden this year, and a website is coming as well. Shoppers will find reduced prices on clothes from other brands, and more markdowns on H&M clothes too.