H&M stores have been spreading across the world like a fast-growing mold. For at least a decade, the fast-fashion retailer has increased stores by 10% to 15% annually, sometimes squeezing them in at a preposterous density: In New York in 2015, the chain opened a 63,000-square-foot behemoth that was literally across the street from another H&M (and just down the street from still another).
But the company says it's finally time to ease off. Sales are slowing, and those physical stores no longer serve as the profit machines that turned the chain's chairman into Sweden's richest person.
In reporting its 2016 earnings, which saw sales rise 6% for the year, the company yesterday said it is replacing its brick-and-mortar expansion target with a new sales target of 10% to 15% annual growth. This new bullseye includes in-store and—importantly—online sales. Like pretty much every other retailer, H&M acknowledges that more dollars are moving to e-commerce, and that it already has plenty of stores selling its ultra-cheap clothes.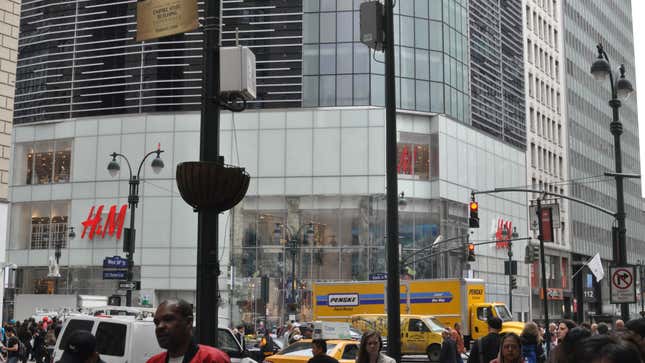 While physical stores are far from dead, their value is changing as the retail landscape shifts. Increasingly they have to offer customers experiences to be worthwhile, because if all shoppers want is a place to buy things, they can do that on the internet. Zara, which is H&M's big fast-fashion rival, said last year that it would pull back on store expansion to focus more on its online sales.
And H&M's physical stores aren't bringing in the profits they used to. A report by analysts at Morgan Stanley last year pointed out that the profit H&M stores bring in isn't keeping pace with their rapid proliferation. The analysts worried H&M was reaching a "mathematical tipping point," which could cause profits to fall sharply by 2020.
Clothing retailers with less healthy businesses have been shuttering their physical stores like crazy: See Macy's and other department stores that analysts think need to shut hundreds of locations to restore their sales-per-square-foot productivity.
H&M, which operates more than 4,300 stores worldwide, has evidently gotten the message that populating the earth with more stores isn't going to keep adding more profit. Still, it's not slamming the brakes on entirely: In the year ahead, the company plans to open around 430 new stores, entering new markets in Kazakhstan, Colombia, Iceland, Vietnam, and Georgia, among others. That's about the same number of stores it opened in 2016, and represents roughly 10% growth of its current portfolio—in line with its former target.
But the indication is that sort of brick-and-mortar expansion won't continue for much longer. H&M also plans to enter six new markets online in 2017, focusing on Asia. Shoppers in 35 of the 64 markets H&M serves could already browse and purchase clothes online by the end of 2016.
H&M is fighting many of the same challenges as other fashion retailers, including a shift in consumer spending to experiences and away from stuff. More stores, it has finally acknowledged, aren't the solution.