When Heidi O'Neill, president of Nike's direct-to-consumer business, was talking to potential customers about what they would want to see in a new Nike store, one father told her he'd like it to be a place where he could drop off his kids to play on a rainy day.
The company's giant new store in New York, filling up five stories in a 55,000-square-foot space in the city's Soho shopping corridor, is basically that. It's like one of toymaker Lego's popular Legoland stores, where customers go to play as (or more) often than they do to purchase, but for people who love sports. Beyond being a shiny new gem in Nike's crown, it signals how the company is thinking about its future, and the ways that brick-and-mortar retail is changing in the age of e-commerce.
The store, originally scheduled to open on Nov. 11 but delayed because of a permit issue (the new opening date is Nov. 18 at noon) contains: a mini basketball court; a treadmill in front of screens simulating different outdoor runs; a small, enclosed soccer area; a customization shoe bar where shoppers can personalize a pair of Nike Air Force 1s; and dedicated coaches on staff who can put customers through drills to test out sneakers.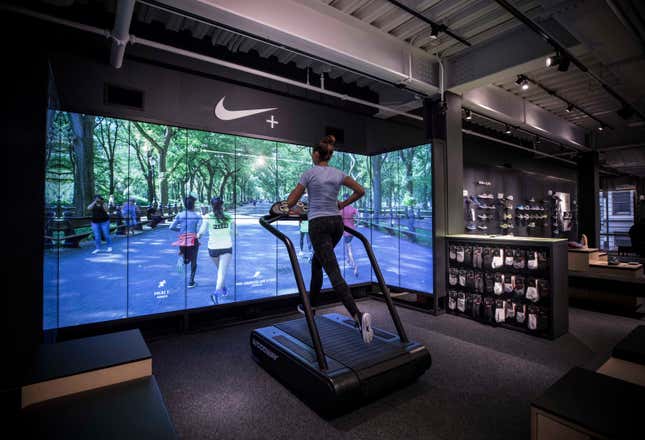 Cameras are set up all around the basketball court to capture the action from different angles. A camera beside the treadmill records a customer's gait during a run, allowing a Nike staff member to analyze the results and recommend the best sneaker. And that customer can later access the footage through his online Nike account and share it on social media.
Nike spent years designing the store, according to Sean Madden, Nike's senior director of service and experience for its direct-to-consumer business. "We've got a lab back on campus," he says, referring to the company's Oregon headquarters. "We're trying things. We're piloting in other stores quietly in the marketplace. And we're finally bringing this to the consumer." Nike plans to roll out successful elements of the Soho store through the rest of its retail fleet, which includes about 1,000 locations worldwide.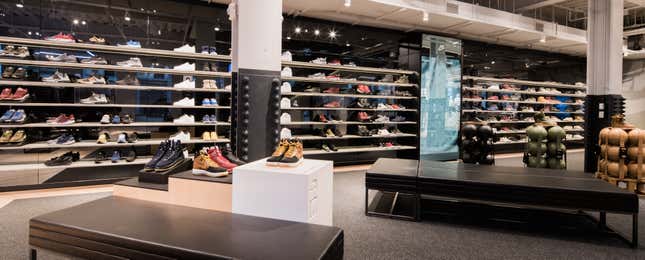 Between those stores and Nike.com, the direct-to-consumer business is playing an ever-greater role in Nike's sales mix. In 2015, direct sales accounted for $6.6 billion, or about 22% of Nike's sales. But at its investor day last year, Nike said it plans to grow direct sales to $16 billion by 2020, which would be a full third of the $50 billion it's aiming for in that year.
There are quite a few advantages for brands selling more of their products directly to customers. For one, margins are better, since they're selling at the same price as retailers without having the retailers taking a share. It also means they're less dependent on retailers that may find their businesses faltering, such as department stores or the recently shuttered Sports Authority. Not least of all, brands can control all their messaging themselves and connect directly with shoppers.
"It is an incredibly important touchpoint," O'Neill says of the store's role in communicating Nike's brand to the public. "We built this store with the idea of serving consumers one-to-one in ways that we haven't."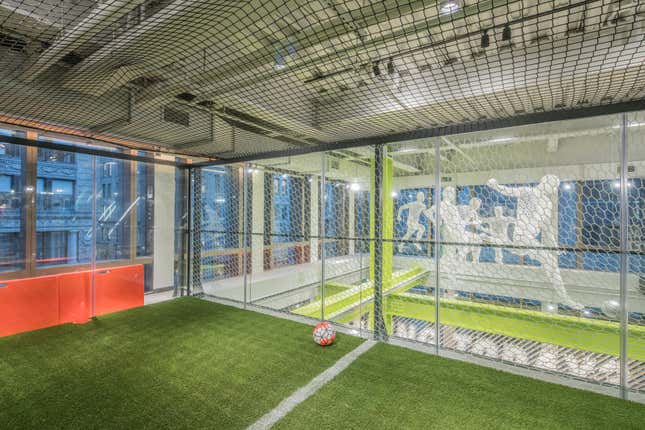 A large brick-and-mortar store in New York is a costly investment when e-commerce sales are growing. But physical stores are still critical for brands, and the most forward-thinking companies recognize that for those stores to pay off they need to offer experiences that e-commerce can't.
Speaking at a Nov. 10 conference on the future of retail, Lorna Hall, the head of market intelligence for trend-forecasting firm WGSN, said the future of retail stores will be increasingly about these interactive experiences, where "they're treating space as a new territory, aligning [key performance indicators] more with marketing and media than selling per se."
Just a few blocks from Nike's shiny new Soho shop, for instance, Pirch, which sells luxury home fixtures, has a large store where all the faucets, showers, ovens, and grills are functional. You can literally make an appointment to go shower there to test drive products before you buy them.
Robin Lewis, who writes the retail blog The Robin Report, groups Pirch with other brands including Apple and Burberry that use experiences to detach shoppers from their phones or laptops and get them into stores, where once immersed in the experienced they will "stay longer and buy more."
Always competitive, Nike thinks it can be a leader of this new push in retail.
This story has been updated with the store's new opening date.