Action star Jason Statham has taken on dictators, drug dealers, British security services, and whatever the people in the Fast and the Furious movies are. (Street racers? US government-contracted mercenaries? Who knows.) But he may have finally met his match in a 75-foot prehistoric shark named "Meg."
Feast your eyes on the first trailer for The Meg, an upcoming film about the legendary megalodon—a giant species of shark that roamed the oceans over 2 million years ago. In The Meg, one of these mythic beasts is still alive, and the unenviable task of killing it falls to action star Jason Statham and a ragtag team of giant-shark-catchers that includes Dwight from The Office.
"My god," Statham gasps in the trailer. "It's a megalodon." Bobby Darin's "Beyond the Sea"—interspersed with assorted zingers and stock phrases ("Chew on this!")—serenades us in the second half of the trailer:
The megalodon is something of a pop culture phenomenon, analyzed and fictionalized in countless movies, comics, and documentaries, from the 2003 BBC series Sea Monsters to the universally panned 2013 Discovery Channel Shark Week "documentary" Megalodon: The Monster Shark Lives, which purported to follow real scientists finding real evidence of a real, living megalodon. (Spoiler: It turned out nothing was real.)
At 75 feet long, the blimp-sized "Meg" is three times the size of the shark that first made us never want to go in the water again: the 25-foot beast from 1975's Jaws. And Jaws has actually been eclipsed in size several times in the last 10 years alone. Just a small sampling of shark movies over the last few decades reveals that cinematic sharks are getting larger and larger. (Meanwhile, real sharks hardly ever bite people, despite their ferocious cinematic reputation.)
And it's not only sharks that are getting bigger on screen, it's pretty much every creature. This Friday (April 13), audiences can treat themselves to a new giant creature feature called Rampage, starring Dwayne "The Rock" Johnson as a primatologist investigating a mysterious serum that makes animals grow rapidly.
Rampage includes a gargantuan gorilla, a colossal crocodile, and a whopping wolf, in addition to The Rock, a very large human.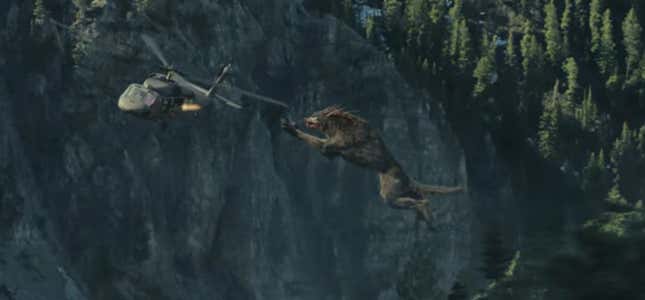 (Yes, that's a helicopter-sized wolf lunging at a helicopter.)
Just as vampires and zombies have resurfaced to have "moments" in Hollywood recently, giant animals (both real and imaginary) are the hottest trope in film right now.
Giant creatures are, of course, a cinematic tradition dating back to the Kaiju of Japanese film that eventually made their way to the United States. Those, too, are seeing a revival: Hollywood has already produced recent remakes of Godzilla and King Kong in the last few years (with plans for many more). Pacific Rim Uprising, a sequel to the 2013 Kaiju film Pacific Rim, came out just last month.
And that's just the blockbusters. The creature-based horror percolating through Hollywood has also made its way into higher-end fare, including the mutant bear and albino croc in Annihilation; whatever the thing in AMC's The Terror is; and the terrifying, sound-seeking alien hunters in A Quiet Place.
But unlike Meg or Helicopter-Wolf, those creatures are actually interesting and thoughtfully conceived. They're outliers in an industry that has mostly run out of ideas and resorted to formulas: in this case, making monsters bigger and bigger until, we assume, Jason Statham will have to fight them from space. That's a challenge for another day.