Just over 20 years ago, a crazed 27-year-old narcissist named Andrew Cunanan murdered Gianni Versace on the steps of the designer's Miami home. Versace by then had built a successful global fashion brand known for unabashedly glamorous dresses worn by actresses and models.
In the aftermath of his death—recently dramatized in the FX show, "The Assassination of Gianni Versace: American Crime Story"—Gianni's sister, Donatella, stepped in to take control of the label. At this point, she has now designed Versace's clothes for longer than Gianni did.
Donatella talked about the difference between her Versace and her brother's in a candid and engrossing interview with the e-commerce site Ssense. She says her clothes approach women from a different point of view than his—and have a dimension that considers the practical demands of working life as well. She explained:
Gianni's ideal woman had a life that consisted mainly of chic cocktail parties. Her frivolous pleasure was to transgress boundaries of mainstream taste and provoke with flamboyant hedonism. My Versace woman is a multitasker with a job and a family. She's mostly looking for clothes that can be worn between seven in the morning and seven in the evening—perfectly tailored, a whiff of glamour, but without bombast. She uses fashion as a corset for her self-confidence, not as a means of provocation. To sum it up in a sentence, Versace's fashion has become more realistic.
It's certainly possible for men to design "realistic" clothes for women, and Donatella's vision for the brand has included many flashy, skin-baring creations that aren't exactly office-appropriate. This is the woman, after all, who designed the stunning green dress Jennifer Lopez wore to the 2000 Grammys that brought the world Google image search.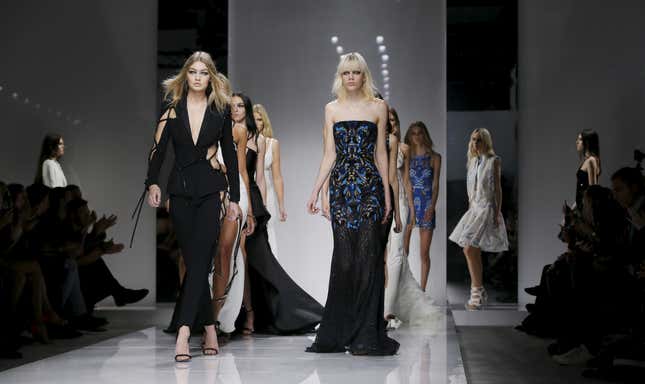 But as fashion critic Alexander Fury has noted, when women are the ones designing for women, the results do tend to be different. "Maybe it's the experience of actually wearing the clothes—and indeed of living a life around them," he wrote in a 2015 story.
The point is notable because despite fashion making most of its money off women, male designers still generally dominate the industry. The stereotype of a couturier even remains a resolutely male character like Reynolds Woodcock, the controlling protagonist of Paul Thomas Anderson's movie Phantom Thread, which took inspiration from the real life of designer Cristóbal Balenciaga.
These issues arose again in January of this year, when the fashion label Céline announced that designer Hedi Slimane would succeed Phoebe Philo as creative director. Philo was known for creating clothes beloved by professional women that didn't rely on sex appeal to imbue confidence. Slimane is known to make clothes that are arguably more a club girl's fantasy and less realistic, to borrow Donatella's wording.
Maybe fashion would be just a little richer and more varied, though, with a few more women making the decisions about what big, prestigious labels offer their female customers.