Each season, seemingly without fail, Phoebe Philo's latest collection for French brand Céline receives the same praise. This, the critics say, is clothing women actually want to wear. Which begs the question: What is everyone else designing?
The difference with Philo's clothes, her fans say, is that they are designed for women by a woman, one who understands the rigors of a woman's life and the desires of a self-assured individual who isn't concerned first and foremost with what men or Instagram think. If that sense is rare enough for critics to point it out—as they also did this season with the work of Stella McCartney and Chitose Abe of Sacai—perhaps it's because even in 2015, men still dominate the top positions in women's fashion.
As Vanessa Friedman, the New York Times fashion critic, noted, fewer than 20% of the 91 brands on the official Paris Fashion Week schedule have female creative directors. "Where are the women?" she asked. They're not just missing from the upper echelons of big fashion houses, but also as successful heads of their own independent labels.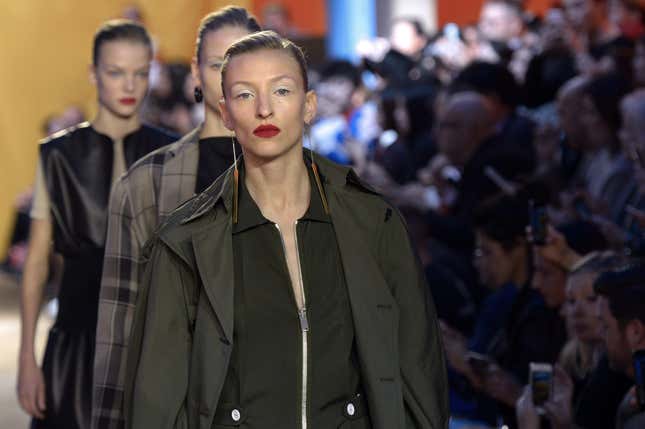 Friedman went on to laud McCartney's and Abe's collections. So did Robin Givhan at the Washington Post, who contrasted the women Philo, Abe, and McCartney each presented with the little grumpy "girls" put forward by Hedi Slimane, the male creative director of Saint Laurent.
Meanwhile, Cathy Horyn in The Cut, New York magazine's fashion blog, lamented the tremendous commercial success of Slimane's "trashy dresses" and joyless fashion, and hoped that the perspective of women such as Philo and Sarah Burton, head of womenswear at Alexander McQueen, would win out.
"I could name some men as well, but I won't," she wrote. "Let's stick with the women, because we all know they get a bit of a raw deal in this business. Far-less-talented male designers are often the first proposed for top jobs, because of some perceived extra-macho spice." As examples, she mentioned the two male designers of Public School, who were recently charged with reinvigorating DKNY, the brand founded by Donna Karan and once known for power-dressing working women.
It's worth noting that this complaint isn't new. For years people have been asking why there aren't more women designing women's clothing, why women don't win as many accolades in fashion, and why women aren't better represented in other positions of power, such as CEO.
Yet change has been incredibly slow, and nobody really has a good explanation, aside from some thin theories about male womenswear designers being more objective or better at fantasy.
The consequences, though, may be clearer. It's not crazy to think that clothes designed by women may differ from those designed by men. "Maybe it's the experience of actually wearing the clothes—and indeed of living a life around them," wrote Alexander Fury, the fashion critic at The Independent, "but when women design clothes for women, the results tend to be different from when men do the job."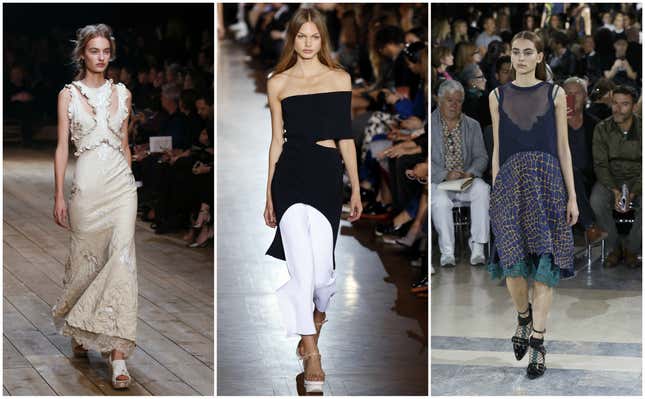 To be sure, men can capably design for women. There are countless examples, including Karl Lagerfeld's air-travel fantasy for Chanel this season, and they must be doing something right, because the global market for women's clothes rose to $700 billion in 2014.
But what men create is often clothing they want to see women in, rather than wear. That's not a bad thing, but it's not quite the same either.
Clearly there's a point of view that's dramatically underrepresented in the industry. Fashion, and women, are poorer for it.