For sneaker brands, 3D printing has incredible potential. It's allowing brands to make new products, like Adidas's Futurecraft 4D sneakers, which have already released to the public in limited numbers. Behind the scenes, it's also enabling them to create prototypes faster than ever, helping to speed up how quickly they're able to devise new styles and get them to market.
To date, sneaker companies have generally focused their 3D-printing efforts on sneaker midsoles. But today (April 17), Nike announced a novel way of using the technique. It says it has made the first 3D-printed textile upper in performance footwear, called Flyprint.
Nike creates Flyprint through a process called solid deposit modeling. As the company explains it, thermoplastic filament (TPU) "is unwound from a coil, melted and laid down in layers." Nike developed the specific printing process itself by modifying existing machines, and says the method allows it to precisely engineer the textile as it wants.
Unlike traditional fabrics, which are woven or knit out of interlocking yarns, Flyprint is a lattice of fused material, each line of which can be moved independently as Nike wants. Using computational design based on running data it collected from athletes, Nike determined how Flyprint should be structured to best support a runner's foot. Despite being plastic, the material is stretchy and flexible, not stiff, and can mold to your foot, like Nike Flyknit—only Nike says it's lighter and more breathable than any of its previous textiles.
Not least of all, Nike says its 3D-printed upper makes for prototyping that's "16 times quicker than in any previous manufacturing method." That allows it to create and test new products rapidly, and as the company told Popular Science, it views Flyprint as a step toward being able to make fast, fully customized sneakers.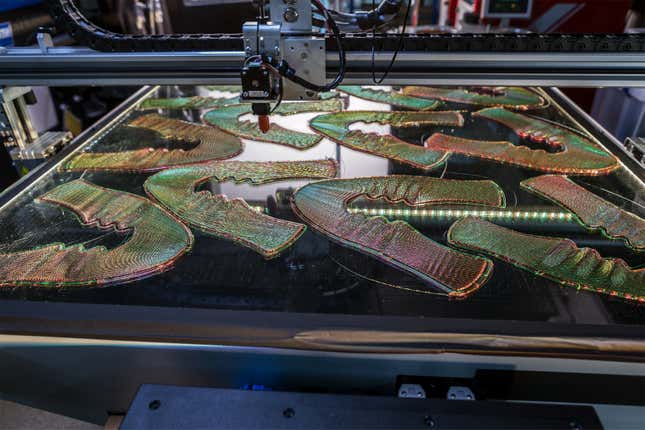 Nike is using it first in a shoe for the world's most elite marathoners, the Nike Zoom Vaporfly Elite Flyprint. It's an upgrade on the performance-enhancing Zoom Vaporfly Elite 4% that runner Eliud Kipchoge wore in his failed 2017 attempt to finish a marathon in less than two hours. When Kipchoge came in just over the mark, Nike looked into any problems with his shoes. It had been a rainy, humid day, and his shoes had absorbed water during his run.
Flyprint is supposed to be the solution. The plastic material doesn't absorb water, and the abundant holes in the cage-like material mean that any water that collects in a runner's shoes or socks will easily evaporate. It's not clear at this stage whether Nike plans to make it more available to casual runners in the near future.
For now, Flyprint won't come easy—or cheap. The weekend of April 22, when Kipchoge wears the shoes for the London marathon and his next attempt at a sub-two-hour marathon, Nike will release 100 pairs in the city through its app, each costing $600, according to Popular Science.