Imagine a skyscraper that can be deployed in minutes. Consider a load-bearing helium balloon rising from the ground floor, unfurling levels as it ascends hundreds of feet in the air. Inspired by the mechanics of an accordion, Skyshelter.zip is a lightweight structure well-suited for disaster zones where space is usually tight—it is air lifted and dropped into place by three helicopters, so you don't need any construction on the ground. After it's no longer needed, the skyscraper can be folded, packed up, and reused in another disaster area.
If this all sounds too good to be true, well, that's because it is.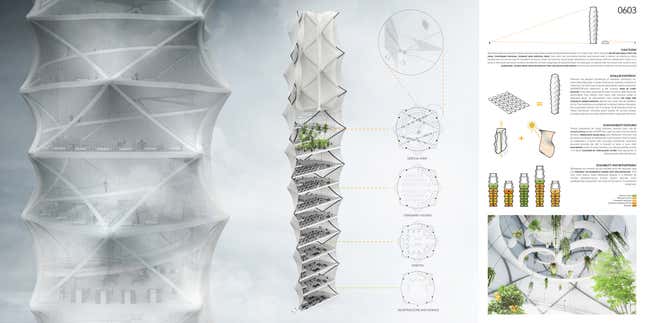 Conceived by a trio of young Polish architects, Skyshelter.zip is the winner of the 2018 Skyscraper Competition sponsored by the architecture magazine eVolo. The yearly contest seeks to "redefine skyscraper design through the implementation of novel technologies, materials, programs, aesthetics, and spatial organizations," explains Carlo Aiello, eVolo's editor in chief. The dazzling digital renderings of the alternate landscapes imagined by contest winners tend to get lots of media attention. The problem is that many articles fail to make clear that Skyshelter.zip, along with the 526 other entries this year, are pure fantasy—pies in the sky, if you will.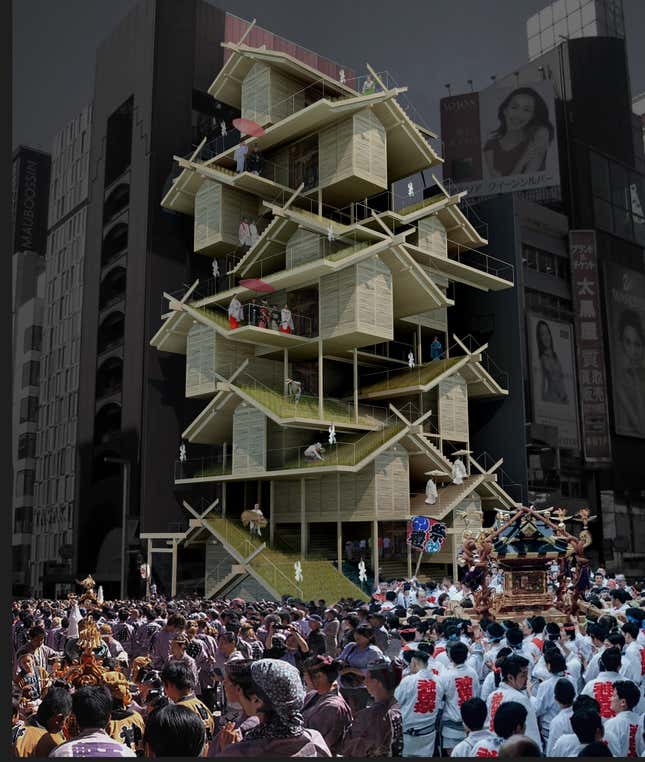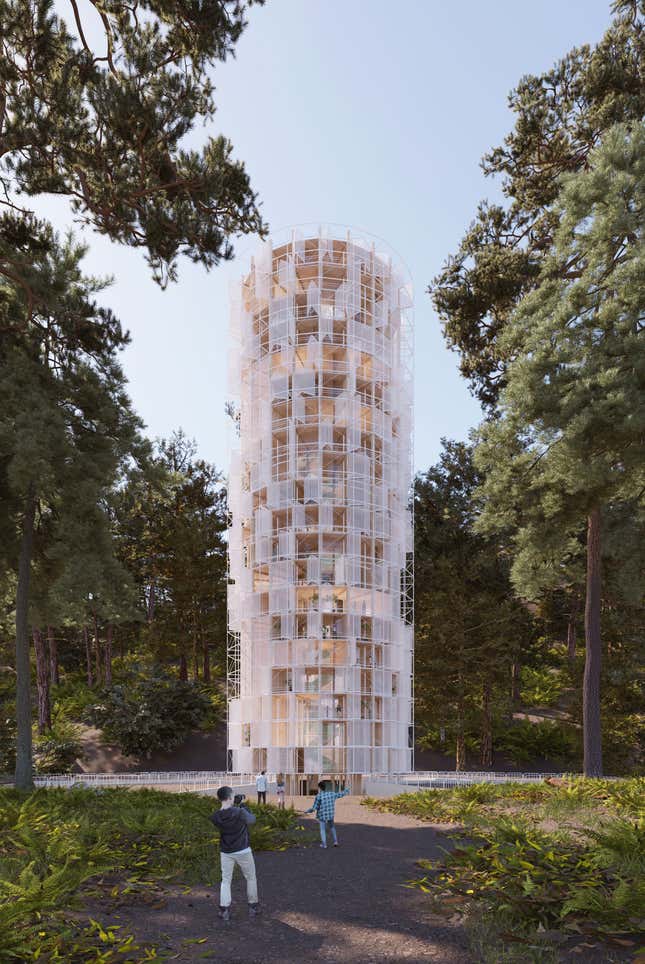 Reality check: Skyshelter.zip, which looks like a giant Noguchi floor lamp, has several features that would make structural and safety engineers balk. For example, the design doesn't include any structural foundation, and Skyshelter.zip's fabric walls and lightweight floors sound like a disaster waiting to happen. There's a reason why buildings take time to build.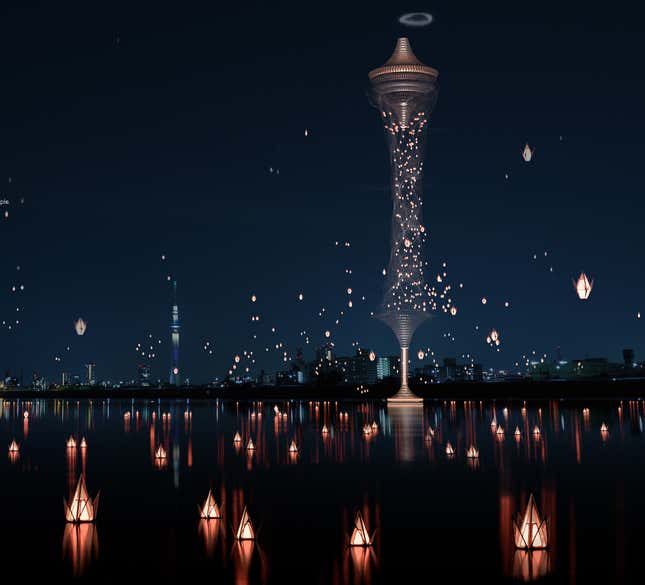 James Ramsey, an architect and one of the jurors for the eVolo competition, describes Skyshelter.zip and the other entries as "purely conceptual musings." Engineering, materials—physics as whole, for that matter—didn't factor in the judging. Aiello notes that in the 13 years eVolo has been holding the competition, none of the winning entries has resulted in an actual building.
Why do architects celebrate impossible structures? Is there any practical use for so-called "architecture fiction"?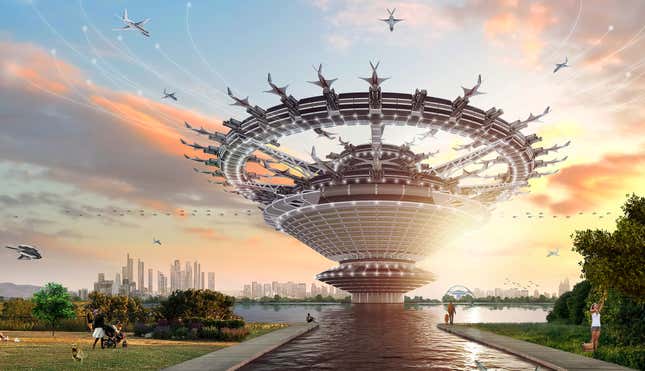 Architects argue that these fictions are necessary for real-world development. For one, speculative projects allow for total creative freedom. "Stripping an idea down to the basics of conceptual utility or feasibility, unfettered by practical construction considerations, allows us to dream and aspire," says Ramsey. In a recent interview with Strelka Magazine, Liam Young, founder of the Fiction and Entertainment MA program at the renowned Los Angeles architecture school SCI-Arc, argues that speculative architecture is about projecting a better future. "Speculative architects mostly create narratives about how new technologies and networks influence space, culture, and community. They try to imagine where new forms of agency exist within the cities changed by these new processes," he explains. And New York-based architect Yen Ha adds that fictive buildings incites new perspectives and pushes boundaries. "It's used to provoke discourse and question status quo," she says.
In other words, speculative architecture is useful in much the same way as literary fiction is: to fuel our imagination.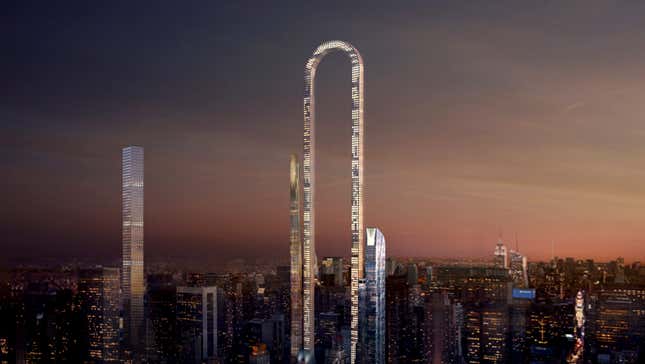 Drawing a provocative structure can also bolster a young architect's résumé. Jakub Kulisa, a recent graduate of the Polytechnic University of Milan in Italy and one of the co-designers of Skyscraper.zip, lists his eVolo competition win right under his name on his LinkedIn profile, for instance. Similarly, Studio Oiio, designers of last year's much-talked about fake-skyscraper concept called "Big Bend," has made the mind-boggling, U-shaped structure its calling card. Ha points out that many famous architects, including Zaha Hadid, Lebbeus Woods, and Rem Koolhaas, built their reputations with portfolios of spectacular, unbuilt proposals.
And in some cases, these seemingly implausible "what ifs" actually shape the built world. Ha recalls how support for New York City's beloved High Line Park spiked after its founders convened a speculative design contest. Seeing deeply imaginative renderings helped residents and city officials picture the immense real-world possibilities for what was then a disused elevated-freight railway line along Manhattan's west side.
But writing about these conjectural designs as if they were actual proposals is propagating misinformation. When taken out of context, fictional buildings are essentially a form of fake news, or clickbait at the very least.