The trailer for the highly anticipated Queen biopic, Bohemian Rhapsody, met a mixed reaction yesterday (May 15), when 20th Century Fox released it. While some called it "thrilling" and "spectacular," others say it proves that the movie will "straight-wash" the band's frontman, Freddie Mercury, by ignoring his bisexuality and the fact that he died of AIDS complications.
Mercury had romantic relationships with both men and women, but kept his sexuality largely out of the public eye. And he confirmed his AIDS diagnoses only hours before his death in 1991. Nonetheless, his death at age 45 greatly raised awareness of the disease, and in the years since Mercury has become a global idol—as a musician of course, but also for his queerness and unabashed expression of self.
That's why some are worried that Bohemian Rhapsody will marginalize, or even ignore, those crucial aspects of Mercury's life. Television writer-producer Bryan Fuller accused the film of straight-washing, pointing out that the trailer showed the singer exchanging flirtatious glances with women but appeared to gloss over his bisexuality. He also noted that the official Fox synopsis for the film calls Mercury's AIDS diagnosis a "life-threatening illness" and does not mention the disease by name.
The Guardian added to the backlash: "This trailer would appear to presage a film with no interest in sounding the ambiguities of his life, the abrasive queerness of his perspective, the virulence of the homophobic press in their attacks on him—what, in a word, made him tick." Others speculate that the film may ignore Mercury's AIDS battle entirely (though that seems unlikely, since it's included in the synopsis).
Do they have a right to be outraged? Does a two-minute trailer for Bohemian Rhapsody have a duty to present all parts of Mercury's life, including his tragic death? And is it fair to filter the story of this complicated life through today's identity politics? There are several factors to consider in answering these questions.
Mercury lived in a time of intense homophobia. He did not speak up about AIDS until the very end, even though it could perhaps have made a difference in public perception—he was a huge star, and the disease was still widely misunderstood and stigmatized. To remain quiet about his own sexuality and health was clearly his right. But for better or worse, he did not fight for LGBT causes or for AIDS awareness in his lifetime.
Bohemian Rhapsody, meanwhile, isn't a Mercury biopic. Executive-produced by two surviving bandmates, Brian May and Roger Taylor, the film has been described as the story of Queen. Since it's not exclusively about Mercury, it clearly won't cover every part of his life in the way that an actual bio-drama would. (The film will apparently trace the band's evolution up until its historic Live Aid performance in 1985—six years before Mercury's death).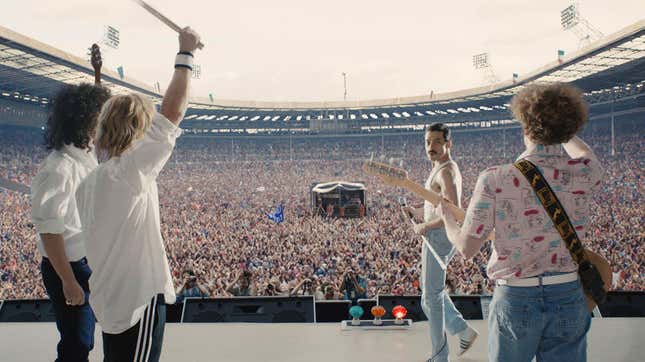 It's reasonable to be angry that the marketing of the film seems to be downplaying Mercury's sexuality, but it's also far from clear that the complete film will do the same. Defenders of the trailer have pointed out that while they are indeed only brief flashes, it does show Mercury inside a gay club, and also being intimate with another man.
The film has had a long, tumultuous path to the screen. Originally slated to star Borat comedian Sacha Baron Cohen (a dead ringer for Mercury), Bohemian Rhapsody has since changed directors, scripts, and lead actors (twice). Cohen left the project in 2013 due to creative differences with the surviving members of the band. Cohen later said that the band wanted a more "family friendly" approach that depicted Queen trying to persevere after Mercury's death in 1991. Cohen preferred an "adult-oriented" style, he said, that focused more on what he called Mercury's "extreme lifestyle of debauchery."
Eventually the project moved forward with Mr. Robot star Rami Malek as Mercury and filmmaker Bryan Singer, who is openly bisexual, directing. Singer, however, was removed from his duties in 2017 for allegedly showing up late to set and clashing with the actors. He was replaced by Dexter Fletcher, who finished filming early this year.
Bohemian Rhapsody will finally be released on Nov. 2, and only then will we know whether the outrage was warranted. But in today's reboot-ridden Hollywood, in which seemingly every other movie is either a Star Wars or Marvel brand extension, perhaps the sheer existence of a film about a legendary musician and queer icon is cause to celebrate.