The Balenciaga Triple S is a monstrous sneaker. At its core you can see hints of a classic mesh-and-leather running shoe. Only it's been overgrown with additional bits of leather, and then at its base, several wave-like strata of rubber. The sole looks like its made of soles from multiple sneakers compressed together under a great weight.
The $895 shoe is among the company's recent big successes. "There's not a dinner I go to where a father or someone [doesn't] say 'stop releasing these shoes, it's out of control, we spend too much money at Balenciaga,'" CEO Cedric Charbit said at a May 22 Financial Times luxury summit, according to a report from Reuters. Charbit was "very happy" to hear these pleas, which undoubtedly extend to Balenciaga's other big hit in sneakers, the $700 Speed Trainer, effectively an elastic ankle sock with a sole.
Balenciaga, he noted, has become the fastest-growing brand in Kering's luxury portfolio—outpacing Gucci, fashion's great brand revival of the past few years. It's easier, of course, for Balenciaga to grow fast since it's smaller. Kering doesn't reveal sales figures by brand specifically, but the group's CEO, François-Henri Pinault, has said (paywall) he expects Balenciaga to reach €1 billion ($1.2 billion) in the medium-term. Gucci's sales last year topped €6.2 billion.
Still, the growth is impressive. According to Charbit, all the brand's categories, including handbags and clothing, are growing quickly, more than doubling in some cases. Customers are eager for what Balenciaga is selling, which includes a large dose of ugly.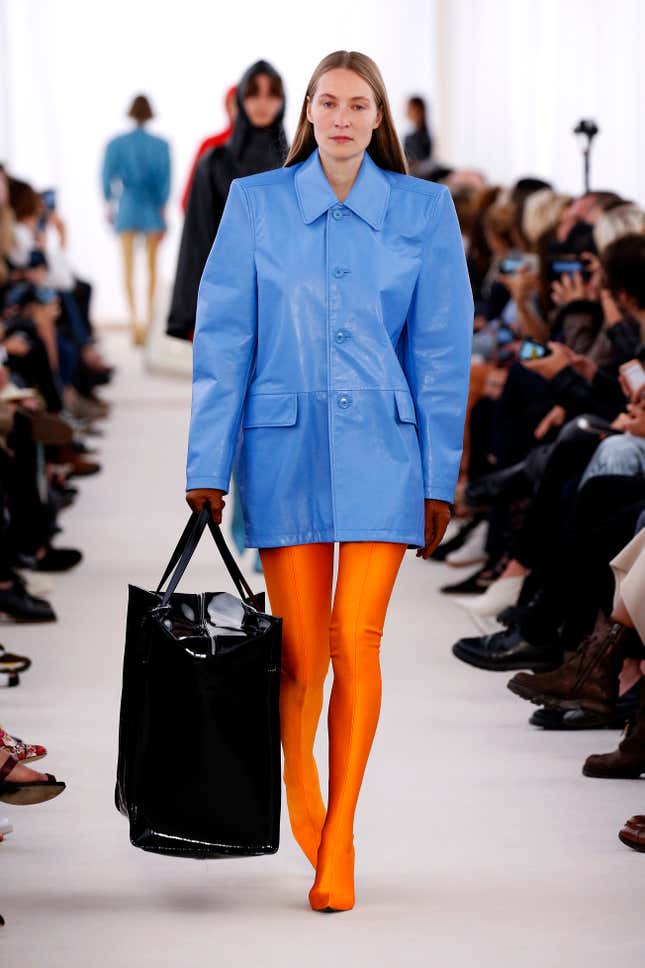 Not everyone has the same idea of what ugly is, but in fashion it usually includes things that fly in the face of what's traditionally considered good taste, such as deliberately ungainly proportions and unsightly colors. Pretty or not, they have a distinct character, and at the moment, that's exactly what many shoppers want.
Demna Gvasalia, Balenciaga's artistic director, routinely plays with these concepts. The Georgia-native might pair a red-and-beige houndstooth with electric blue, or make jackets so oversized you could squeeze a few jackets underneath—which he does.
He emphasizes everyday items, too, such as hoodies and t-shirts that appeal to the informal, street-friendly tendencies of the next generation of luxury shoppers. Millennials and men, both of which are big buyers of sneakers and casual clothes, are Balenciaga's fastest-growing customer groups, Charbit said.
Not everyone is a fan of the look; the pricey Triple S, king of the so-called "dad sneaker" trend, is particularly controversial. The American designer Ralph Rucci—who the Washington Post's fashion critic called (paywall) as close to "a true couturier in the Parisian sense of the word" as the US has—reportedly railed against them on his Instagram account recently. "[T]hey have taken his name and have conveniently used as a springboard for such mediocrity, such tastelessness, such ugly ideas," the Instagram post said, referring to the house's namesake, Spanish designer Cristóbal Balenciaga.
In terms of sales, though, what Balenciaga is doing is working.