Subscribe to the Quartzy newsletter to receive this in your inbox each Friday.
Happy Friday!
Rosie Spinks here, Quartzy's travel reporter in London. As summer vacation season kicks off, I've been thinking about packing. The whole concept comes with such promise, doesn't it? That with effort and calculation, you can be perfectly primed—and dressed—for the adventure that lies ahead, wherever it unfolds.
That said, most people I know resolutely hate packing. But there's reason to embrace the challenge with intention. Being a good packer can make you a better shopper and traveler. You will develop a knack for choosing an item that looks as good in a dive bar as it does in a members-only club. You will always have the right outerwear. You will not own shoes that hurt your feet. And you will accumulate polished clothing that does not require ironing. So, unzip your case with optimism. We got this.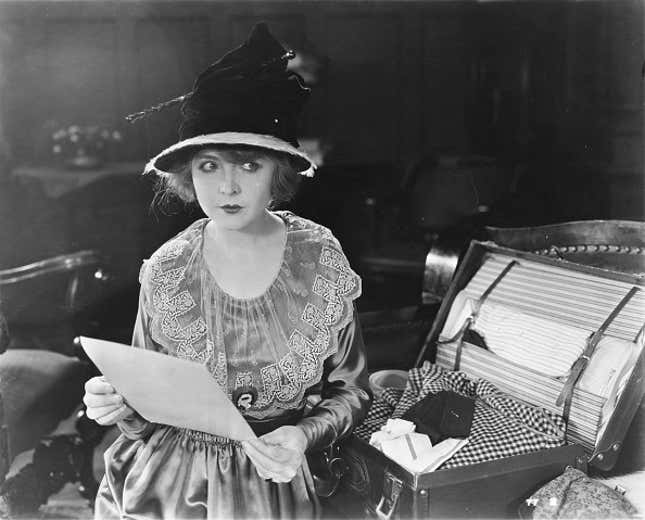 You can do it in a carry-on
 Though I am known to be evangelical about carry-on packing, I am not suggesting that you embrace convertible trousers and sweat-wicking performance wear. You can carry-on all your clothes and still look good. Here's how. 
1. Take out the small suitcase first. The first thing to consider is that most people who check a full-size bag do not wear everything they bring—they just fill the space in their luggage. Reduce your bag size before you pack, and you just might find that the amount of clothes you wear on a trip doesn't change that much—while the amount you haul around does. 
2. Wear everything more than once. The maximum amount of clothes you need on any trip is seven day's worth. If you're traveling for more than that, then guess what? Everywhere has laundry. (Bring a baggie of powdered laundry detergent or some handy Le Labo laundry packets, just in case that laundry has to happen in the bathtub or sink). While  conventional wisdom is to roll clothes to save space, I usually take a half-and-half approach: I carefully layer folded clothes that can crease on one side of the bag, and then roll underwear, athletic wear, t-shirts, socks and the like on the other. 
3. Consider your categories. Heavier fabrics and knits should be for two or three workhorse items you're going to wear all week—think jeans, a chunky cardigan, and such. Lighter fabrics like linen, cotton, jersey, and silk can be the pieces you use to switch it up. A neutral color scheme makes mixing easy, and I usually throw in one bright piece (a patterned silk scarf, or a sundress) to keep things interesting. 
4. Be ruthless with jackets and shoes. If the weather will be relatively stable, try to bring a single piece of outerwear that will work with everything you've packed. My kelly green Barbour jacket, with no fewer than six pockets, has never failed me. As for shoes, try to get away with two pairs. I wear something versatile and comfortable on the plane, like a timeless pair of Chelsea boots or flat sandals. Then, I pack a pair of trainers I like enough to wear beyond a morning jog. (These New Balances have transformed into a person who gets compliments on their sneakers). 
5. When tempted to overpack, remember: Traveling light facilitates spontaneity. Navigating those unpredictable "in-between" moments—hopping on the subway instead of sitting in traffic, killing two hours before your Airbnb check-in time, heading straight to a dinner party from the airport—is much more pleasant if you're carting manageable cargo. And hey, you might even have a bit of space for shopping.
When you get home, don't unpack
 Much of the labor of packing is mental: remembering what to bring, and the fear of forgetting something vital. Leaving a few essentials in your suitcase—even if it means buying a couple duplicates—means eliminating that work for next time.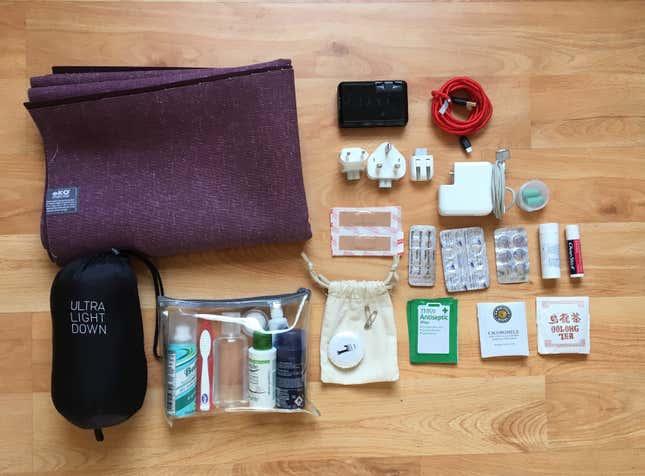 Some go-to items that that never leave my carry-on are: my international charging setup, a transparent (and travel-sized) fully stocked Muji toiletries bag, a barebones first aid-kid kit, a lightweight down vest, and Manduka's improbably foldable and grippy eKO SuperLite yoga mat, which packs down to nothing. (Also, some herbal tea bags). 
What about the suitcase?
I've never been into fancy luggage. Maybe it's because I routinely thrash my inexpensive, Ryanair-compliant carry-ons about cobbled streets and public transportation. But on a recent impromptu visit to Away Travel's store in West Hollywood, I was lusting after their new aluminum case.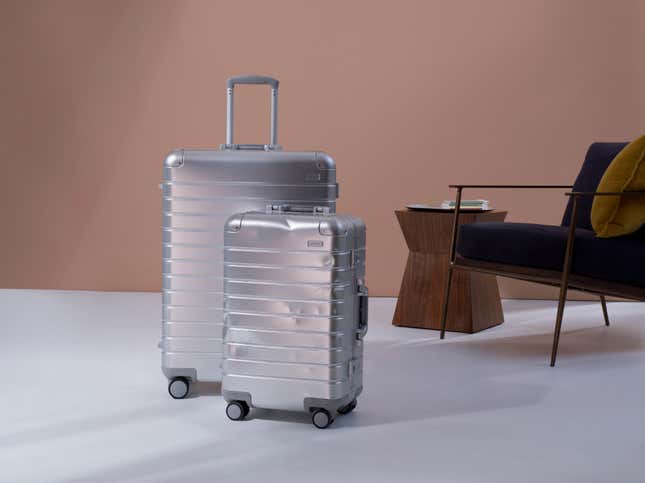 Away's luggage recalls the granddaddy of prestige luggage, Rimowa, which launched its signature grooved aluminum alloy case in 1950, inspired by a commercial aircraft jet—and just this week released a crystal-clear suitcase co-designed by Virgil Abloh, for packing exhibitionists. Away has sussed that much like well-worn denim, aluminum luggage's street cred comes from wear and tear—a subtle suggestion that you're a very frequent flyer. While the cases aren't sold pre-scuffed (yet), Away's product shots show some artful scratches and dents, suggesting these imperfections are something wander-lusters should embrace, if not covet. 
Yes, I pack my own coffee
One of the only things I dislike about traveling is the fear of waking up without immediate access to caffeine. Perhaps your hotel is one of the many that touts single-use pods as "luxury" coffee. Or—the horror!—your Airbnb only has instant granules. Or the nearest cafe wants to charge €4 for a watery Americano.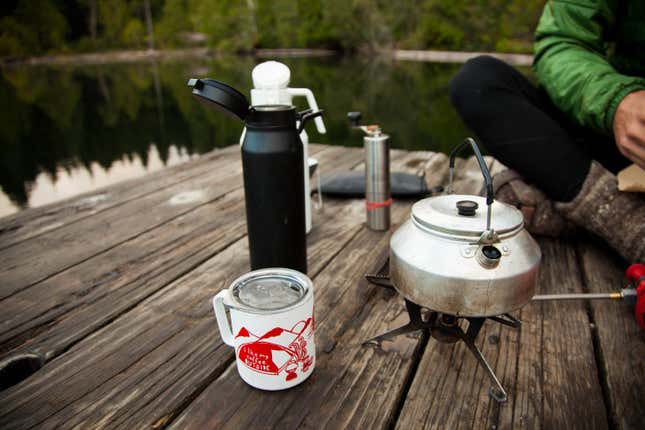 My friend Anna Brones, an author of several books about coffee, is a master of the mobile brewing setup. Anna recommends this not only for its superior results, but also for the sense of ritual. She suggests buying a bag of local beans and using a hotel room-friendly method, like a lightweight and easy-to-clean Aeropress. To me, the biggest perk of packing this setup is that it saves you from rushing out of the hotel or Airbnb as soon as you wake up—and facing the world un-caffeinated. Wherever you are, you can savor your morning routine, uninterrupted.
Have a great weekend!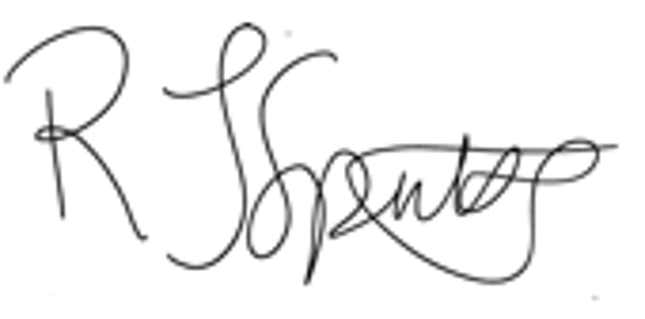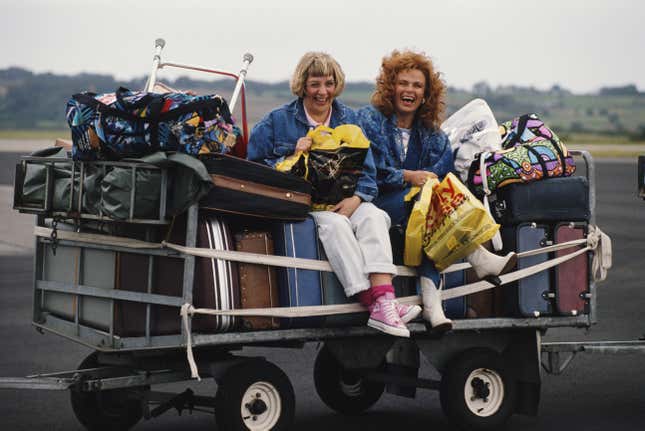 I was devastated to learn the news of Anthony Bourdain's death today, like so many of his fans. There's a quote of Bourdain's that I send to friends whenever they ask me for recommendations of what to do in Paris:
"Most of us are lucky to see Paris once in a lifetime. Please, make the most of it by doing as little as possible. Walk a little. Get lost a bit. Eat. Catch a breakfast buzz. Have a nap. Try and have sex if you can, just not with a mime. Eat again. Lounge around drinking coffee. Maybe read a book. Drink some wine. Eat. Repeat. See? It's easy."
In a practical sense, it's simply great advice. But also, in so few words, it captures everything I love about Paris, travel, and Bourdain himself. Which is to say: everything I love about being alive. This weekend, cook a great meal with someone you love, or just enjoy a beer or a coffee while watching the world go by, and drink a silent toast to Anthony Bourdain.