I am a person who appreciates nice clothes, accessories, and housewares. I like my things. But there's a certain unsexy, utilitarian category of possession I have no desire to spend money on, even though I know the investment will make a marked improvement. Luggage falls into this category. (See also: frying pans, sports bras.)
In recent years, I've started to travel more for work, often adding a weekend onto a few days of meetings. While I've devised a pretty perfect packing list for these four-to-five day journeys, the contents don't quite fit into my tired, dozen year-old Brookstone. (Plus, it's shamefully ugly.)
In search of inspiration, I took this Tumi for a test run to Portland, Oregon. While I loved its divided compartments and could have done a dance number with its four spinning wheels, I couldn't justify the $625 price tag. Plus, my hostess in Portland—my most fashionable, work-traveling friend—told me I'd be silly not to get a hard-shelled suitcase. She credited hers with keeping her clothes and toiletries organized and un-smooshed.
So when I heard about Away Travel, a new brand promising to do for carry-ons what Warby Parker did for glasses, I was interested. The $225 price for a carry-on of durable materials and decent design seemed right.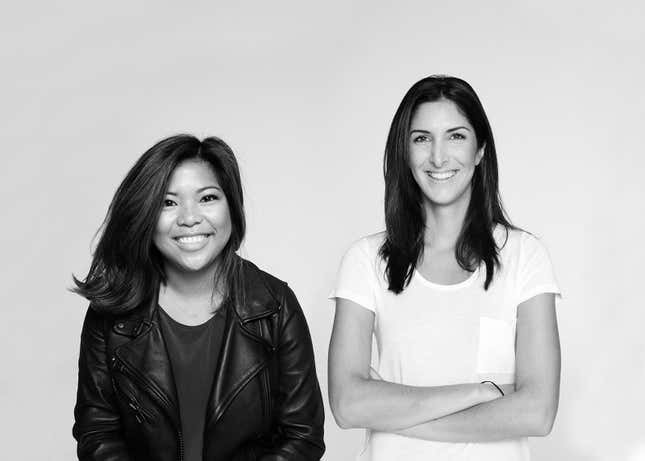 Away's founders, Steph Korey and Jen Rubio, were already familiar with the direct-to-consumer business model. The pair met at Warby Parker, where Korey led development and logistics, and Rubio oversaw social media, before they parted ways for jobs at Casper and AllSaints, respectively. In her work for AllSaints, Rubio spent much of her year on the road, and saw an opportunity when she fell out of love with a carry-on she always thought was over-priced.
"The cheap ones break," she said. "The expensive ones are high-quality, but who wants to spend $600-plus?" The women teamed up to target their peers, millennial travelers who might have brand loyalty when it comes to say, shoes, sunglasses, or even cars.
"You're so thoughtful with the way you put yourself together in other areas," said Rubio. "Why are you using your mom's crappy luggage?"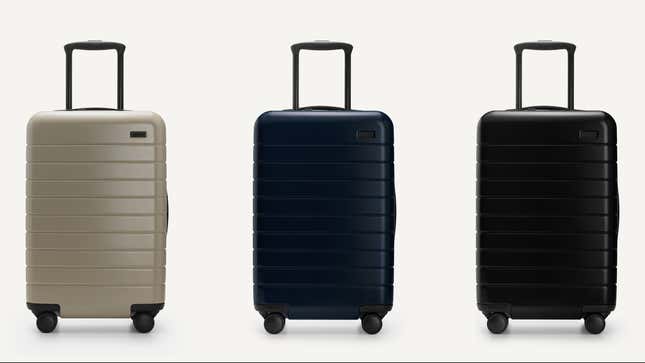 In appearance, Away's suitcase resembles the minimalist, hard-shelled versions sold at the Japanese chain Muji. But Korey and Rubio handily rattle off the features that distinguish their carry-on: more interior packing space, reliable YKK-brand zippers, an interior compression pad and laundry bag, and an internal battery with two USB ports to charge your devices. (This seemed silly at first, but Snapchat and Instagram are great on the road, and do drain the iPhone.) I'm partial to the suitcase's pebbled surface, which appears especially rich in black and navy, and the bag's Mary Poppins-ish packing capacity.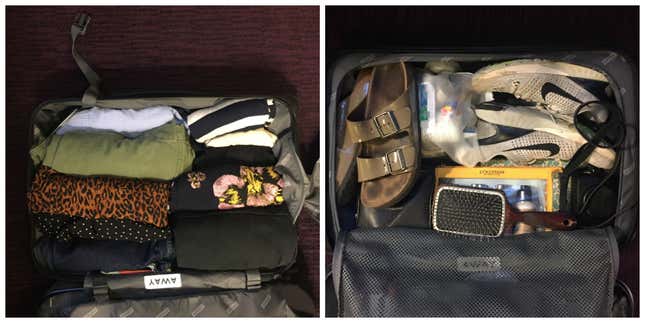 Just before Away's February 2016 launch, I took one of the brand's pre-production samples on test run from New York to San Francisco, complete with packing tips from Rubio. Hard things, such as running shoes, toiletries, and electronics went on the side with a netted compartment to contain them. Clothes went on the other side, and were pressed down with a zipper-pocketed compression pad, which I filled with undies. Everything fit easily inside, security didn't bat an eye at the battery pack (though like all spare lithium batteries, TSA requires removing the pack if you check your bag), and no one tried to make me check my suitcase at the gate. I was unsure of the beige color, but it did coordinate with the trench I lived in throughout a drizzly trip.
In the four months since Away started selling the carry-on online, the company has sold more than 5,000 suitcases, and will likely sell many, many more at their New York pop-up, which will be open through August.
I'll probably roll out with one myself.