Ah, summer. A time for beach trips, barbecues, and Hollywood franchise sequels.
While this summer movie season in the northern hemisphere is no different from those of years past—in that almost every movie from a major studio is a sequel—it also features some intriguing indie options that aren't getting nearly as much fanfare. There's another Mission Impossible, sure, but there are also debut features from several promising young filmmakers, and a new, critically acclaimed Spike Lee movie.
And, increasingly, the summer is becoming an excellent season for new TV series to drop. Once thought to be the season where shows went to die quietly, summer now has intensely marketed event series, as networks realize they can use the relatively quieter TV period to build buzz for their shows. Sometimes, summer shows become huge hits on their own without much buzz. Stranger Things ring a bell? That was a mid-July release in 2016.
There's a lot of questionable content to wade through this summer, but luckily you've got us to do the wading. Quartz picked out seven blockbuster movies, six more modestly budgeted films, and four new TV shows that are worth checking out from now until early September.
Blockbuster movies
Incredibles 2
The long-awaited sequel to Disney's 2004 animated superhero film, The Incredibles 2 has earned raves from critics who say it's every bit as good as the original. (June 15)
Jurassic World: Fallen Kingdom 
Hooray, another Jurassic Park franchise movie. Like the first Jurassic World, this one is getting tepid reviews, though that won't stop you from seeing it, right? Yeah, let's be honest, we're all still going to see this. Based on the trailers, it looks like the dinosaurs leave Isla Nublar so that they can creep around in people's homes. (June 22)
Sicario: Day of the Soldado 
Sensing a theme here? Here's another sequel. Though Sicario director Denis Villeneuve and cinematographer Roger Deakins did not return for Day of the Soldado, Italian filmmaker Stefano Sollima seems to have kept the first film's gritty, dread-filled aesthetic. Fresh off his stint as Thanos in Avengers: Infinity War, Josh Brolin returns to the Sicarioverse as the slimy CIA operative Matt Graver, who enlists the help of Benicio del Toro's mysterious hitman Alejandro to sow discord among Mexican drug cartels. (June 29)
Ant-Man and the Wasp 
Speaking of Avengers, where was everyone's favorite ant-sized Marvel hero? Perhaps he was busy filming Ant-Man and the Wasp, the sequel to the 2015 film about the superhero who can literally control insects. Now he's joined by Wasp, who is given a crime-fighting suit similar to Ant-Man's by her father, the former S.H.I.E.L.D. agent Hank Pym. (July 6)
Mission: Impossible – Fallout 
Tom Cruise will still be making Mission Impossible movies long after we're all dead and the sun has exploded. No fiery apocalypse could stop Tom Cruise from jumping out of planes and flipping helicopters, even if there are only cockroaches left to watch him. Tom Cruise does not do these things for our entertainment. He does them because he is Tom Cruise and he knows no other way. (July 27)
Christopher Robin
"People say nothing is impossible, but I do nothing every day," says Winnie the Pooh in the trailer for Christopher Robin, Disney's live-action-CGI hybrid film about the beloved teddy bear and his animal friends from the Hundred Acre Wood. Robin, the little boy from Disney's earlier Pooh films, is now an adult businessman who has lost his sense of wonder, when along comes a squad of talking stuffed animals to make Christopher Robin a boy at heart again. (This is not to be confused with the 2017 film about Pooh's creator, A. A. Milne, Goodbye Christopher Robin.) (Aug. 3)
The Predator 
Though the summer movie season unofficially only runs until Labor Day weekend in the US, The Predator will be released when it's technically still summer, so we're going to count it. The humanoid alien hunters are back in this reboot of the popular franchise launched by 1987's Predator, which starred Arnold Schwarzenegger in one of his quintessential action roles. He's not in this one, but Sterling K. Brown and Jacob Tremblay are! (Sept. 14)
Under-the-radar movies
Leave No Trace
Debra Granik's first feature film since 2010's chilling, Oscar-nominated Winter's Bone (which made Jennifer Lawrence a star), Leave No Trace received a universally warm reception at the Sundance Film Festival in January. The film follows a father and daughter who live off the land in an Oregon forest until they are forced to leave their wilderness home and enter social services. (June 29)
Sorry to Bother You 
Another hit out of Sundance, Sorry to Bother You stars Tessa Thompson (Annihilation) and Lakeith Stanfield (Atlanta) in the hip hop musician Boots Riley's filmmaking debut. Described as a fantasy comedy, the film is set in an alternate present-day Oakland, California, where Stanfield's character is a telemarketer given a rare opportunity to drastically improve his circumstances. (July 6)
Eighth Grade 
The 27-year-old comedian Bo Burnham's directorial debut will make you nostalgic for those painfully awkward middle school years. Eighth Grade stars Elsie Fisher as Kayla, an American student trying to survive her last week of middle school before embarking on the treacherous journey to high school. Also a Sundance favorite, the film currently boasts a 100% rating on Rotten Tomatoes. (July 13)
Hot Summer Nights 
Indie distributor A24 (Lady Bird, Hereditary, Eighth Grade) will continue its recent streak with Hot Summer Nights, a 1980s coming-of-age romp starring Call Me By Your Name Oscar nominee Timothée Chalamet as a kid who gets in over his head selling marijuana one summer on Cape Cod. (July 27)
BlacKkKlansman
Spike Lee's latest joint, the biggest hit at Cannes this year, tells the true story of a black police detective (John David Washington of HBO's Ballers fame) in Colorado Springs, Colorado in the 1970s who infiltrated the local chapter of the Ku Klux Klan by getting his white colleague (Adam Driver) to pretend to be him in in-person meetings. Early reviews suggest it's Lee's most impressive film in years. (Aug. 10)
White Boy Rick
Apparently this is the summer of teenagers selling drugs in the 1980s. White Boy Rick is the true story of Richard Wershe Jr., a 14-year-old living in Detroit who became the FBI's youngest informant ever. Matthew McConaughey looks as committed as ever, playing Wershe's father, struggling as the US auto industry collapses and cripples the city. (Sept. 14)
New TV shows
Yellowstone
Why yes, that is Academy Award-winner Kevin Costner wearing a large cowboy hat. Written and directed by Hell or High Water scribe Taylor Sheridan, Yellowstone marks Paramount Network's most prestigious fare since rebranding from Spike TV in January. Costner plays a powerful rancher in the US Northwest who owns the country's largest contiguous ranch, which is under attack by land developers, an Indian reservation, and the titular US national park made famous for its geysers. (June 20, Paramount Network)
Sharp Objects
The words "HBO" and "miniseries" usually means good news, and Sharp Object looks to be the next compelling entry in the premium cable network's dramatic slate. Based on the novel of the same name by Gone Girl author Gillian Flynn, Sharp Objects stars Amy Adams as a journalist who, shortly after a stay at a psychiatric hospital, returns to her Missouri hometown to investigate the murders of two young girls. Big Little Lies director Jean-Marc Vallée stays in the HBO family to direct this one as well. (July 8, HBO)
Castle Rock
Hulu's next potential hit has an insanely talented cast with quite the pedigree: André Holland (The Knick, Moonlight), Sissy Spacek (Carrie), Bill Skarsgärd (It), Terry O'Quinn (Lost), Melanie Lynskey (Togetherness), Scott Glenn (The Leftovers), and Allison Tolman (Fargo). Just as talented is its writing and directing teams, which includes alumni of Mad Men, The Leftovers, Manhattan, and The Americans. The anthology series takes place in the world of Stephen King's famous horror novels, but will depict its own original story. (July 25, Hulu)
Disenchantment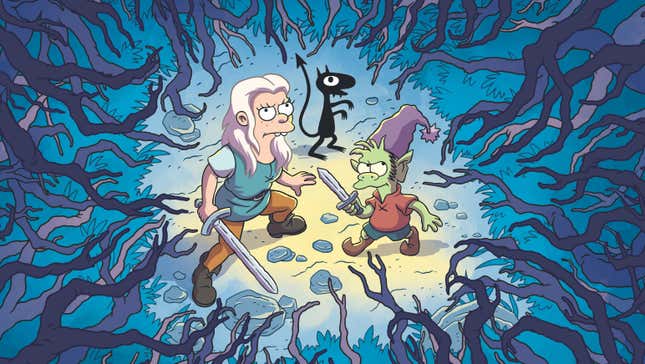 The Simpsons creator Matt Groening's next project takes on the niche world of adult animated fantasy sitcoms. Disenchantment depicts "Dreamland," a collapsing medieval kingdom where a "hard-drinking young princess" named Bean (voiced by Broad City's Abbi Jacobson) encounters various types of mystical creatures, including ogres and imps. She's accompanied by the appropriately named elf Elfo, and Luci, her "personal demon." (Aug. 17, Netflix)
Returning TV shows worth noting
The Affair (June 17, Showtime)
Detroiters (June 21, Comedy Central)
Preacher (June 24, AMC)
GLOW (June 29, Netflix)
Snowfall (July 19, FX)
Outcast (July 20, Cinemax)
Orange Is the New Black (July 27, Netflix)
The Sinner (Aug. 1, USA Network)
Better Call Saul (Aug. 6, AMC)
Insecure (Aug. 12, HBO)