There's a tried-and-true formula that many food-focused travel shows adhere to: A host, generally male and white, swoops into a country and is taken to a region or neighborhood where he proceeds to "discover" an ingredient, dish, or entire cuisine—one that locals have been happily chowing down on for years.
This fall National Geographic will begin filming a show hosted by Gordon Ramsay in which the celebrity chef and professional rageaholic travels around the world, "unlocking a culture's culinary secrets." It will culminate in a showdown where the chef tries to best these traditional cuisines, by "pitting his own interpretations of regional dishes against the tried-and-true classics."
In stark contrast, the philosophy of the renowned US chef Marcus Samuelsson for his PBS show, No Passport Required, is: "Check your chef hat at the door." There's no smack-down challenge between him and the untrained home cooks—many of them women—that he encounters. Instead, he revels in being bossed around, letting grandmas instruct him to stir a bubbling pot of oxtails, or chop the vegetables just so. "Cooking with grandmothers and aunties," he told me recently, "humbles you."
Samuelsson's persona in the show is less globe-trotting culinary adventurer, more polite and curious guest, as he explores immigrant enclaves all over the US. He samples pineapple-stuffed pastries with Guyanese cooks in Queens, and gives a gracious toast in a backyard in Miami's Little Haiti neighborhood. The show shines when young, second-generation immigrants talk with Samuelsson about the push and pull of identity and belonging, but it's the moments he spends with those grandmas and aunties, cooking in home kitchens, that really define it.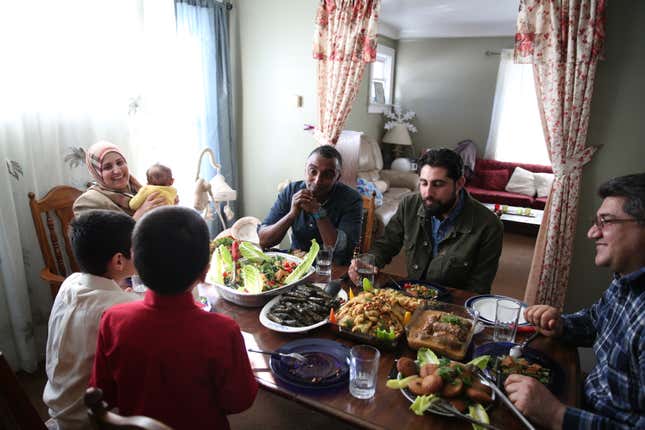 Joanna Forscher, the showrunner on No Passport, attributes Samuelsson's comfort in immigrants' kitchens to his own experience—growing up in Ethiopia, being adopted by Swedish parents, and then moving to the US as a young chef. "He can talk to grandmothers," she says.
The point of the show isn't "discovering" cuisines or dishes, she says: "We really use food as an entry point to talk about sort of deeper issues that immigrant communities are facing."
Samuelsson also understands on a fundamental level the combination of aspiration and hard work that has driven so many immigrants to success against difficult odds. "I think sometimes as a person of color, as a black man, an immigrant, that gives me a window into other things," Samuelsson says over the phone, while en route to the airport to board a flight from New York to LA. 
As a young chef in Sweden with ambitions to to be a chef-owner, Samuelsson quickly realized that racism would make it hard to achieve his goals in Europe. "The two things you never saw in kitchens were women and people of color," he says. "My dad was like, you've got to go to the United States, to New York. That's where diversity thrives."
Indeed, Samuelsson found critical acclaim in New York with his Scandinavian restaurant Aquavit, and expanded his restaurant empire with Harlem's Red Rooster and several others. He even had the distinction of cooking the first state dinner of Barack Obama's presidency. Samuelsson has always made a point of hiring a diverse staff, and running kitchens in which at least half of the staff are women as a matter of policy.
This context has made for a show that bucks many of the conventions—and pitfalls—of travel television. But there's nothing dull or dutiful about Samuelsson's exploration of the American immigrant experience. Like the late TV host and chef Anthony Bourdain, Samuelsson is driven by a deep wonderlust and a desire for deliciousness.
"I've just gone to the school of if you're cooking something that excites me, I'm in," Samuelsson says. "That's the school."