Packrats, rejoice. Starting today (Aug. 1), you can pick up a copy of the 2019 catalog at IKEA stores, and this year's issue is a love letter to collectors of stuff.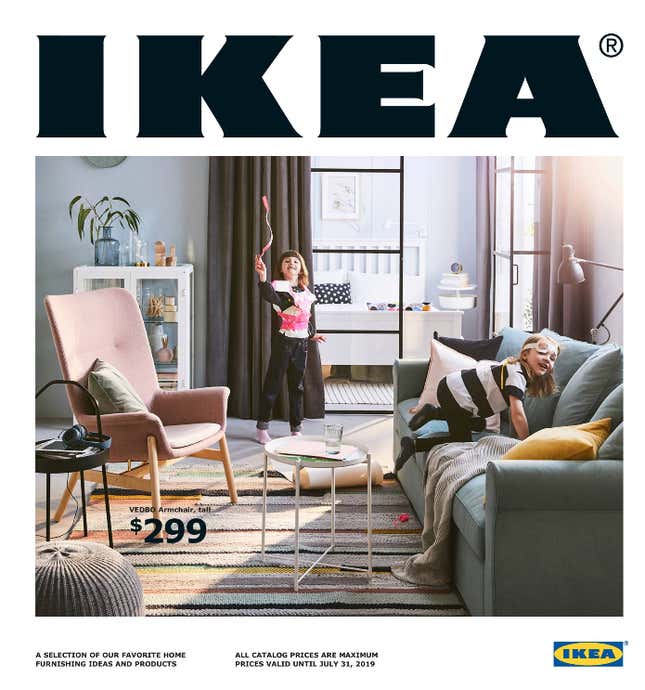 The 68th edition of the beautifully-photographed catalog, always much anticipated by budget-conscious interior design geeks, brims with new products and region-specific solutions from the world's largest furniture company.
But the dominant theme that echoes throughout the 288-page volume may surprise super-fans of Scandinavian simplicity and devotees of the guru of joyful tidying, Marie Kondo: IKEA is making a point of challenging the "myth of minimalism."
Heeding insights from its global survey of households in 22 countries, IKEA's design teams learned that asking people to throw away their beloved "useless treasures" can just be as oppressive as dealing with clutter. The reality is that most of our homes are jam-packed with objects from our personal histories—trip souvenirs, kids' drawings, stubs from a great concert and mountains of bric-a-brac that would horrify any KonMari acolyte. And it may not be the clutter that's stressing us out; sometimes it's the pressure to expunge all that clutter.
"Globally, 27% of people think society puts pressure on us to live minimally," IKEA reports. "And 49% of people say the main cause of their domestic arguments is due to different feelings about clutter."
Departing from the perfectly curated ideal idealized by Kondo and her ilk, IKEA's 2019 catalog celebrates the uneven mess of everyday lives. "We suppose we want to live with fewer things, but our belongings represent our memories, hopes and dreams," the catalog points out. "The items that are emotionally meaningful to us, even if they aren't practical, do bring us happiness."
"Instead of telling people what to do, we thought we'd reflect how people live," said an IKEA store associate during a July 30 press preview.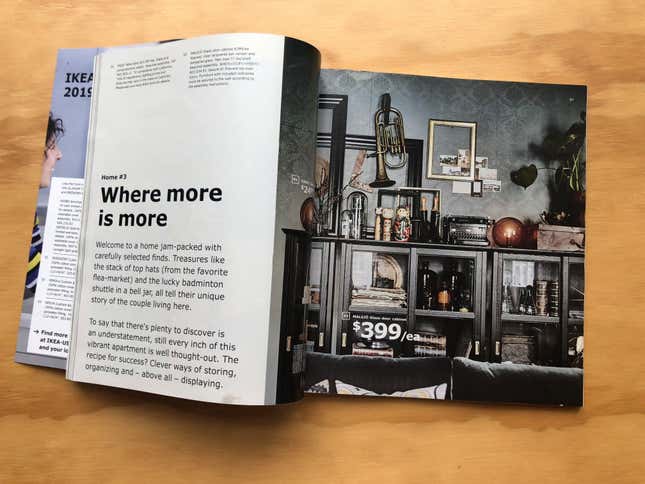 Citing the work of York University professor Russell W. Belk, who researches the psychology of possessions and materialism, IKEA argues that organizing piles of stuff is healthier than asking people to ruthlessly chuck them all out. And of course, this gives IKEA's copywriters the perfect segue to introduce the expanded range of storage and display solutions featured in the catalog. Among this year's product highlights is a collection of boxes and containers called "Sammanhang" a Swedish word which loosely translates to "context" or "connection."
In this respect, IKEA and KonMari might seem aligned: Kondo herself recently released a line of boxes to store the joy-bringing items that survive a KonMari purge. But IKEA's philosophy on boxes differs from Kondo's in that the Swedish brand is encouraging people to display their hoard of stuff proudly. "The time has come to celebrate your stuff. It might sound silly, or even obvious, but the truth is that many feel stressed to have less," reads the catalog. "What if the true trend is not about having less, but about guilt-free collecting?"
The Sammanhang product page features vignettes about four types of collectors, including Paul, a man who has amassed a million buttons, and a couple named Jules and Vince who hold on to found objects that they gift each other. They're described as "autobiographical collectors," taking the same delight in mundane ephemera as designers Maira and Tibor Kalman, who used to collect perfect onion rings they encountered.
Can IKEA's full-throated defense of packrats break the momentum of the global cult of decluttering? If you think of the store's catalogue as a book promoting its philosophy, it's one of the most broadly influential publications today: With a print run of over 210 million copies in 33 languages, the catalog is expected to reach 255 million people from Helsinki to Hyderabad. Though it's not an entirely fair comparison, since Marie Kondo presents her message on many platforms, the author's smash hit first book, The Life-Changing Magic of Tidying Up, sold somewhere upwards of 8 million copies.