An entranceway that sparks joy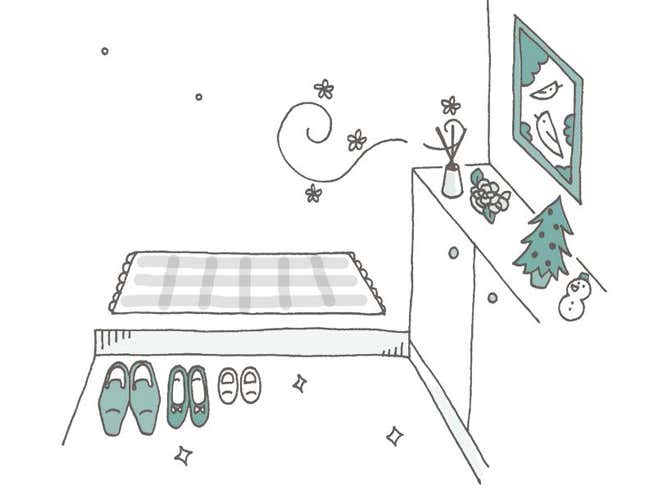 As a self-proclaimed tidying freak, I can tell the state of a person's closets the instant I set foot in the doorway. One client's front entranceway was jammed with shoes and a bundle of newspapers ready for recycle. Keys, gloves, and delivery forms were strewn randomly across the top of the shoe storage bench, and the hallway was so packed with boxes of books and clothes, it looked like a storage shed. "You'll have to come in the back door," she said. "There's no room to get in here." Predictably, her home looked like a warehouse. While this is an extreme example, any home with a cluttered entranceway is bound to be cluttered throughout.
Even when the entranceway at first glance appears quite neat, if the air flow feels heavy, it's quite likely that the closets are stuffed to bursting. In fact, air circulation is an important consideration when tidying the entrance­way, and something I think about as I plan overall storage in a house. My cardinal rule is to observe how the air from the entranceway flows through the rest of the house and to make sure nothing obstructs it. If the entranceway is full of shoes and other things, the atmosphere in the home will be suffocating.
That's why I recommend keeping your entranceway as clear as possible. Leave out only the shoes you have worn that day to air them. This means that there will only be as many shoes as family members visible. Things that are needed during a certain period of your life, such as a baby carriage, can be stored here, too.
It's preferable to keep as little as possible in the entranceway. I suggest that you choose just one thing you really love to spark joy in this space. If you want to display several small things, you can prevent them from looking like clutter by placing them on a tray or a cloth so that together they make a single decoration. Save the other things you love for decorating the rest of your house.
A living room that sparks joy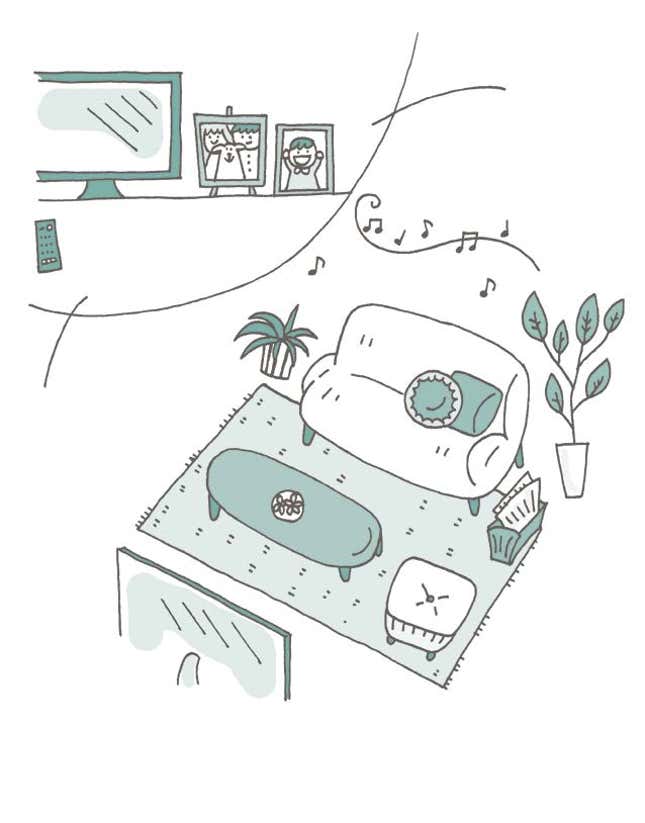 The living room's role is to provide a space for the family to gather and enjoy each other's company. Always keep in mind that it's the center of family life.
The ideal living room will feature furniture that sparks joy. I recommend having a fixed place for the remote con­trol, magazines, and so on. Consider adding plants, music you love, and a special corner for family photos.
A kitchen that sparks joy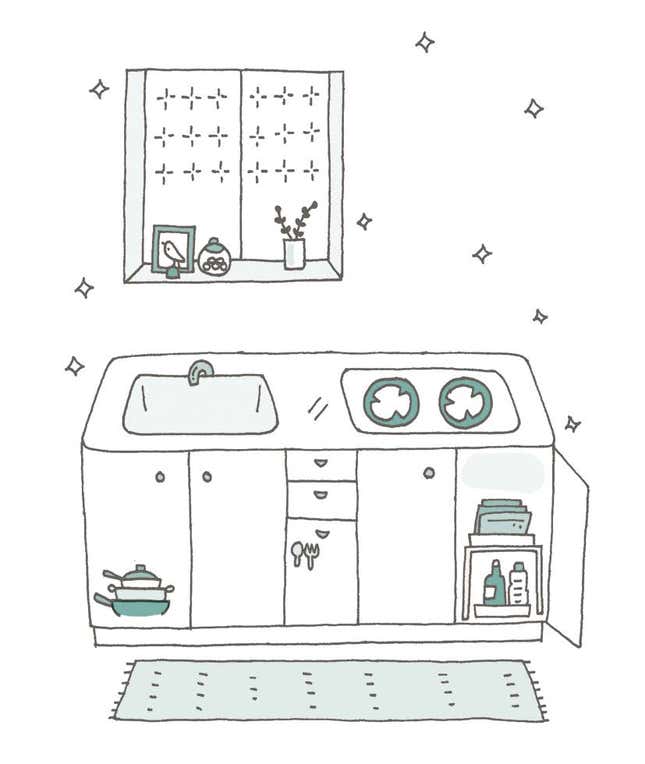 Cleanliness is crucial. Moisture and oil are the enemy. That's why ease of cleaning gets top priority. Don't keep anything on the counter near the stove or sink. Keep pots and pans to a minimum, store all cooking utensils in one spot, and take advantage of vertical storage solutions for foodstuffs.
Decorate your kitchen, too. Your kitchen should make cooking fun.
An office that sparks joy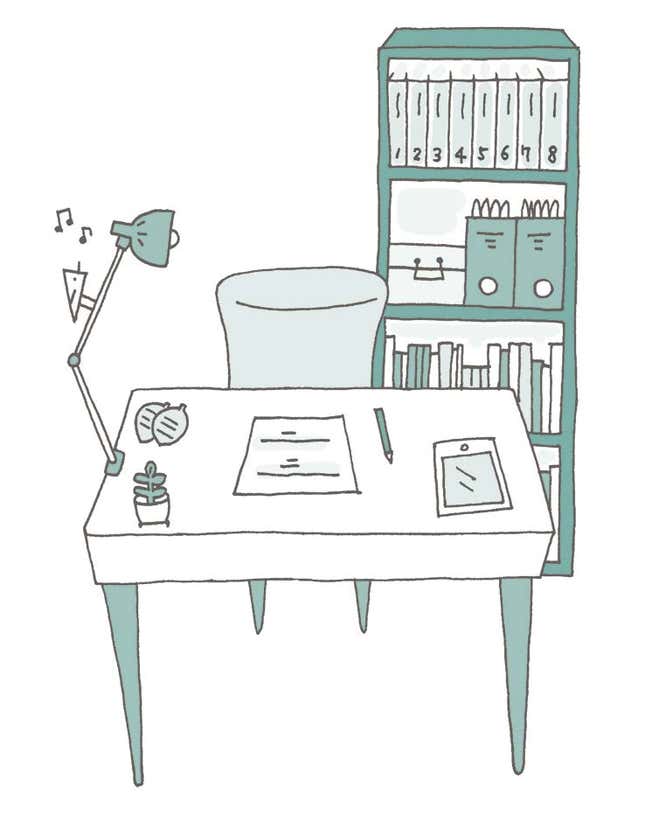 You can clear your mind simply by discarding all unnec­essary papers. Keep the desk area relatively clear. Arrange books and materials according to your own rules.
Consider adding a small ornamental plant. Don't make your office solely practical. It's important to add a playful touch precisely because it's a work space.
A bedroom that sparks joy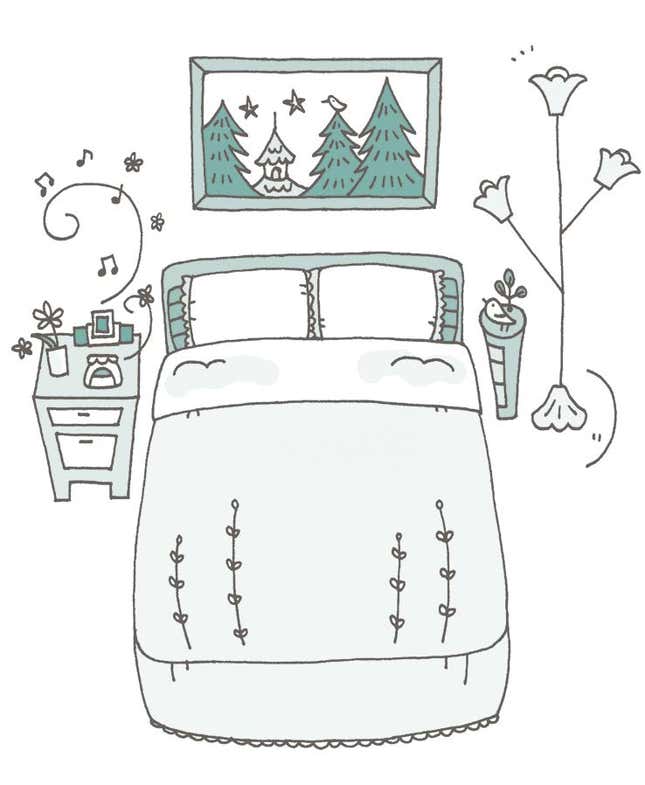 Make your bedroom a space to recharge your batteries and refresh yourself for another day. Keep lighting soft and indirect, play relaxing music, and feature items and scents that spark joy. Wash sheets and pillowcases frequently.
A bathroom that sparks joy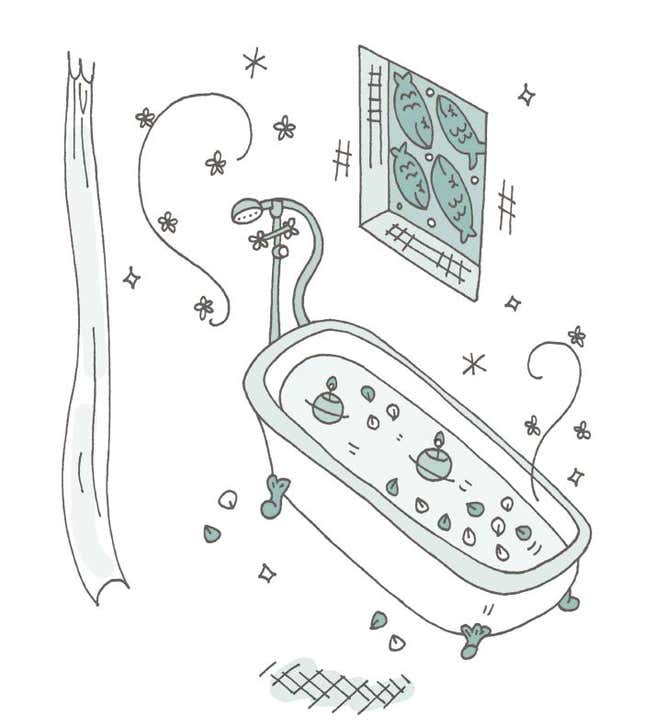 Why not enjoy your bathroom's delights? Bathe by candle­light, add bath salts, flowers, whatever you feel like.
Keep the tub and counters well scrubbed. Take out only what you need and put it away when finished.
The toilet is your home's "detox area." It's important to keep the energy flowing through, so keep it uncluttered. Any decorations should spark joy and be arranged with flow in mind. Cleanliness is crucial. The ideal water closet will have a fresh, natural aroma. Keep supplies like toilet paper out of sight in a basket or covered by a cloth.
Reprinted from SPARK JOY © Copyright 2015 by Marie Kondo. Published by Ten Speed Press, an imprint of Penguin Random House LLC