French fashion house Balmain recently announced three "beautiful diverse" additions to its slate of influencer-cum-models it calls its "Balmain Army." The "models" are virtual avatars.
Some applauded Balmain's creativity, praising creative director Oliver Rousteing for doing more than "just paying lip service when it comes to increasing visible diversity in the fashion industry."
Others noted that the diverse new faces of Balmain's fall 2018 collection—Margot, Zhi, and Shudu, (pictured above)—make a poor and bizarre proxy for "visible diversity," by virtue of the fact that the characters are computer generated.
Critics have pointed out that Balmain could have hired actual diverse human beings for the campaign. Rather, it introduced the virtual trio—"Chinese beauty," Zhi, (modeled after David Bowie, according to Refinery 29's interview with Rousteing), the dark-skinned Shudu, and Rousteing's fantasy French girl Margot. The official message was "anyone and everyone is always welcome to join the #BALMAINARMY."
Balmain is likely saving a lot of money by replacing its roster of It Girls, superstars, and Kardashian-Jenners that have helmed previous campaigns with the skilled work of digital artists. On the other hand, models resembling Zhi and Shudu (minus the glassy stares) have a tough time landing jobs.
The fashion industry has a dismal history of runway diversity. The Fashion Spot, an industry publication, reported that a bleak 32.5% of runway models were not white. And that's a record number—up from 17% in 2015.
Balmain's CGI-diversity-equals-real-diversity message is especially surprising coming from Rousteing. The creative director has spoken at length about the importance of diversity, and has a history of racially diverse runway casting. But the #BalmainArmy prioritizes celebrity and influence regardless of race. It's a strategy that has turned the storied fashion house into a hashtag-worthy pop culture sensation.
Balmain isn't the first fashion house to replace its human models with digital approximations. Louis Vuitton and Fenty Beauty have done so too. While the rise of CGI models and influencers raises thorny questions—such as how FTC endorsement guidelines should apply  to non-human influencers (currently, influencers must identify paid posts), and how virtual humans affect beauty standards—they do not necessarily spell imminent doom for the modeling industry. Nonetheless, it's problematic for a powerful brand like Balmain to celebrate non-white virtual models as real diversity.
The dark-skinned avatar of Shudu is case in point. Designed by professional photographer Cameron-James Wilson, the CGI supermodel was first used to promote products for Fenty Beauty. As Noël Duan wrote for Quartzy in March, Wilson was criticized for creating "an idealized (and fake) black woman… rather than devoting time and resources to cast and shoot real dark-skinned models and promote their beauty and careers."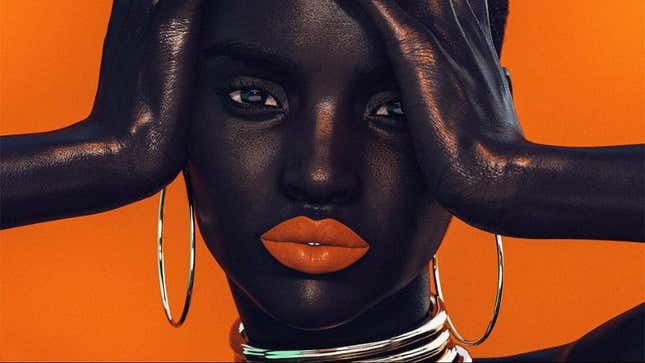 Wilson, who is white, has defended himself in Harper's Bazaar, saying "[Shudu is] is only trying to add to the kind of movement that's out there… It's not trying to take away an opportunity from anyone or replace anyone. She's trying to complement those people."
Unfortunately—now that Shudu is actually replacing at least one of "those people"—it seems Wilson may have spoken too soon. And in an industry where you can count the number of black women that have opened major shows on one hand, the cost of virtual models may be higher than we thought.