The long-awaited trailer for Captain Marvel—Marvel Studios' first female-led superhero movie—is here. And it's totally nuts, in the best way possible.
After 20 films led by and featuring the same group of superhero dudes, Marvel has finally decided to give a woman her own comic book movie. (This summer's Ant-Man and the Wasp, which was roughly half Ant-Man and half Wasp, doesn't count as a female-led solo film like Captain Marvel does.) Oscar winner Brie Larson plays Carol Danvers, a former US air force pilot who's infused with alien DNA, giving her superhuman abilities and turning her into the intergalactic heroine Captain Marvel.
In the film, Danvers returns to Earth, where she must counter an alien threat while wrestling with her murky past. Unlike most "origin stories," Captain Marvel will start the film with her powers built in, rather than acquire them during the film. That allows the film some extra time to be delightfully weird, if this trailer is any indication—not a huge surprise, since the film is directed by some of Marvel's quirkiest directors yet.
Here's what we're excited about the most:
Blockbuster sighting!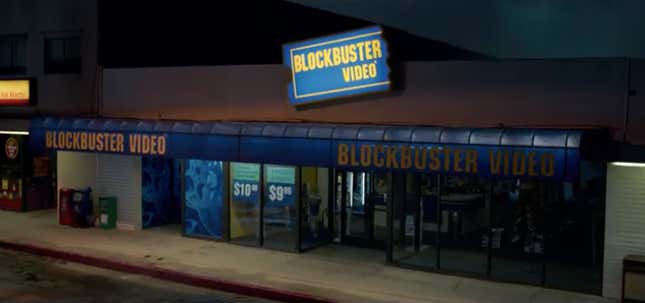 In case it was unclear that Captain Marvel takes place in the 1990s, the very first shot of the trailer shows Danvers crash-landing through the roof of a Blockbuster Video—the once-popular American video rental chain that has all but disappeared, due to the advent of streaming and on-demand. Blockbuster's classic blue and yellow logo is an instant nostalgia prompt for the many Americans who grew up on excursions to the video store to rent Gladiator or The Matrix. Smart, Marvel. Smart.
A digitally de-aged Samuel L. Jackson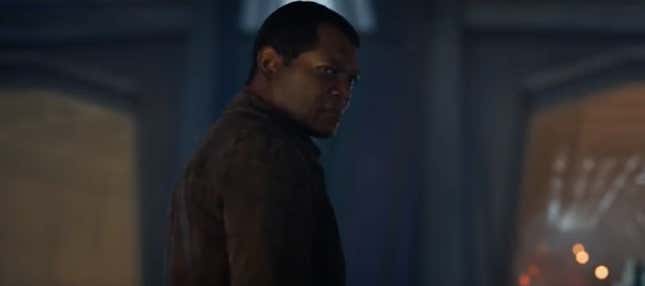 Jackson reprises his role as Nick Fury, the director of S.H.I.E.L.D., the fictional law enforcement agency that works with superheroes to defeat superhuman and alien threats. Since this is the 1990s, Jackson, who's now 69, had to appear 20 to 30 years younger, at a time when Fury was just a "lowly bureaucrat." Marvel has digitally de-aged actors before (Michael Douglas for parts of Ant-Man, for instance), but never for an entire film. Upon seeing a younger version of himself, Jackson responded on social media: "Wow, this Marvel de-aging thing is doper than I thought!"
Jude Law in colored contacts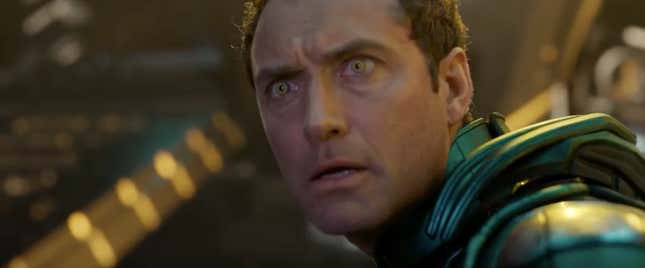 British actor Jude Law's eyes are naturally a greenish blue, but here he looks slightly jaundiced as Mar-Vell, Captain Marvel's mentor. It's a tad unclear if Mar-Vell's eyes are always yellow or if we've just caught him at a particularly fiery moment. In the comics, the character can absorb and project solar energy, so perhaps that's what he's doing here. Either way, it's an interesting look for the Young Pope.
Ben Mendelsohn looking like this
Mendelsohn plays Talos, the leader of the Skrull extraterrestrial shape-shifting race that's invading Earth and waging war against the Kree, of which Captain Marvel is part. Talos takes the form of a human and goes undercover as Nick Fury's boss at S.H.I.E.L.D., where he undermines the defense against his Skrull invasion. When Mendelsohn portrays Talos' true Skrull form, he uses his natural Australian accent, and when he's undercover as a human, he switches to an American accent that "sounds like [former US secretary of defense] Donald Rumsfeld," according to the actor.
Captain Marvel abusing the elderly
Well, we're not sure exactly what's going on here, but we assume that the friendly-looking old woman whom Danvers is punching in the face on what appears to be a public bus is a Skrull in disguise. Captain Marvel has no time for games, this part of the trailer tells us—she will deck anyone who gets in the way of truth and justice.
Sunglasses off
Maybe it's not as sunny in Captain Marvel as everyone thought? The over/under on number of suave sunglass removals in the film is currently at 3.5. We'll take the over.
Captain Marvel hits theaters in March of 2019.