The influence of Fortnite is obvious: Celebrities are fans, a Fortnite legend became the first gamer to grace the cover of ESPN the Magazine, and the game reportedly contributed to 5% of UK divorces so far this year. Fornite Battle Royale, the version of the original where up to 100 players fight it out to be the last ones standing, is a huge driver of its popularity—and that of the battle royale genre as a whole. These charts from SuperData, a gaming research firm, show just how dramatic the impact on the industry has been.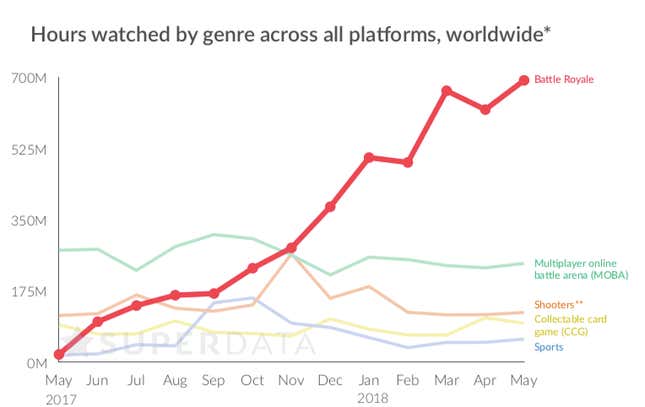 The chart above tracks how long people spend watching different types of games on streaming platforms, including Twitch. According to the SuperData report, viewers watched almost 700 million hours of battle royale content from May 2017 through May 2018. While there are other popular battle royale games, such as PlayerUnknown's Battleground (PUBG), 83% of the viewing hours were from Fortnite alone. Already on a steep climb, the battle royale genre clearly superseded all others by November 2017.
Elena Fedina, associate director of research at SuperData told Quartz that growth has been driven by "how explosive video gaming content is…Fortnite is so popular that it kind of exploded in a way that we have rarely seen before." Aspects of the game have grown to a meme-like status—such as the "floss" dance, a celebration dance after a kill—and have quickly gone viral. "Everyone is talking about the game," Fedina said.
Another factor: Genres like collectable-card games (e.g. Hearthstone) or sports games (e.g. FIFA), are very specific and fan-oriented, and less likely to attract significant amounts of new users. In contrast, Fedina said that Fortnite is much more accessible and "inclusive"—it's free, does not require extended hours of gameplay, and is well-loved from by groups ranging from teenagers to music stars. "Fortnite appeals to a much wider audience, so gaming is more casual," Fedina said.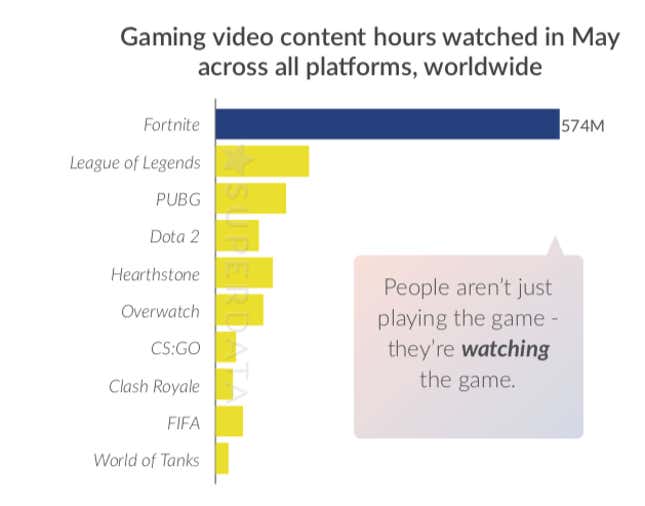 According to SuperData, "battle royale games are looking less like a temporary craze, and more like something that is here to stay." And while Fedina predicts that Fortnite's growth might eventually slow down, the phenomenon is so unprecedented that it's hard to make predictions.
"It's very difficult to compare Fortnite to anything else because we haven't seen success like this in such an incredibly long time," Fedina said.