"What is the sound of you?"
This was a question Ancestry, the world's largest for-profit genealogy company, recently asked its users. Its in-home saliva test can give you an idea of where you've come from—but how can you translate that new-found knowledge into something more tangible?
Music might be the answer.
Ancestry has collaborated with Spotify to determine your musical DNA based on your AncestryDNA test results. "It's so much more than the stats and the data and the records,"says Vineet Mehra, executive vice president and chief marketing officer at Ancestry. "How do we help people experience their culture and not just read about it? Music seemed like an obvious way to do that."
In Spotify and Ancestry's custom playlist generator, you can input the different ethnicities and regions that make up your heritage based on your AncestryDNA test results. The generator will then select a range of tracks that reflect the cultures your ancestors came from. For example, someone with Chinese heritage might get classical musician Wu Fei on their playlist, while a person with a Spanish background might get the rock band Los Sírex. This will "encourage [Ancestry's] audience to explore the soundtrack of their heritage," Danielle Lee, global head of partner solutions at Spotify, told Quartz.
Haven't done a DNA test before? A Spotify account alone is enough to work out your "Musical DNA," which is the breakdown of genres that comprise your listening habits. For instance, I learned that I listen to 29% pop, 15% post-teen pop, and 14% each of electronic dance music, Hollywood soundtracks, house music, and show tunes.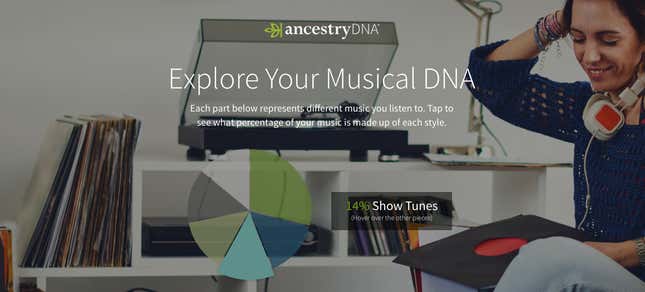 Since the collaboration launched on Thursday Sept. 21, more than 10,000 people have signed up for a custom playlist, according to Mehra. There are more than 10 million people who have already taken the AncestryDNA test.
While DNA test results are ideal for Spotify to create full custom playlists, you can get an idea of how it works here.
Correction: An earlier version of this article stated that you can link up AncestryDNA results and Spotify. The system actually requires users to manually input their AncestryDNA test results into Spotify's playlist generator.