If you've walked through the Bowery and Soho in New York lately, you've already seen a Shepard Fairey show of sorts, and perhaps the best kind—out in the wild.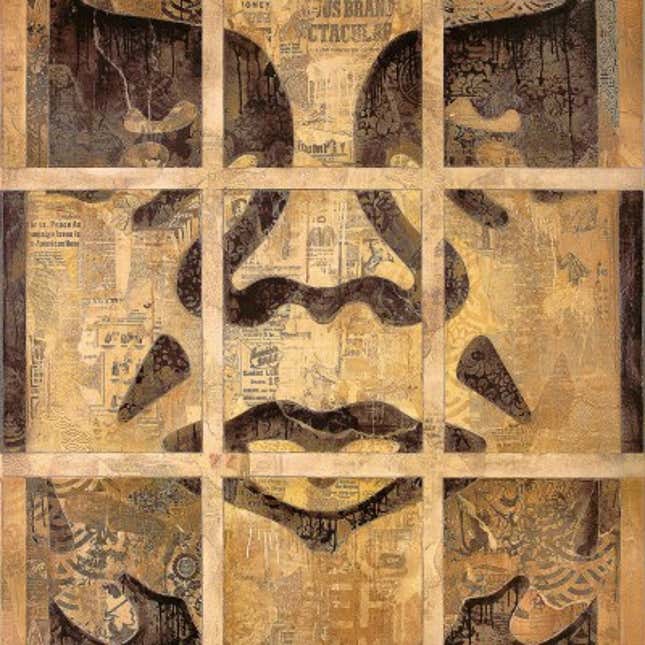 The street artist's work, now considered high art, is inescapable. There's a half-block-long tribute to the musician Blondie; his signature updates on Russian propaganda pieces of yore; and giant graphic works promoting peace that span several stories, turning the streets into a postmodern museum of creative rebellion.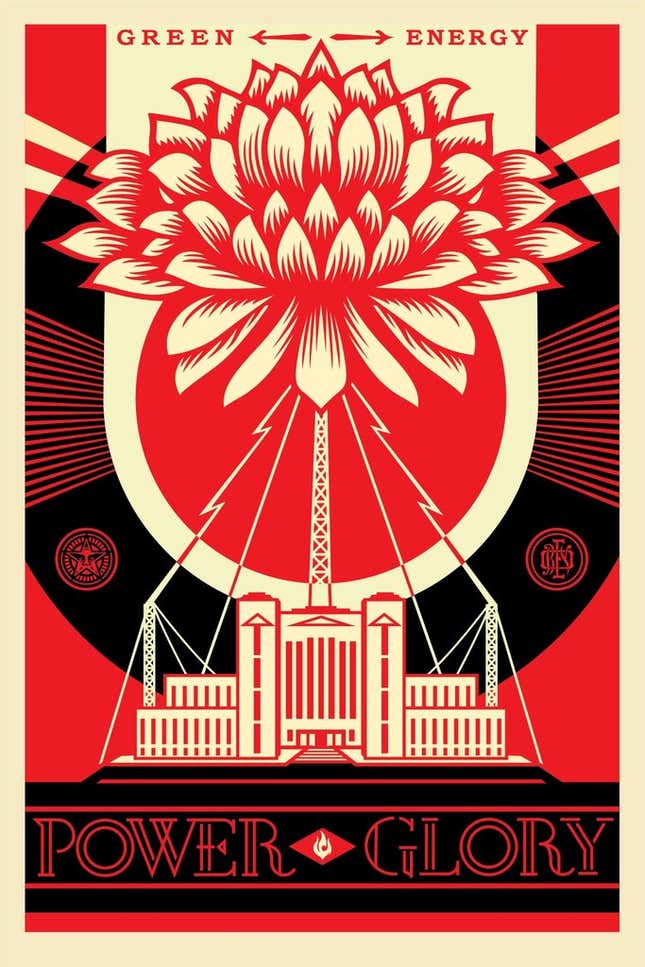 But for those who can't experience Fairey's work in its natural setting, virtual reality may be the next-best thing. As of Oct. 15, street-art fans can go on a virtual reality tour of Fairey's big "Damaged" exhibit, which showed last November in Los Angeles. It's available for download on Apple and Android mobile devices, as well as on Oculus, Samsung Gear and Steam in VR.
"The 'Damaged' show is the convergence of everything that's important to me," Fairey explains in a trailer promoting his latest endeavor, which was created in partnership with the tech company VRt Ventures and contemporary-art monthly Juxtapoz Magazine. "It's me using art as my way of coping with everything that's going on in the world, making images that I hope will move people."
If the technological experience does what Fairey hopes it will, by the end, you, too, will long to engage with the world's problems as he does, using a sense of beauty, purpose, intelligence, hope, and ample art supplies as your weapons to creatively resist whatever you oppose. "I think that the power of art is that it can impact people emotionally and lead them to addressing things intellectually that otherwise they would just ignore," Fairey explains. "This show says 'get in the mix and make something.'"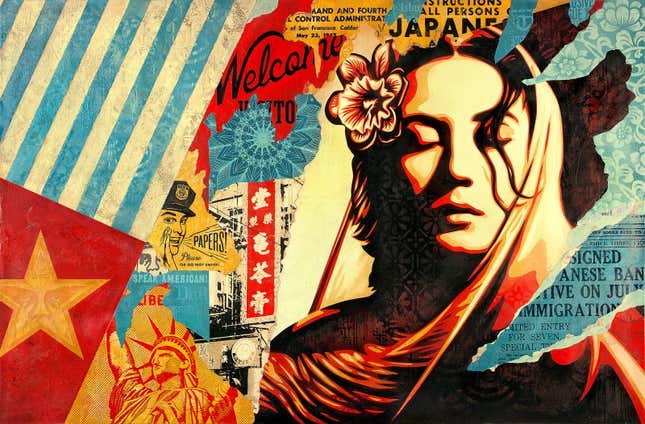 No artist working in the US is better positioned to offer such counsel. Perhaps best known for his work on Barack Obama's Hope poster for the 2008 election, Fairey's website notes that he has been "manufacturing quality dissent since 1989." As a graphic design student, he became known for his "Obey Giant" stickers, featuring the face of wrestler Andre the Giant, which appeared everywhere, becoming a mysterious street art phenomenon.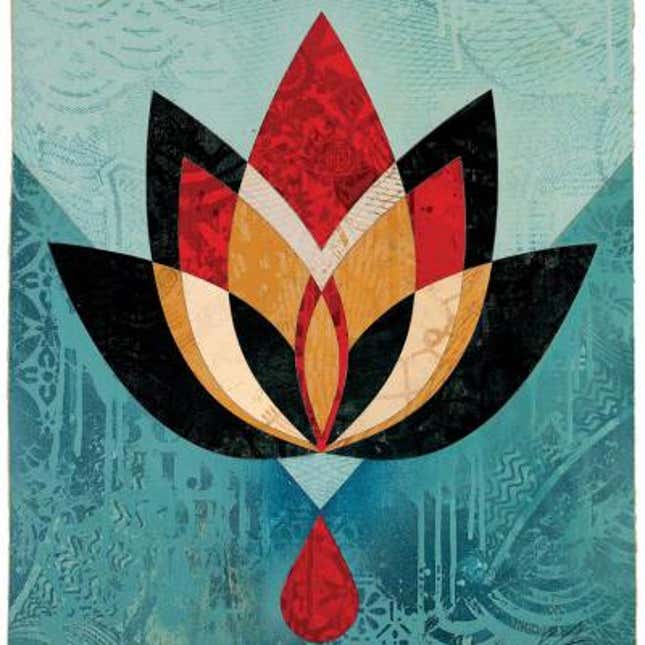 Now he's the rare creator who is both commercially super successful while simultaneously creating the symbols of social and political resistance. Fairey's posters featuring female heroes marched along with protesters at the Women's March in 2017. He created the cover art for Kesha's single, "Here Comes the Change," which is part of the Ruth Bader Ginsburg biopic On the Basis of Sex to be released in December. 
Somehow he's managed to capture the zeitgeist and the market, creating work that has inspired people in the moment for more than two decades. Fairey hopes to encourage others to follow his path but warns fans to be thoughtful about their creative resistance. "Please use common sense and consideration when applying stickers or other propaganda materials," the Obey Giant website advises. "Giant is designed to provoke thought about the mechanics of the system we live in…not to destroy it."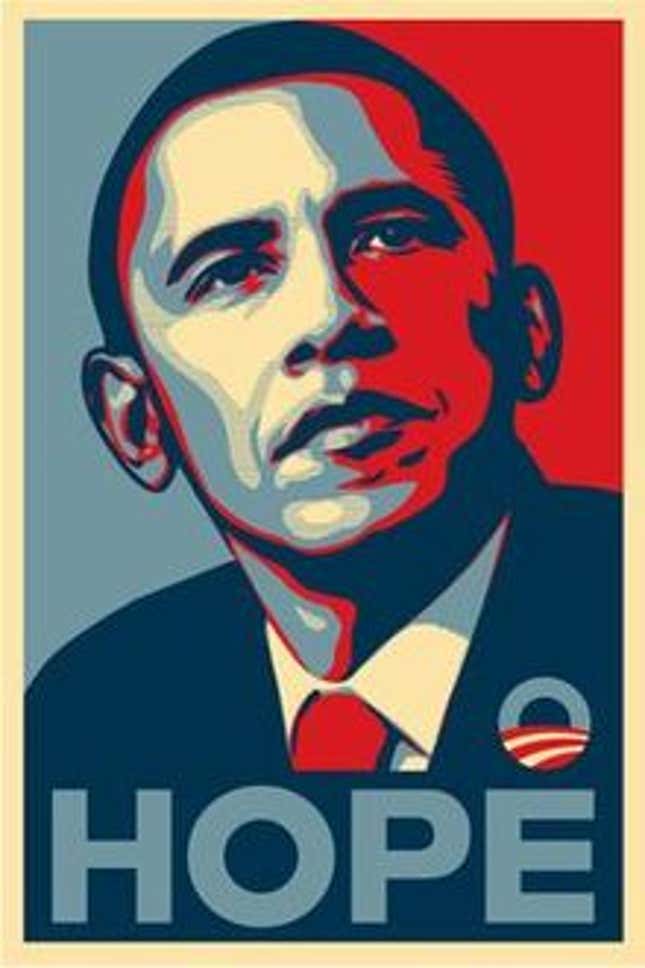 Fairey's latest technological venture is, in some sense, the antithesis of the street art that made him famous worldwide and got him arrested countless times. Street art is, by its nature, ephemeral. It gets covered up. Buildings get destroyed. It's art made for a moment, and not for museums or for posterity. 
Virtual art is something altogether different. Now viewers can sit at home and take in Fairey's show in an artificial environment that's meant to last. And while a gallery exhibit doesn't provide the same delight as coming upon an Obey Giant on the streets, it is a way to experience the work that has moved so many by simply downloading an app. Explaining the reasoning behind his new technologically-preserved art experience, Fairey says, "Making art accessible is very important to me." 
The technology also offers something even the lucky attendees at the LA show didn't get to see. Fairey created 100 minutes of narration on the VRt app, discussing the art world, the concept behind each piece, messages he hopes people will receive from the work, and his techniques. "He touches on all of these really important points about racial bias, immigration, environmental issues and so many other enlightening topics," Jacob Koo, who founded VRt Ventures in 2017, tells Forbes. "This experience gave him a chance to have a platform to not only share his artwork, but share all of his thoughts behind the work."