Today is World AIDS Day, an international day of solidarity for the estimated 37 million people living with HIV and AIDS around the world. The UK National Trust urges everyone to "rock the ribbon," referring to the iconic symbol that's become the singular avatar for virtually every HIV and AIDS campaign worldwide.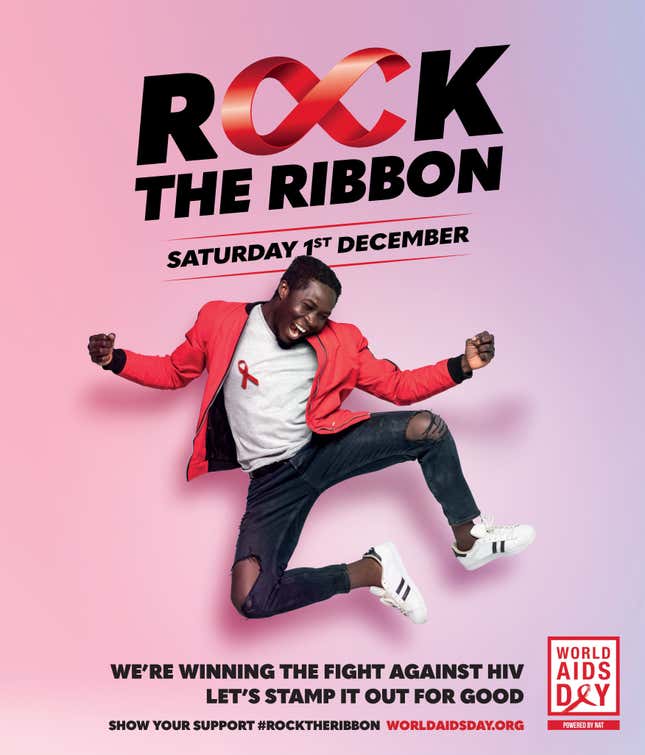 The red ribbon started as an act of protest. Created in 1991 by the New York-based Visual AIDS Artist Caucus, it was intended as a sign of compassion for people living with AIDS, who at the time were compelled to hide their disease for fear of being ostracized. The US government was notoriously slow to address the pandemic in the 1980s, despite thousands of HIV-related deaths, and groups like Visual AIDS took to the streets to raise public awareness.
The design of the six-inch red ribbon folded into an inverted "V" came from Marc Happel, a costume designer who was inspired by the yellow ribbons used to honor military servicemen. Happel and a small group of volunteer "ribbon bees" made hundreds of grosgrain ribbons that they pinned to free handouts.
The ribbons became an instant sensation after celebrities wore them at major awards shows. Visual AIDS decided not to trademark the design, and other cause-marketing initiatives—from alopecia to schizophrenia—soon copied it. Today, there's an awareness ribbon in all hues and patterns. Campaigners for heart disease, stroke, and drug addiction didn't even bother picking a new color. They all use the red ribbon that AIDS activists pioneered.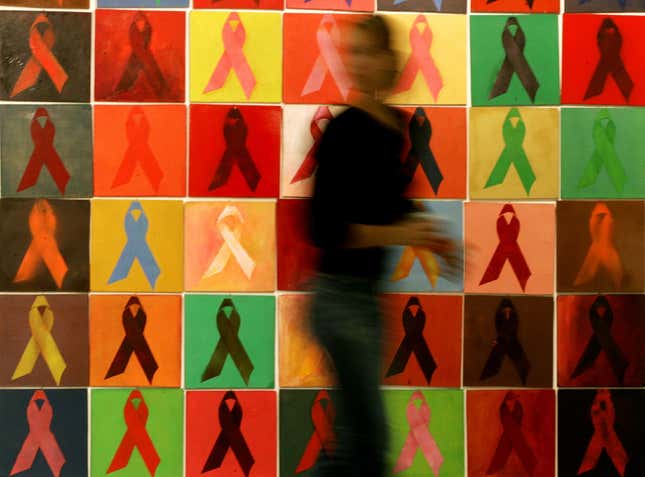 A Russian twist
The red ribbon, once a radical symbol, is today a graphic-design cliché. Designers simply cannot get away from it. Every brochure, poster, and branding project on the topic of HIV or AIDS seems to require a version of the ubiquitous loop of fabric.
The plague of painfully corny ribbon designs—including those from the official World AIDS Day site—makes Shuka Design's solution for the SPID.Center (aka the AIDS.Center Foundation, or Фонд «СПИД.Центр) in Moscow so refreshing. Unveiling it at the Brand New Conference in New York in September, co-founders Ivan Vasin and Ivan Velichko explained why they had to move beyond the red ribbon.
HIV infection rates are on the rise in Russia, according to UNAIDS data. About 250 people are diagnosed with HIV each day there, and conservative government policies have impeded HIV prevention and treatment programs. Because the stigma around the disease is still very high in Russia, parading the established AIDS awareness ribbon would do more harm, explain Vasin and Velichko, who are best known for their sexy rebranding of the World Chess Championship.
"There's a huge gap between those with and without HIV. Those with HIV can't get jobs or proper services," explains Vasin. "The situation in Russia might be the situation in the US 20 years ago."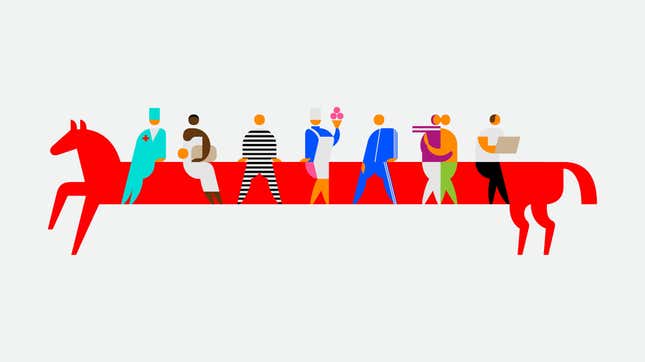 "How do you talk with Russians about something as important as HIV literacy? We are not the ones for quilts and hands across anything. Face it. There are only two things that can unite us. Being at war and riding a public bus," Shuka writes on their studio website.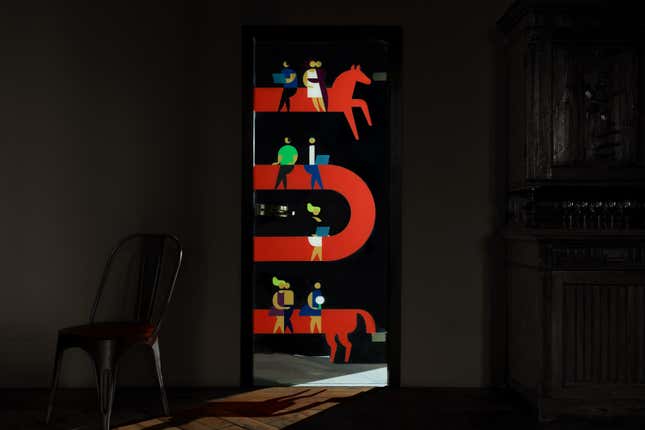 Mining traditional folklore and art, Shuka Design came up with a solution that resonates with most Russians: the horse.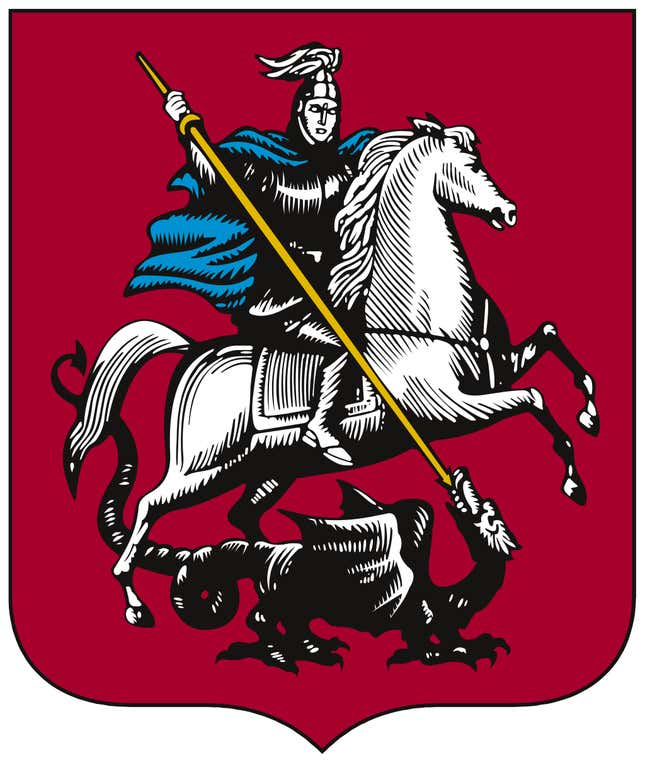 As an avatar of heroic struggle, the horse is an important symbol in the Russian imagination. Horses appear in folklore, public architecture, corporate branding, and tourism campaigns. The horse is a central figure in Moscow's coat of arms, featuring Saint George astride a horse battling a dragon.
"Horses symbolize hard work," explains Alexey Mikheev in Russia Beyond. "It is often said of workaholics that they are plowing like a horse."
The horse is also the central figure in an iconic symbol of social change in Russia: Kuzma Petrov-Vodkin's 1912 painting "Bathing of a Red Horse." The branding for the SPID.Center features creative variations on this red horse—often elongated to mimic a bus—to evoke a welcoming platform for all Russians, with or without HIV.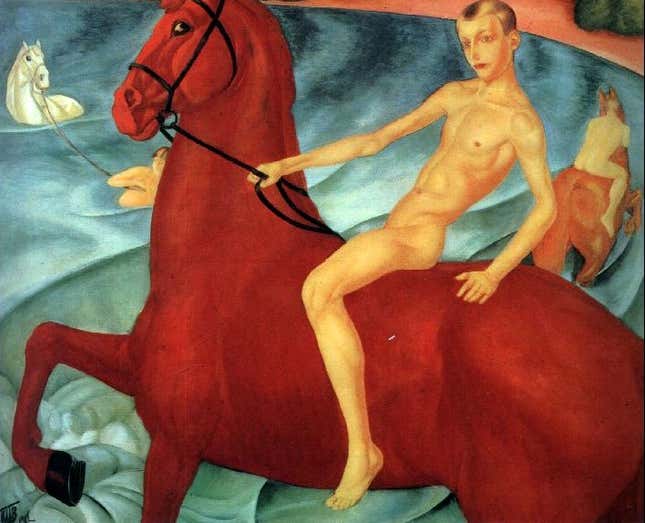 "It reminds me of those who still stand and those who fell in the endless battle. The horse is Death itself, tamed and subservient through the awareness," writes Velichko.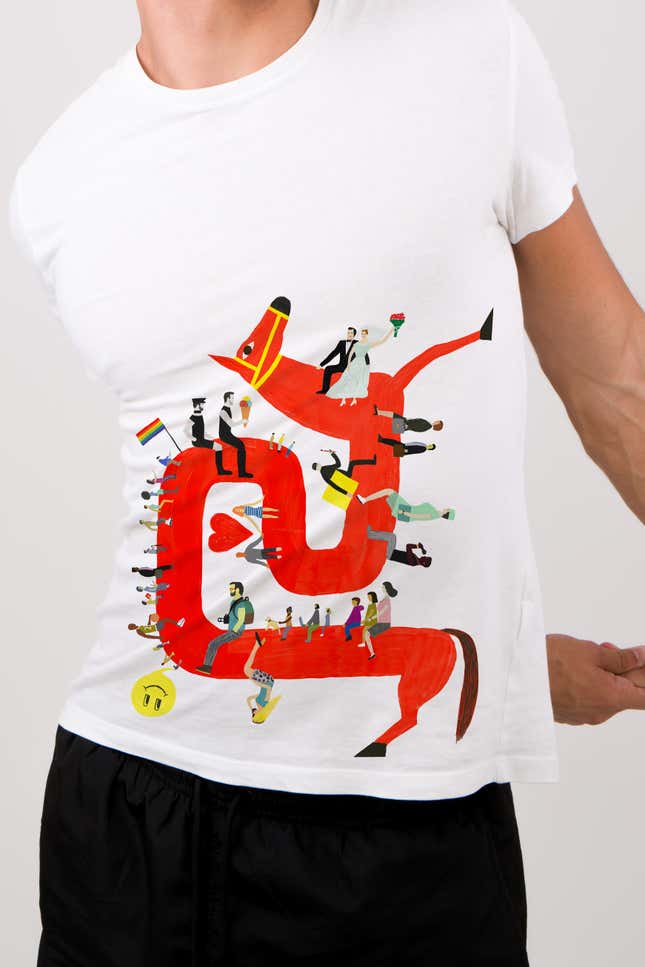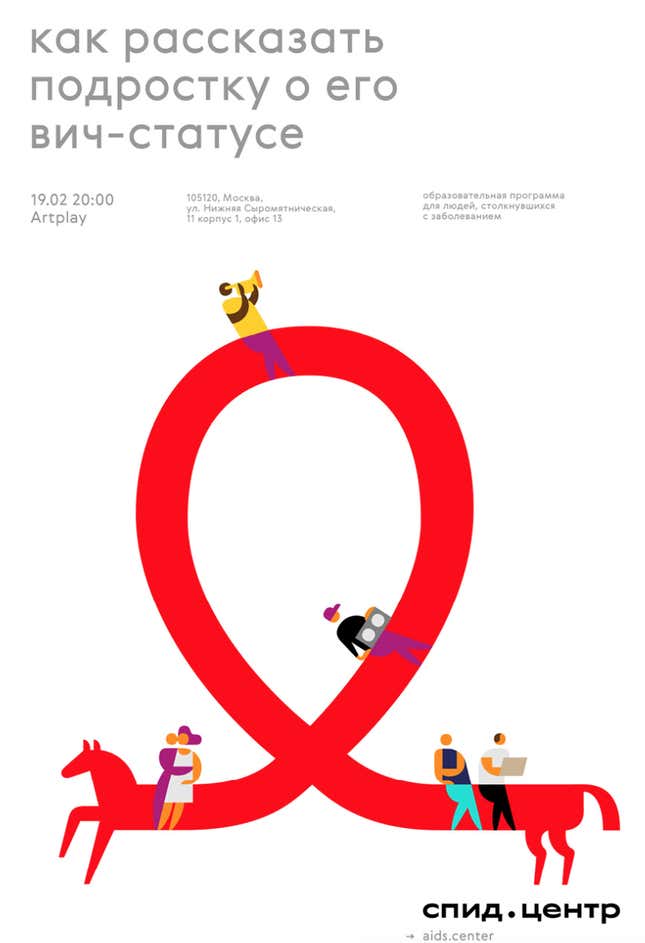 Vasin and Velichko, who met with Quartz in New York, say this small project is particularly special for their growing studio. They explain that SPID.Center's co-founder, TV presenter Anton Krasovsky, is one of the first openly gay personalities to speak about HIV in Russian media. "This is a really small foundation, but it's a really cozy place in the center of Moscow where people with HIV can have meetings together," says Velichko who came up with the horse motif. "It's a really important project for us as designers and artists." Nodding, Vachim adds, "this is about real people, it's about real lives."