A new kind of beach reading has come to the US. "Penguin Minis" are books, super light and tiny, whose pages flip horizontally. On Oct. 23, Dutton Books for Young Readers, an imprint of Penguin Random House, released four mini versions of past novels by bestselling YA author John Green, unabridged.
And they work.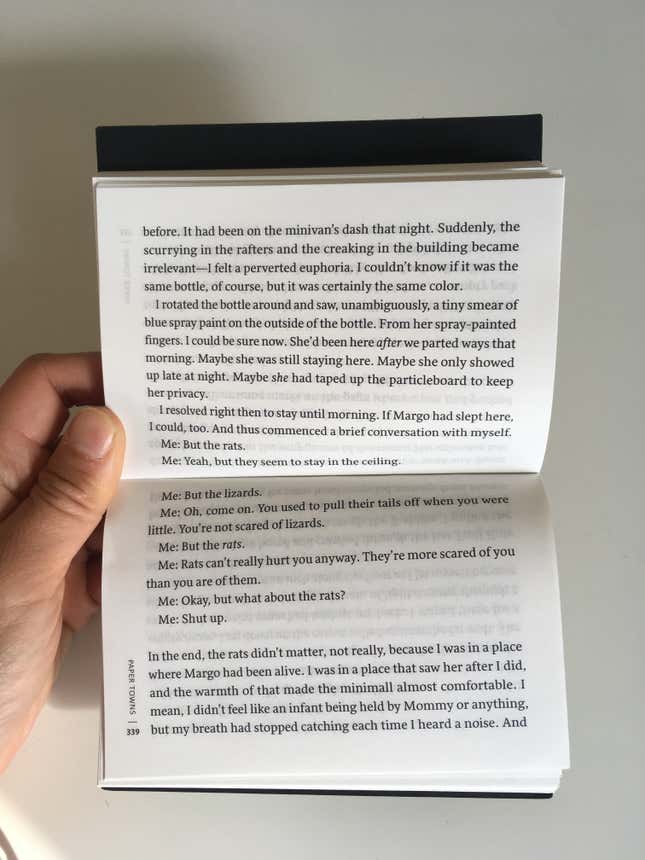 At 4.75 by 3.25 inches closed, Penguin Minis are smaller than an adult hand and slightly wider than the original iPhone. When the books are open, they're almost exactly the same size as a Kindle Paperwhite and slightly bigger than the iPhone XS Max.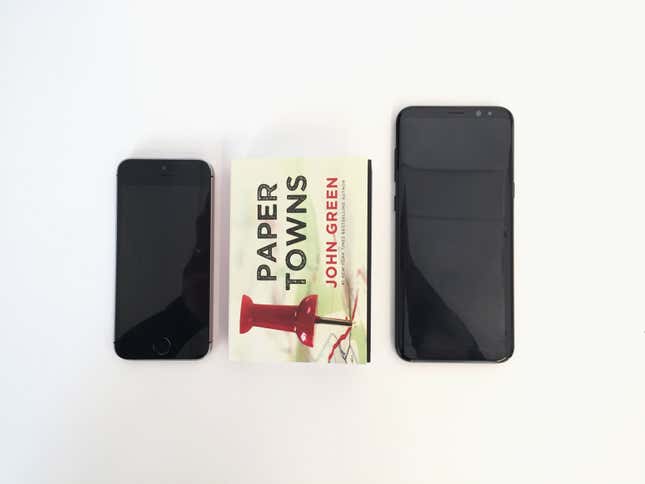 The books are modeled on a popular Dutch version called dwarsliggers. The Penguin editions are very light (The Fault in Our Stars Mini ships at 4.2 ounces, compared with 12.8 in paperback or 1 pound in hardcover); they fit in women's back jean pockets. The binding is flexible, so they lay flat without any additional aid, and the text is just as easy to read as any other book. There are blank pages toward the back, presumably in lieu of wide margins for notes.
In an informal survey of Quartz staffers, no participants were able to read the book with one hand, as the pages are too thin to be turned easily. (This writer suggests putting on hand lotion before reading.) One staffer suggests that flipping pages down to up might be more intuitive for, you know, people with certain trackpad settings.
Penguin has plans for more Minis. But functional as the books are for the beach or subway, it's not immediately clear why someone would spend $12 on one. The Minis serve a very specific purpose: reading on the go, something that's already addressed by the existence of ebooks. For book lovers who want to pay for print, they may very well prefer something a little more distinguished looking.