Instagram has begun rolling out a feature it announced earlier this year that allows you to check how much time you spend on the app every day, and your weekly average.
And people spend a lot of time on the app—in June, Americans using Android phones averaged 53 minutes daily scrolling through Instagram.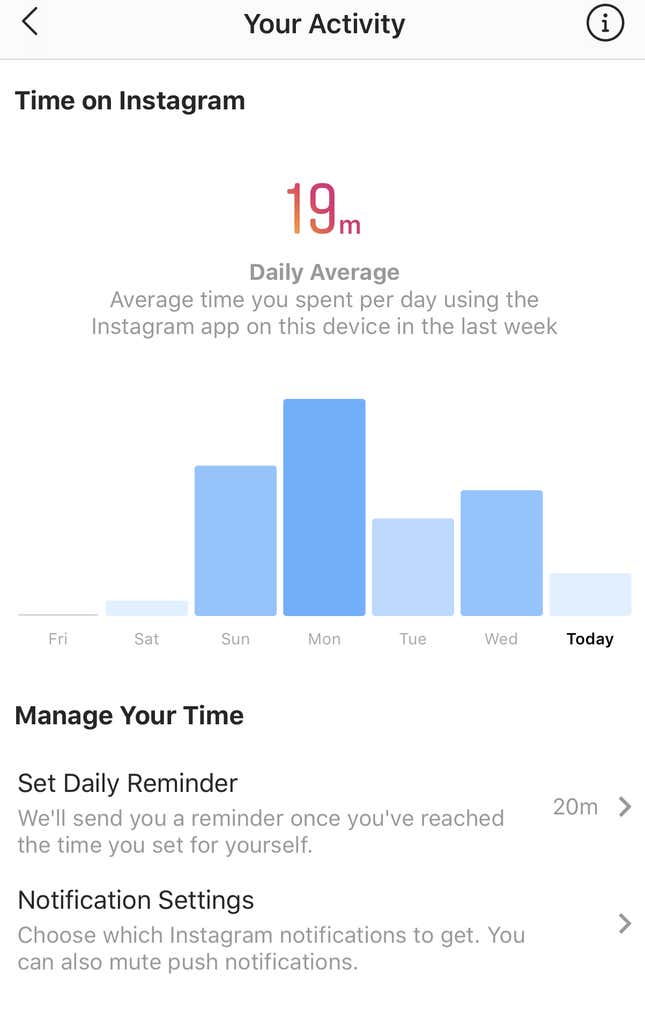 The feature, which you can find in settings, is part of Facebook's broader push to focus on "time well spent" on its apps, an effort to mitigate some of the harms, including mental health issues, that these apps cause. It will be rolling out a similar function for Facebook as well, likely soon. There, people likely won't need much prodding to control their consumption—nearly 70% Americans have either taken a several-week break from the platform this year, or deleted the app from their phones, according to the Pew Research Center.
It doesn't seem that Instagram has suffered the same kind of reputation blow, at least not yet. Young people prefer it over other social networks, and its Stories feature has made it even more engaging. But just like Facebook, Instagram is incredibly toxic, and has been a significant target of foreign election interference efforts. The Washington Post reported that some of Instagram's earliest employees, including marketer Bailey Richardson, have deleted the app because they felt it abandoned its roots, and had become overrun by celebrities. "It feels like we're all addicted to a drug that doesn't get us high anymore," she told the Post.