Ariana Grande knows how to make an entrance.
In the ramp-up to the release of the pop diva's music video for "thank u, next" on YouTube, almost half a million Arianators and laypeople hovered in front of their computer screens. In the last seconds of the onscreen countdown to the premiere of the video for her incredibly popular ode to ex-boyfriends, an audience of 454,621 were on YouTube, waiting.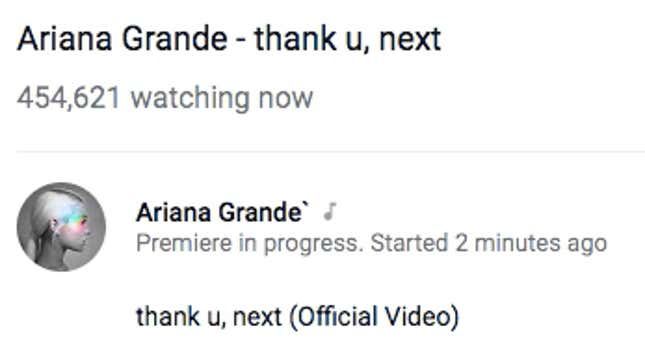 There were over 14,000 comments on the video before it even began, and people seemed to be losing their collective minds:
The singer teased the video with a trailer released earlier this week revealing that the video would reference the iconic 2004 film Mean Girls, with Grande in the role of Regina George. It alone drew over 3 million views.
And the singer tweeted the video, which had gathered over 1 million views in an hour, as of this writing:
As well as re-imagining Mean Girls, the video included an homage to the 2001 Reese Witherspoon comedy Legally Blonde, and a cameo by the reality TV star Kris Jenner.
Watch the full video here: