In February 2014, shortly after taking over as creative director at Moschino, designer Jeremy Scott showed a runway debut for the Italian luxury label full of pop-culture references. Among its odd bits of iconography were the McDonald's and Budweiser logos, prints that looked swiped straight from candy wrappers, and SpongeBob SquarePants.
"Jeremy Scott is a huge Nickelodeon fan. He loved SpongeBob," says Jose Castro, Nickelodeon's senior vice president of soft-lines licensing and global fashion collaborations. "He wanted to do this collection and we were like, 'OK, that sounds amazing.' We just thought it would be fun press-wise." The company had done fashion partnerships before, but that one connected on a new level. Soon retailers like Forever 21 and Old Navy were contacting Nickelodeon to ask about licensing deals.
Eventually, Nickelodeon came to a realization: Its characters exist "in this insanely crowded marketplace of content and [intellectual property]," Castro explains, where it can be a challenge to break through the noise and get people's attention. "One way to combat that is to remain as relevant, trendy, and cool as possible," he says. Fashion offers Nickelodeon, and its parent company Viacom, an avenue to do that, which is why a media brand known for cartoons even has a position overseeing collaborations with fashion labels.
Streetwear smarts
The company works with partners of all sorts to put characters from shows including Rugrats, Rocko's Modern Life, Hey Arnold!, and more on clothes that target kids up through their parents. SpongeBob, the guileless, hyperactive creation of Stephen Hillenburg, who died this year of ALS, seems to generate the greatest demand. The character has recently appeared on products from skate label Vans, sneaker shop Kith, and streetwear brand Chinatown Market. Last year he also featured in another collaboration with Moschino (paywall), that one in partnership with (RED) to benefit the Global Fund to Fight AIDS, tuberculosis, and malaria.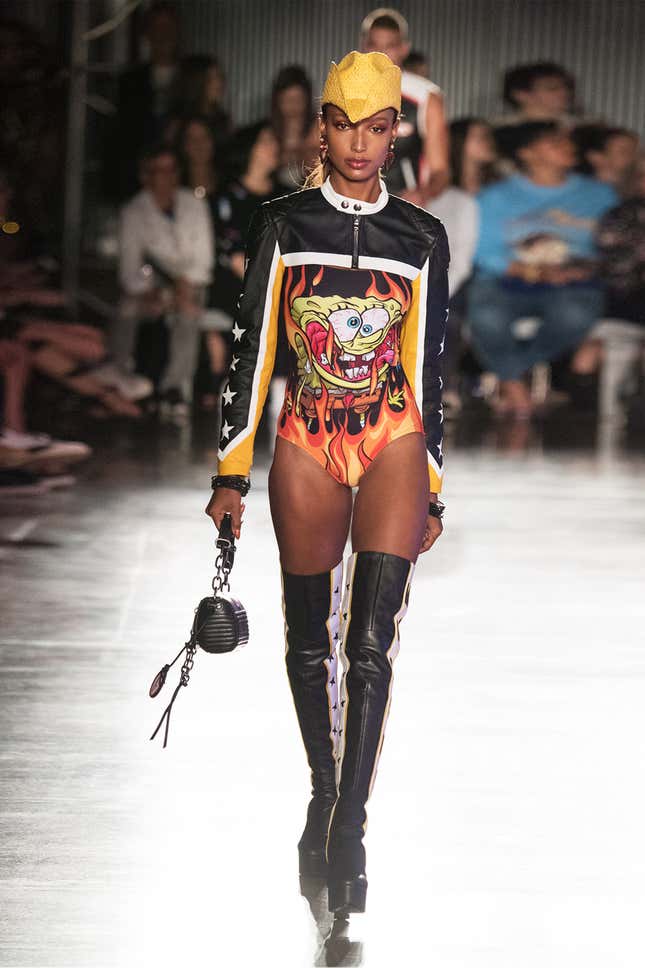 Nickelodeon has put a particular emphasis on the burgeoning streetwear market. In April, it signed a deal with Stadium Status Group, a retail, branding, and marketing agency premised on "merging the world of cool with the world of commerce." Nickelodeon had previously worked with it on projects such as the Moschino tie-up and a Rugrats collection for Kith. The partnership, Nickelodeon announced in a press release, will "develop new consumer products collaborations for the kids' brand, ranging from celebrity integrations to streetwear brands to high-fashion couture."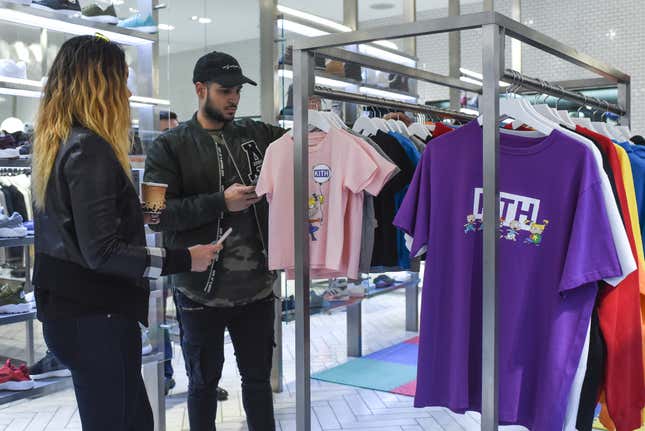 According to Castro, the strategy aligns with the shifts happening in retail. Young shoppers have a visceral dislike of the overstuffed racks of anonymous products they see in large-scale department stores. What they appreciate instead are niche pop-ups and products that offer a "sense of discovery." He adds that Nickelodeon's approach to these collaborations is similar to the way sneaker companies do limited-release product drops.
Nickelodeon isn't just interested in small runs of hard-to-get items, though. Alongside these projects, it continues to do things such as team up with a celebrity on a collection that can sell in large volumes at outlets like Macy's. Both are important, according to Castro, and the company's main criterion for its fashion partners is just that they be genuine fans.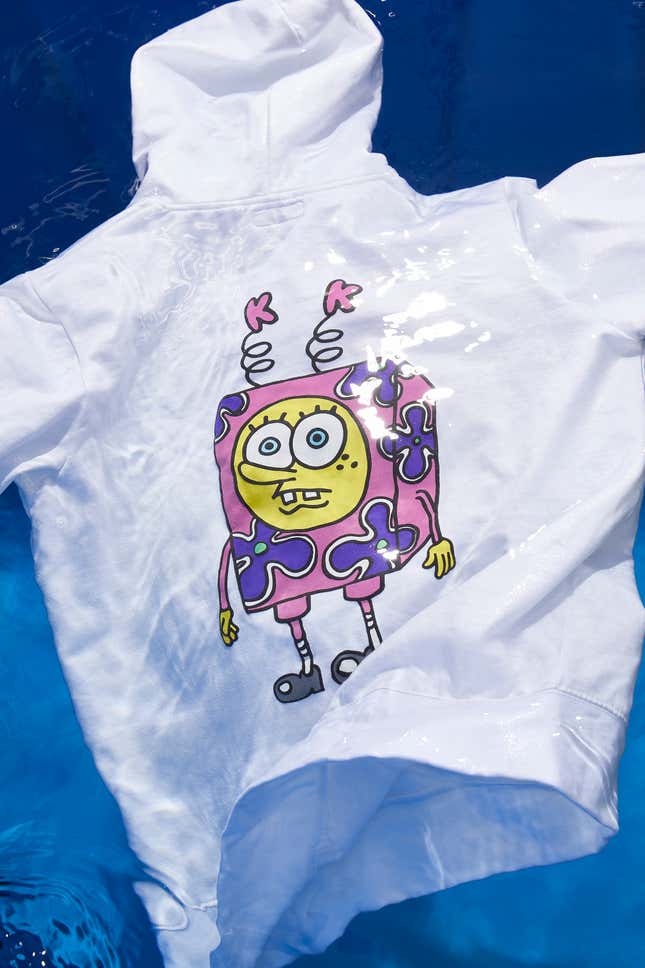 Those don't seem to be in short supply, especially for SpongeBob, which has topped $13 billion in merchandise sales since it debuted in 1999. Designer Marc Jacobs even has a SpongeBob tattoo. "I just think the colors of that particular cartoon are really beautiful and really sophisticated and interesting," Jacobs once explained.
In the next year and a half or so, look out for more fashion collaborations involving SpongeBob and other Nickelodeon characters. Castro expects their number to roughly triple.