Just when everyone thinks streetwear can't get any bigger, it does.
For the last few years, streetwear's rise has been one of the big storylines in fashion. In 2017, its symbolic high point came when Supreme sold a stake that reportedly valued the company at $1 billion (paywall) to the private-equity firm Carlyle Group. It was a staggering valuation for a company known for selling hoodies, t-shirts, and irreverent ephemera, like a logo-stamped brick and branded nunchucks.
But the success of Supreme, and streetwear more broadly, makes sense when you look at how fashion and culture are changing. Clothes across the spectrum are getting more casual and drawing inspiration from sports, driving the popularity of items such as sneakers and sweatshirts. Hip-hop has grown from a subculture into the dominant musical form in the US, surpassing rock. Millennials and Gen Z represent a large and still growing share of fashion consumers, and they want community and authenticity (paywall).
Add in skate influences and a lot of attitude, and streetwear is basically the outcome. Though people still talk about it as a niche, upstart movement, its signatures—casual clothes like hoodies and tees, graphic logos that seem made for the Instagram age, a fixation on sneakers, ties to hip-hop, and a shared sense of culture—line up neatly with those bigger shifts in the way younger generations of shoppers live and dress.
But the term "streetwear" is not something that brands always want to be labeled with. "I've always associated the term with brands that mainly do T-shirts and sweatshirts," designer Nasir Mazhar told The Guardian in 2016, explaining why he doesn't like his collections being pegged as streetwear. "They are not full-on fashion brands. So, in that sense, it's belittling."
Even as streetwear grows, it isn't seen as prestigious, and doesn't connote luxury the way fashion traditionally has. It's become a dirty word to some, and the bigger it gets, the more brands want to keep their distance from it.
But rather than something separate, somehow lowlier, than the insular world of traditionally luxe fashion, streetwear represents many of the most dynamic crosscurrents in fashion today. As 2018 gets underway, it isn't slowing down.
What is streetwear?
One thing streetwear brands from Palace to Cav Empt generally share is an emphasis on graphic tees and sweatshirts, mostly for men. (There are plenty of women wearing streetwear today, but the culture around it remains male-dominated and, too often, frustratingly sexist.) But the category can't really be defined by a single look. Streetwear blends a diverse mix of styles: casual sportswear, military pieces, Americana of the sort Tommy Hilfiger designs, hip-hop and "urban wear" influences, skate references, workwear, and more.
Supreme's collections, for example, in addition to rap and skating, may draw inspiration from labels such as Carhartt, APC, and Comme des Garçons, not to mention all sorts of art and pop culture. The term gets tossed around at more progressive brands, too, that may have little resemblance to Supreme, including Astrid Andersen, Pyer Moss, Nasir Mazhar, and the now-defunct Hood By Air.
What makes them "streetwear" designers? Some in the fashion industry see an uglier racial undertone in the labeling. "I just want to know what's being called 'street,' the clothes or me?" designer Kerby Jean-Raymond, founder of Pyer Moss, was quoted as saying on a placard accompanying one of his looks at an exhibit on black designers organized by the Museum at the Fashion Institute of Technology.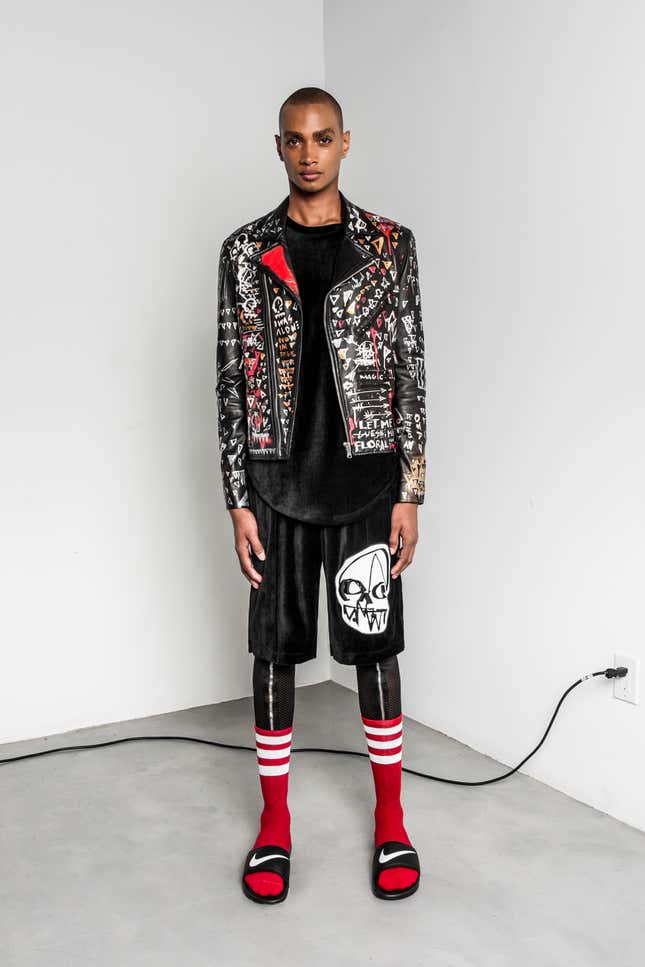 "It's fashion," Mazhar told Dazed in 2016. "But the minute people see black or non-white models and casual silhouettes, they think it's streetwear."
The label doesn't bother Virgil Abloh, the founder of the fashion label Off-White (technically called Off—White c/o Virgil Abloh™), a brand often pegged as a fashion-streetwear hybrid. It's natural for people to categorize movements like those in art or fashion, he told me at the American Express "Success Makers" event in New York in December. But as he sees it, streetwear's rise just marks a new phase in a process that's been underway for decades.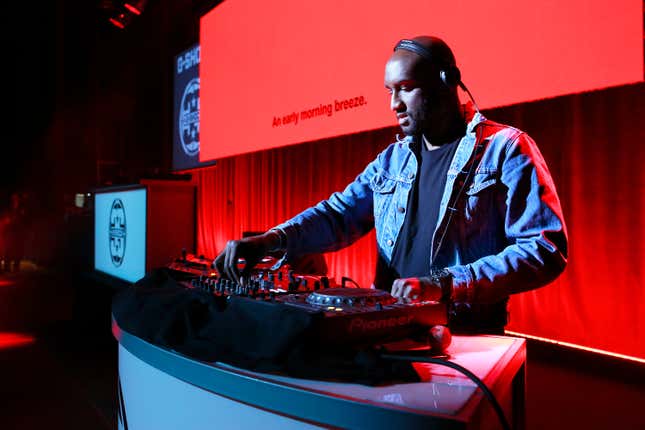 Abloh, who is also Kanye West's longtime creative director, has compared the category's emergence to Yves Saint Laurent in 1966 introducing ready-to-wear—fashion accessible to, and influenced by, the person on the street, as opposed to couture, which was for the elite. "When you look at it in those terms, 'streetwear' is just a modern adaptation to describe the evolution," he says. "Any art form is indicative of the culture, I think." The notable difference is today a more diverse group of actors is shaping that culture than in the past.
It raises a point about how we define fashion to begin with. Menswear critic Charlie Porter has made a convincing case that too often fashion and luxury are considered synonymous, when they really aren't—or shouldn't be. The result is that the work of designers who aren't interested in making evening gowns or handbags with four-digit price tags is undervalued and not fully understood.
"Some of the greatest fashion of the past few years has been created by those who have focused on sweatshirts and track pants," he wrote in i-D. "Gosha Rubchinskiy. Cottweiler. Nasir Mazhar. Each has made important, individual fashion, yet most of the time they are labelled with that queasy word 'streetwear.' Why? Because fashion has become too closely linked to luxury in the minds of most."
Streetwear brands aren't necessarily aspirational, at least as far as class status goes. Their currency is more a form of cultural capital, or cool.
Stüssy and the birth of streetwear
To those who are part of streetwear, it's about more than just clothes. It's a culture. Bobby Hundreds, co-founder of Los Angeles streetwear label The Hundreds, has described it as a movement of labels and people with shared influences and an independent attitude.
Like any movement, it has an origin story. You can trace a straight line back from global labels such as New York's Supreme and Tokyo's A Bathing Ape to surf and skate culture in Southern California, through one man: Shawn Stussy.
Stussy was a surfer in Laguna Beach who shaped surfboards for other brands, until around 1980 he started his own business. He had a reputation for crafting innovative board shapes that delivered on performance, but he wanted his boards to have a distinctive look too. "Up through the '70s it was still very much of a '60s visual in the surf world as far as the logos went: ovals and diamonds and so on," he recalled in 2013.
Influenced by the punk aesthetic being spread by bands like The Clash and the Sex Pistols, he created unique graphics with an undercurrent of rebelliousness, and finished them with his sharp, hand-drawn, umlaut-topped signature. As he described it, "I scribbled 'Stüssy,' printed it bigger than most, and put it on the very first board."
Stüssy appealed to local skaters and surfers, and in the mid-1980s, Stussy partnered with Frank Sinatra Jr. (no relation to Sinatra the singer) to expand his brand into a line of clothing as well, focused on items such as t-shirts and caps with Stussy's graphics and logo. His early designs borrowed heavily from music, including punk, new wave, and reggae, but Stüssy was growing beyond its SoCal roots.
Stussy began mixing in more elements that he picked up on his travels to places such as New York, London, and Tokyo. He would borrow ideas from Comme des Garçons, or even Chanel, doing his own version of its famed interlocking C's with a pair of S's, his initials. As Sinatra Jr. told Complex for its 2012 oral history of Stüssy, he was aiming to create a cultural identity for his brand as strong as those of luxury labels.
One reference point that was particularly important was hip-hop. The style codes that defined it became as integral as skate and surf, including things such as M-65 jackets, sagged jeans, and bombers—essentially what rappers were wearing on city streets. Stüssy may have started in Southern California, but it was transformed in New York.
"That was the beginning of streetwear, the beginning of our adoption by hip-hop artists, and the international crowd," Sinatra Jr. told Complex. "That was the beginning of the Stüssy 'look' that you would acknowledge now."
It became more than a look. Through the remainder of the 1980s, Stussy developed a network of like-minded confederates known as the International Stüssy Tribe, made up of artists, designers, DJs, skaters, and more. Stussy didn't create the culture that grew into streetwear, but he was the figure it coalesced around.
In New York, the Stüssy tribe included artist Keith Haring and hip-hop producer Dante Ross. In London there was Michael Kopelman, who became Stüssy's UK director, and Alex Turnbull, a British skater who was part of the band 23 Skidoo and cofounded one of the UK's first hip-hop labels. Italy had Luca Benini, who would go on to open the shop Slam Jam and become Stüssy's first European distributor. In Tokyo, there was Hiroshi Fujiwara, a famed Japanese tastemaker who met Stussy in 1986, while interviewing him for a magazine.
The next phase: Bape and Supreme
Japan was a particularly important breeding ground for streetwear, as W. David Marx details in his 2015 book, Ametora: How Japan Saved American Style. Fujiwara, graphic designer Shinichirō "Sk8thing" Nakamura, and a young shop owner named Toru Iwai created the country's first streetwear label, Goodenough, in 1990. Fujiwara built on that success by teaming with two up-and-coming figures on Japan's culture scene, Nigo and Jun Takahashi, to launch Nowhere in 1993. It was a small shop in an out-of-the-way section of the Harajuku neighborhood that carried Takahashi's label, Undercover, and streetwear labels that Nigo imported.
Nigo came to recognize that he needed his own brand. Sk8thing gave him the idea of using an ape's head for the logo after watching a marathon of Planet of the Apes movies on TV, and played off a line in an underground comic for a name. A Bathing Ape—now often shortened to Bape—was born. Nigo attached Bape to Japan's indie hip-hop scene, and it was through its links to music that the brand began to gain cachet in Japan and abroad.
In 1991, while all this was taking place across the world, Stussy enlisted the owner of a downtown New York shop called Union that sold his brand to run Stüssy's first New York flagship on Prince Street. That was James Jebbia, who would leave just a few years later, as Stussy himself was backing away from his business, to open a skate shop of his own. Jebbia called it Supreme, and it opened its doors on nearby Lafayette Street in 1994.
Both Bape and Supreme grew rapidly over the next decade. Bape specialized in relaxed, American-style sportswear, such as chinos and camouflage jackets, as well as logo t-shirts and sneakers. In 2003, Nigo met producer and singer Pharrell Williams, who became Nigo's entry point into American hip-hop. It wasn't long before American rappers were name-checking Bape in their lyrics and wearing the brand in their videos. Through the mid-2000s, the label exploded. People in New York would line up for hours to grab its Bapesta sneakers, a play on Nike's classic Air Force 1s.
"If Stüssy started streetwear, Bape fucking blew [it] out of the water," Paul Mittleman, Stüssy's former creative director and currently a vice president and creative director at Converse, told Marx in Ametora.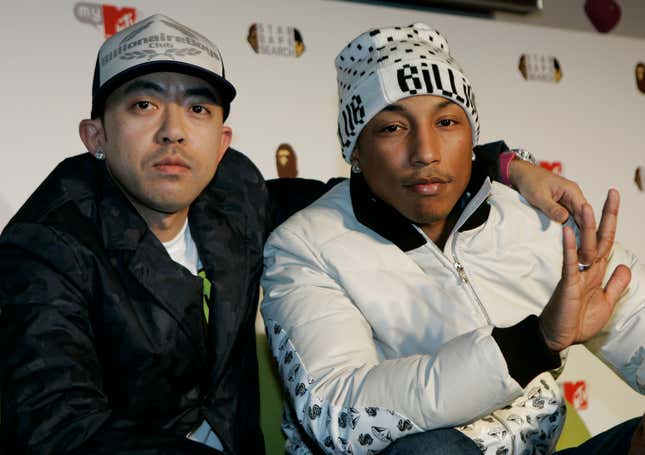 The streetwear landscape has changed a lot since then. Bape's popularity waned while its debt mounted, forcing Nigo to sell the brand in 2011. Supreme steadily gained popularity in New York and abroad. Today Supreme is streetwear's king, drawing kids who've never surfed or skated but follow the brand's releases online like they do new tracks from their favorite hip-hop artists.
And indeed those ties to hip-hop are still one of the keys to streetwear's success. Hip-hop now accounts for 25.1% of all music consumed in the US, according to Nielsen Music, beating out rock music at 23% and making it the country's dominant genre. Clothes are a critical part of that culture. Perhaps never before have so many young guys been into fashion as a form of entertainment and cultural signaling.
Hip hop and the culture around it is ideally suited to marketing clothing brands, Abloh points out. "Hip-hop is one of those musical art forms that's been based on advertising," he says. "The whole art form has been about speaking about the context and sort of describing it with brand names, and also saying, 'Hey, this is a status symbol.'… I think what we're seeing now is a sort of crescendo of a great merger between music culture and objects, brands."
The new luxury
The rise of streetwear has come along with a shift in what younger generations think of as luxury and status symbols. In its 2017 report on the luxury market, the management consulting firm Bain & Company noted that high-end fashion brands are "investing in luxury streetwear" to attract younger shoppers. It estimated that the market for high-end sneakers grew 10% from 2016 to 2017, reaching €3.5 billion (about $4.2 billion), and t-shirts grew 25% to €2.5 billion (about $3 billion).
"We have seen strong growth in casual apparel, for example luxury t-shirts, sneakers and rubber slides," says Federica Levato, a partner at Bain & Company, in an email. "There are two factors driving this: firstly the trend of 'casualization' of the dress code in many companies that were traditionally more formal, and secondly the growing importance of millennials (Gen X, born 1980-1995) and Gen Z (born after 1995) as buyers of luxury goods."
For those young shoppers, a brand like Supreme can have just as much cachet as Louis Vuitton, which is probably part of the reason Louis Vuitton partnered with Supreme on a collection last year, and why Burberry teamed up with the Russian label Gosha Rubchinskiy.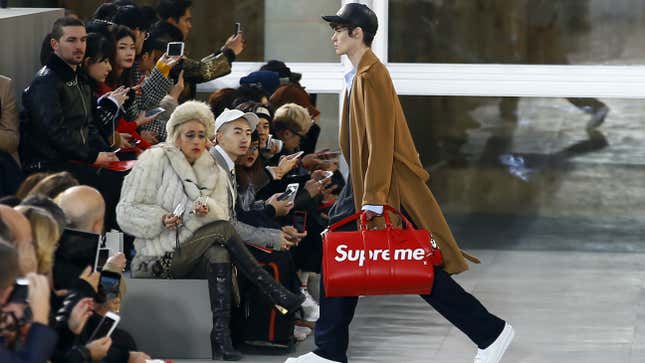 Recently, when Vogue asked five leading e-commerce sites, including Net-a-Porter and Matches, what their top sellers of 2017 were, Off-White was one of the most mentioned brands, alongside Balenciaga and Gucci. (Gucci logo tees, incidentally, were one of Gucci's big hits.)
These streetwear pieces don't necessarily have to be expensive to be desirable, though they often are. It's more important that they're rare and make a bold statement. In an interview with the Financial Times (paywall), Demna Gvasalia, the creative director of Balenciaga, explained how luxury products have changed. "The emphasis has gone from quality and craftsmanship into the uniqueness of the product," he said. "The younger generation are looking for something that stands out and makes them special rather than necessarily an amazing finish that you would find with some traditional brands."
Young shoppers are less likely to buy a $3,000 jacket these days, but many might spend $450 for the right t-shirt, the company's CEO, Cédric Charbit, noted in the same interview. Balenciaga likely had this shift in mind when it scooped up Gvasalia, who made his name creating off-kilter hoodies, bomber jackets, jeans, and t-shirts for Vetements.
A high price tag isn't the only way to ensure scarcity. Streetwear brands have pioneered a strategy (paywall) called "the drop," where they let new products trickle into stores in small quantities on a regular basis, rather than designing big seasonal collections that they release all at once. It's the reason that lines would snake through Harajuku when Bape and Undercover were still little-known labels, and why lines snake through Soho in New York City today, as kids wait for their chance to buy something from Supreme. That scarcity has fueled a massive secondary market for reselling these hyped streetwear pieces—one so sprawling that apps are springing up to capitalize on it.
Jebbia has suggested that ultimately he doesn't see his brand as different than Louis Vuitton or Uniqlo. "There's no tricks or gimmicks," he told the New York Times in a 2012 interview. "It's all about good product." Of course, that product isn't just a t-shirt, a hoodie, or a branded brick. It's an idea, and it's a culture.
Now the question is whether streetwear will survive as it grows from a niche category for those in the know to a massive, mainstream industry fueled by outsized hype and absurd resale prices. Or perhaps the better question to ask is, what will it evolve into next?
Correction: An earlier version of this article called The Hundreds a New York streetwear label instead of a Los Angeles streetwear label.