Just a decade ago, it would have been hard to imagine many 16-year-old guys waking up in the morning to obsess over high-end designer fashion news. But today, it's a growing—and lucrative—phenomenon.
"There's a whole new generation, a group of younger kids who discovered menswear and fashion strictly digitally," says Lawrence Schlossman, the new brand director of Grailed, an online marketplace where guys buy and sell clothes. "[Grailed] is their homepage, the first thing they check when they get up. It's a lifestyle."
Grailed is still relatively under-the-radar, but it's growing—quickly. Since its launch in Dec. 2013, the site has swelled to 150,000 active users from around the world, joining an often-overlooked, internet ecosystem of social media, online forums, and shopping sites for men. It also represents a new way that many young men are discovering and interacting with clothes.
Interest in men's clothing has taken off over the past decade. Rappers routinely name check European designer labels, and everyone from Kanye West to Antonio Banderas wants to get into the industry. "These kids see icons, the rappers and music artists, being more fashionable," Jake Metzger, Grailed's marketing director, tells Quartz. "These kids want to get into that game."
Most of Grailed's users are 16 to 35, but skew heavily toward the 16-to-24 group. Many—probably most—have discovered fashion not through print magazines, but through social networks, style blogs, and clothing and sneaker forums, such as Styleforum and Superfuture. Trafficked by some fashion professionals and lots of amateurs from all over the world who love talking about shoes and clothes, these forums can be highly influential. As Eugene Rabkin, founder of the forum Stylezeitgest, noted in a piece for Business of Fashion, they "attract significant web traffic, are routinely read by industry insiders and can be powerful influencers of purchasing behaviour."
They're also what gave rise to Grailed, says Arun Gupta, Grailed's 27-year-old founder, who found his success by creating a single marketplace with a better interface than the forum markets. (He also messaged forum members directly, which actually got him banned from Styleforum for violating its advertising policy.) The internet menswear community quickly created a thriving market full of items from hyped high-end brands such as Saint Laurent and Rick Owens, streetwear from labels Supreme and A Bathing Ape (often called Bape), and plenty of sneakers by Nike and Adidas.
Grailed's marketplaces, which have the advantage of being free while eBay charges a 10% fee for sales, have become a place for guys to buy and sell all sorts of designer menswear, from past seasons to the present and ranging from mainstream labels to the most obscure. They've also become a place for guys first getting into designer clothes to buy in at a discount.
Right now there are 75,000 listings on the site, mostly for designer menswear. A brief scan of the site on any given day shows countless items priced at a few hundred dollars. One listing stands out: Earlier this month, Vogue wrote incredulously about a $20,000 Grailed listing for three rare and highly sought-after parkas by designer Raf Simons, exactly the sort of "grails" the site is named for.
Whether they sell at that price is another matter, but Gupta says 40% to 50% of items sell within a month of being posted.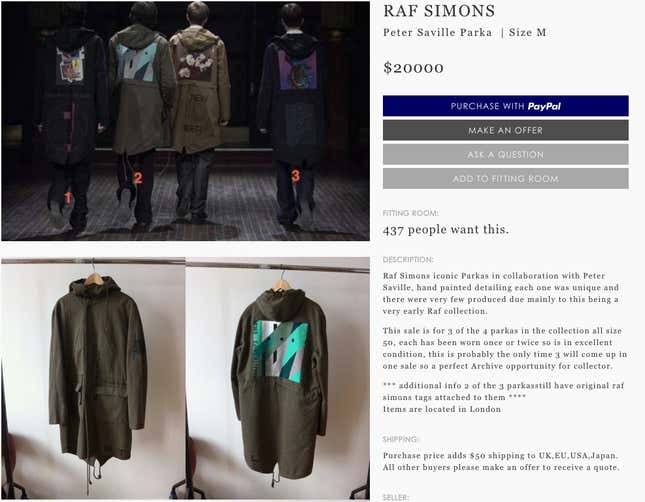 Ebay remains vastly larger than Grailed and the forum marketplaces. Sales of used menswear on the site increased about 73% from 2011 to 2015, reaching 5.7 million items. It's also still a major resource for guys looking to buy used. David Casavant, the 25-year-old stylist who's become known for lending rare Helmut Lang and Raf Simons pieces to celebrities such as Rihanna and Kanye West, got his start scouring the site. (Schlossman says Casavant now shops on Grailed, too.)
But Grailed's growth has been impressive. Ebay tells Quartz that it averaged 75,000 listings per month last year of pre-owned menswear, not including footwear. Grailed, meanwhile, says members are listing 30,000 items every month. The figure also includes footwear, which is a popular category, so it's still well behind in volume. Gupta says the number of listings is still rapidly rising though.
The company now has an office in Manhattan and nine employees—all young and wearing almost entirely black when Quartz visited—as it grows from an increasing volume of guys buying and selling clothes. It's at a point where it's looking to transition beyond its core community and become a place where casual consumers, such as the guy who might have otherwise gone to JCrew.com, go to shop as well.
Gupta declined to discuss their funding, and right now Grailed has no revenue stream. But he says that will have to change if the site keeps expanding at its current rate.
Schlossman's hire this past November is telling for Grailed's rapid upward trajectory. Once the creator of a popular menswear Tumblr page, and next editor-in-chief of the recently-shuttered Four Pins fashion site, Schlossman has shot from part of the internet community and into the larger fashion industry, much as Grailed would like to do.
"This is just the beginning," Gupta says. For the world of menswear on the internet, that certainly seems to be true.