Rap and hip-hop have long been obsessed with fashion as a status symbol. But in the 1980s and 1990s, the brands rappers focused on weren't quite like the ones they're obsessing over now. Back then, Dr. Dre was wearing baggy jeans and flannels by Cross Colours, the Notorious B.I.G. was rapping about puffy Fubu bubble jackets, and Tupac Shakur was showing up in oversized Karl Kani sweatpants.
Today, you have the rappers Meek Mill and A$AP Rocky rapping about Balmain or Ann Demeulemeester, and Kanye West wearing a floral-jacquard bomber by Haider Ackermann.
That contrast illustrates a big shift, not just for fashion in rap, but for "urbanwear." A once-powerful market, created predominantly by black Americans and reflecting hip-hop's tastes and culture, the aesthetic has declined into near oblivion in the last decade or so. Some of the labels still exist, including Cross Colours—the first major urbanwear brand—and Sean John (paywall), which was created by Sean Combs (Puff Daddy). But their cachet and sales have substantially fallen, while other labels have folded entirely. Ecko, which hit $500 million in sales in 2002, filed for bankruptcy last year.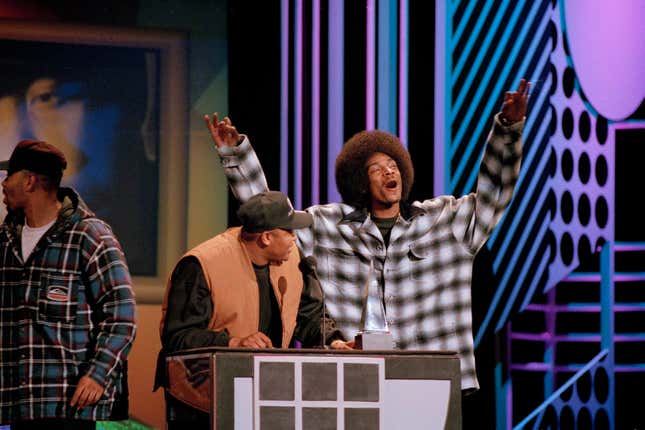 On stage and in hip-hop songs and videos, what's replaced urbanwear is mostly European labels, especially those known for innovative, boundary-pushing luxury fashion. It's probably no coincidence that it happened around the same time that men generally starting becoming more interested in fashion.
To use some recent pop culture as an example, the wardrobe for the just-released movie Straight Outta Compton, about the rise of rap group N.W.A. in the late 1980s, included custom-made pieces by Karl Kani, one of urbanwear's biggest brands, as well as lots of baggy jeans by Levi's. By contrast, on Fox's show, "Empire," the young rapper Hakeem Lyon (played by Bryshere Y. Gray), raised in the wealth his rapper father earned, wears clothes by Givenchy and Rick Owens. (Not surprisingly, his is the most expensive wardrobe on the show.)
References to fashion brands in rap lyrics have tracked accordingly. Rap Stats, which draws on a database of several hundred thousand songs, lets you chart how often a word or phrase is mentioned. Brands such as Gucci, Versace, and Louis Vuitton are perennially popular. But notably, as references to labels such as Fubu and Sean John have fallen, those to labels such as Margiela, Givenchy, and Balmain have gone up. This year all three got more mentions than Ralph Lauren.
In the recent documentary Fresh Dressed, director Sacha Jenkins follows the rise of urbanwear from its modest beginnings in the '80s to its peak in the 2000s. When rap was emerging in New York, a Harlem tailor named Dapper Dan was cutting up clothing by Louis Vuitton and other high-end labels to make custom pieces for rappers such as Run DMC. By 2004, Sean John was doing several hundred million in sales and won the award for best menswear from the Council of Fashion Designers of America (CFDA), bringing urbanwear into the realm of serious fashion.
But that was also about the time the market peaked. According to Jenkins's film, it was oversaturated. Too many brands were competing for space in the same department stores. Retailers started cutting back, and urbanwear lost its cachet.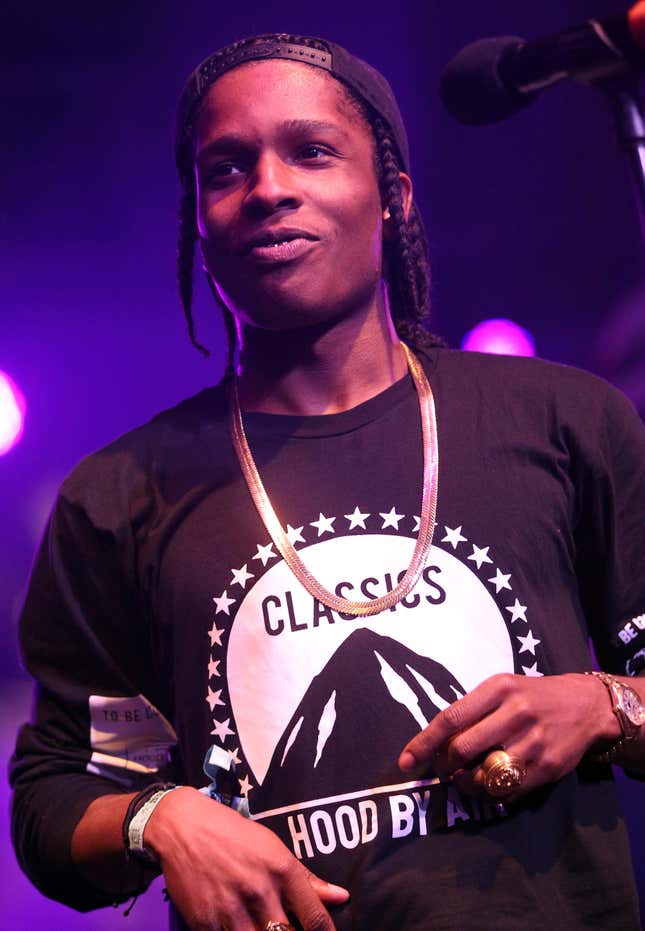 It's left its mark, though. The current crop of high-end, street-inspired sportswear brands, such as Hood By Air and Off-White, are basically urbanwear's descendants—with a marked luxury-fashion bent.
In fact, the guys behind New York label Public School are two of the most critically lauded designers in the US right now. They've won two awards from the CFDA, and earlier this year they were tapped as the new creative directors of DKNY. Before starting their much-admired label, however, Dao Yi Chow and Maxwell Osborne met while working for another brand: Sean John.