When the iconic French label Louis Vuitton—the "LV" in LVMH, the world's largest luxury conglomerate—showed its latest menswear collection in Paris today, fashion onlookers went absolutely bonkers. The show, as had been rumored beforehand, included a wide-ranging collaboration with Supreme, one of the godfathers of modern streetwear and its most influential force today.
Just a few years ago, the New York-based skate brand built on hoodies, t-shirts, and chinos would have seemed the furthest thing from high-end luxury. Louis Vuitton even sued the brand in 2000 for unauthorized use of its trademark. Yet in a bizarre role reversal, all over the Louis Vuitton runway today were clothes and accessories decorated with Supreme's red box logo, or the same hybrid of it and Louis Vuitton's famous mark that once got Supreme into trouble.
The collaboration came about after Michael Burke, CEO of Louis Vuitton, called up Kim Jones, the brand's menswear director since 2011, to ask if he knew of Supreme. Jones did, quite well. Today's result signaled that streetwear and high fashion, after years of friction and flirtation, were clearly on equal footing, and in fact, had audiences that significantly overlapped.
Streetwear was born out of California skate-and-surf culture, and morphed into elevated basics with lots of graphic logos in the hands of labels such as Japan's A Bathing Ape and Supreme, which founder James Jebbia opened in New York in 1994.
High fashion has cozied to it more and more over the last decade, and today the merging of the two is all over menswear. It's visible in what guys wear, including $800 hoodies and sweatpants, and also the men's fashion media that covers it, including successful sites such as Hypebeast, which had its IPO in Hong Kong last year, and Highsnobiety, a publisher and creative marketing agency.
"We think that's a realistic way for a man to dress today," said David Fischer, who founded Highsnobiety 11 years ago as a way to write about sneakers and streetwear, in a recent interview with Quartz. "The reality is high fashion has never been so inspired by streetwear as it is today, and vice versa. That play has always been our passion really: How these two worlds merge, and how they take inspiration from one another."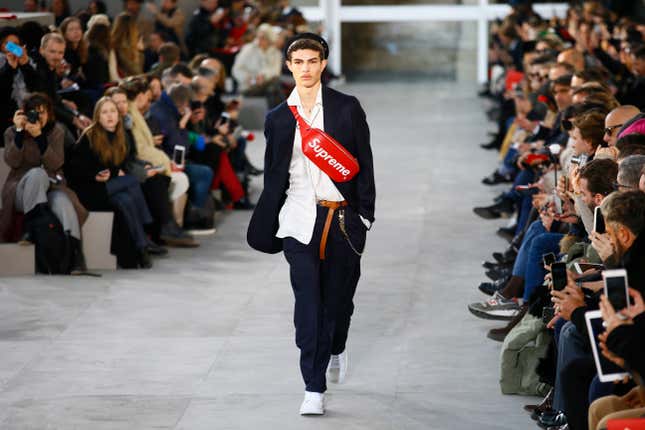 The site, which started as a blog, now gets about 8 million unique visitors a month, and around 500 million impressions across all its channels, including social media. Luxury brands, including those outside of fashion, approach it for guidance on campaigns that can connect them to Highsnobiety's mostly young, male audience. (Jeff Carvalho, a partner in Highsnobiety and the site's executive editor, arrived at the interview wearing sneakers from another Kim Jones collaboration, this one with Nike.)
What Supreme and A Bathing Ape possess, and have improbably maintained for more than a decade in a notoriously fickle industry, is an aura of no-fucks-given cool and an incredibly shrewd understanding of how to protect their brands. In certain ways they're arguably better at it than most big fashion labels, largely because of their ability to control supply and demand through their method of releasing products in frequent drops with limited quantities (paywall).
A culture of ravenous fans concerned as much with the hype around a product as the product itself, known hilariously as fuccbois, has sprung up as a result. Some even see Supreme's logo—itself a cheeky rip off of artist Barbara Kruger's work—as boosting Louis Vuitton's brand prestige, not the other way around.
"[Luxury brands] understand that they need to matter in our world," said Fischer, before the Louis Vuitton collaboration with Supreme had been announced. "And they even need to produce specific product for our world. That's how you get [Brooklyn artist] Gucci Ghost meeting Gucci, Coach doing something with a Hong Kong graphic designer, and [Louis Vuitton men's director] Kim Jones doing stuff with Nike. These things have really come together over the last decade."
They did at Louis Vuitton today, and the frenzy around the products—which are far from cheap—is already starting.