For more than a century, Levi's 501s, the original blue jeans that launched the company in 1890, have only been made in one kind of denim—thick-woven "shrink-to-fit" cotton, dyed an indigo that fades and softens the fabric with each wash.
Last week, that changed. "For the first time in its 143-year history," the company said in a press release, "the 501® and 501® CT jeans are getting the stretch treatment."
For denim purists, this is practically an outrage. "If raw denim [is] a double IPA," a writer at Men's Journal half-jokingly declared, "then stretch denim is a fucking shandy."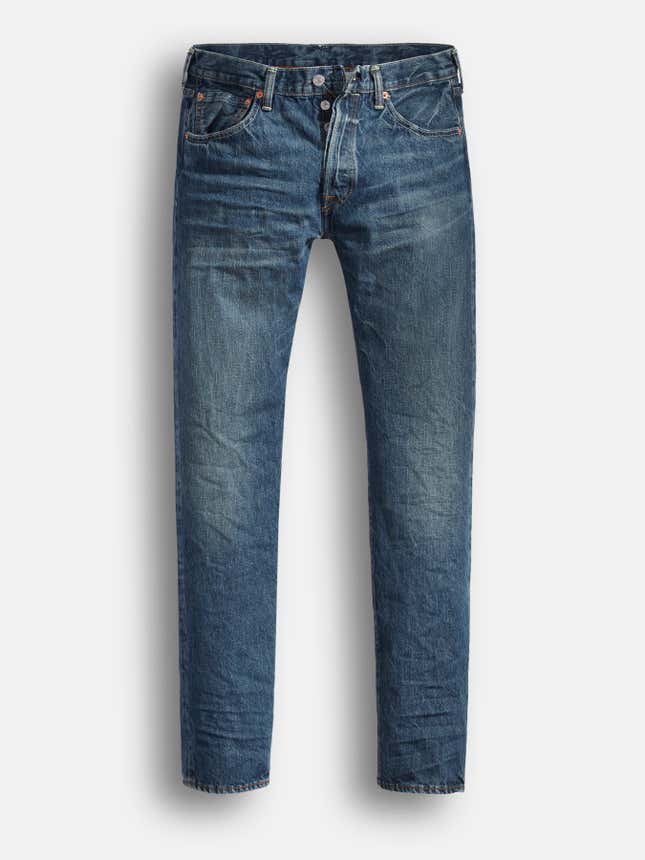 The goal is for the stretch to be "invisible" to the average person handling a pair of 501s, according to Jonathan Cheung, Levi's SVP of global design. It's only when you try them on that you'll feel the difference, he asserts.
Still, it's a momentous event. Stretch—associated with miniskirts, yoga pants, and leggings—is antithetical to the very essence of what denim historically is: a tough, durable, working material.
Symbolically—not just for Levi's' business—the move signals something bigger. Jeans, the quintessential American garment, and perhaps the most ubiquitous item of clothing in the world, are evolving under the influence of numerous forces.
Consumers are looking to options that are more comfortable, that fit better with their active lifestyles, that take advantage of the performance benefits offered by the latest synthetics. Lee Jeans, another heritage denim brand with a century-long history, just announced a "brand refresh" that seeks to recast jeans as something you can move around in. "We know people are living a life in motion and need clothing that moves with them—stylishly, comfortably and easily," Kim Yates, Lee's vice president of marketing, said in a statement.
And wearing jeans doesn't mean what it used to: First the clothes of workers and cowboys, then the uniform of outlaws, jeans have lately become respectable. They are office and church attire now, worn publicly by presidents and tech company CEOs.
On a global scale, sales of jeans are still on the rise, lifted by growing middle classes in countries such as China. But in some of their longtime bastions and biggest markets—ones that have also tended to lead global clothing trends—they have been ceding ground. In Western Europe, sales of jeans fell almost 10%, according to data from the research firm Euromonitor. And in the US, where blue jeans originated, they dropped more than 16%.
Jeans are not going to disappear anytime in the foreseeable future, but they are under pressure, so they're changing. They're getting softer, stretchier, and more versatile—smoothed by the forces that have shaped American clothes for a hundred years.
Sporty athleisure catches up
Levi Strauss & Co., which invented the riveted design that served as the blueprint for modern blue jeans, remains the world's biggest denim company. Levi's has had its ups and downs, but recently some of the shine has undeniably worn off the brand. In 2015, sales fell to about $4.5 billion, down more than 5% compared to the previous year—and far below their level of around $7 billion in 1996.
Levi's attributed part of the recent drop (pdf) to competition from "vertically-integrated specialty stores, fast-fashion retail, and ecommerce shopping," as well as customers looking for cheaper options.
But the elephant in the room, the unnamed threat that looms over denim's dominance, is a growing category called athleisure. Active, stretchy bottoms, such as yoga pants and sweats, have been eating into the profits of more rigid clothing. According to data from the research firm NPD Group reported by Bloomberg, sales of athletic pants caught up to jeans in the US for the first time in 2014, driven largely by consumers' desire for comfort.
"Really athleisure was an acknowledgment of comfort and casualization in contemporary style, connected to a lifestyle of sport," says James Curleigh, Levi's brand president.
Levi's, he freely admits, is not a sport brand. But the company has been experimenting with stretch in its other lines for some time now. Its 700 series for women, for example, makes liberal use of stretch denim, and a couple years ago Levi's introduced the 541 athletic fit, for guys with a muscular build who want to be able to move a little easier in their jeans.
Though Levi's works hard to create finishes resembling worn-in cotton, using tools including lasers, more than 60% of its jeans now use stretch fabric. It's become common throughout denim, even among heritage brands. Lee, for instance, boasts that it was "one of the first brands to embrace stretch and has now brought stretch fits to men."
There are still non-stretchy Levi's lines, Curleigh says, pointing out that one of the brand's most popular styles right now, the mom-inspired Wedgie Jean, comes in 100% cotton denim. "We believe the pure essence and heritage and iconic status of Levi's is in our DNA and it is cotton and it is denim material," he says. "We will continue to stand for that. But I think we also have an obligation to innovate around comfort and style and solutions beyond."
But even so, a stretchy 501 stands in stark contrast with the first blue jeans—and that is exactly the point: "You are taking a fabric that is fundamentally meant to be rigid, stiff, durable, and you're making it into something completely opposite," says Emma McClendon, an assistant curator at the Museum at Fashion Institute of Technology and author of Denim: Fashion's Frontier.
Not just for casual Fridays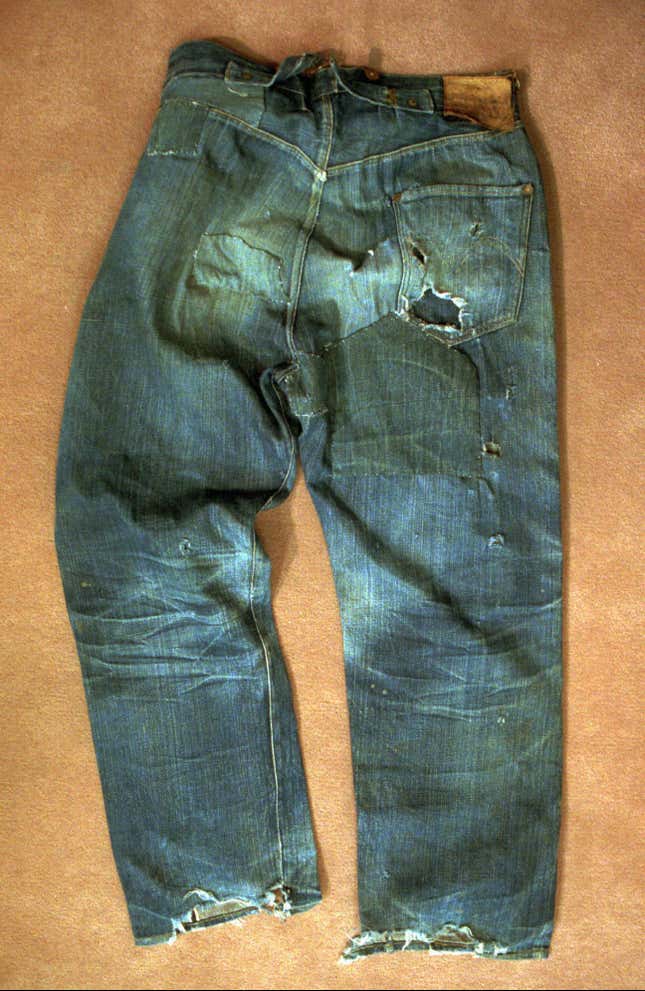 That change reflects an ongoing shift in the role jeans play in American closets.
First patented in 1873 by Levi Strauss, a Bavarian-born dry goods merchant in San Francisco, and a tailor named Jacob Davis, riveted blue jeans became a quick hit with working men.
Over the years, they took on a new cultural meaning, as the preferred attire of rebels in the 1950s—who first brought our idea of "cool" into the mainstream—and then as part of the wardrobe of the counterculture movement in the US. Levi's, in particular, were at Woodstock in 1969. They were photographed for the cover of the Rolling Stones 1971 album "Sticky Fingers," and again for Bruce Springstein's 1984 record "Born in the U.S.A." Many of the protesters who took down the Berlin Wall in 1989 did it in Levi's, and Kurt Cobain wore his grungy Levi's during Nirvana's success in the early 1990s.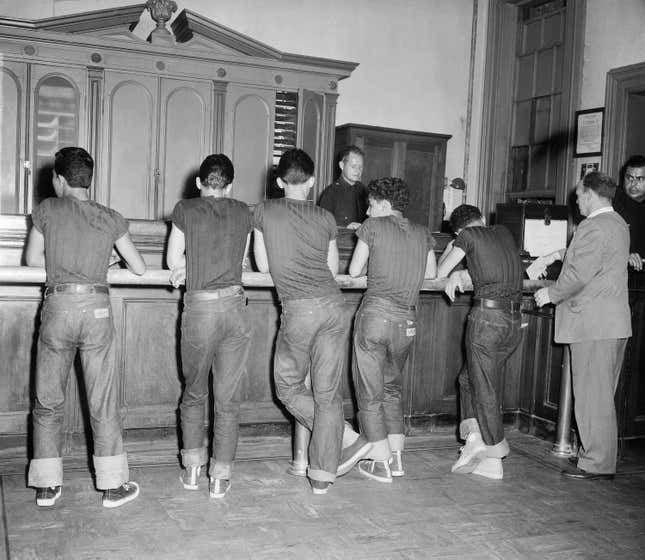 But jeans steadily became more respectable as mainstream culture adopted them, and more widely accepted as dress codes in the US continued to break down. Along the way, they softened in response to consumers who no longer needed them for work—or rather, they needed them for a different kind of work.
Once the uniform of miners, in the 1990s jeans became the uniform of the tech economy. Apple founder Steve Jobs made jeans appropriate for the office in Silicon Valley and beyond, appearing in them regularly with his signature black turtleneck.
"With the first dot-com explosion, you see the first wave of a more casual office dress code," McClendon explains. It may be hard for millennials to imagine, but until not too long ago jeans were unsuitable for work. "It used to be that there was no way you could wear jeans unless you were talking about a casual Friday," says McClendon. "I definitely do think it is right to say that jeans have crossed a threshold."
The 1990s also saw the birth of luxury denim, which flips the original intent of jeans on its head. Tom Ford's spring 1999 collection for Gucci, for instance, included a pair of feather-trimmed, embroidered jeans that carried a price tag of $3,000. They sold out, and helped usher in an era of high-end denim where a $200 price tag was normal. It changed jeans' place in the American wardrobe and gave them a new cachet.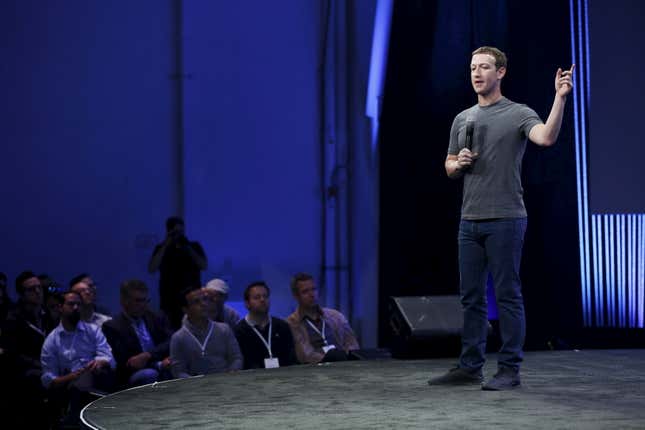 Facebook founder Mark Zuckerberg still famously wears a "uniform" of jeans, gray t-shirts, and hoodies, while Jack Dorsey of Twitter and Square has a preference for designer Rick Owens, who sells luxe drawstring pants for $550.
Jeans continue to be part of the casual uniform, but society hasn't stopped changing. Fitness is an increasingly social activity, for instance, and it's putting new demands on casual clothes. Though in reality, the demands aren't all that new.
The stretch revolution
The story of jeans is also the story of a century-long trend in clothing in the US. Spurred on by demographic shifts, Americans have been relentlessly dressing down and opting to live in the most comfortable, casual clothes they can.
"The casualization of dress is directly tied to the rise of the middle class as sort of the defining class of the United States," says Deirdre Clemente, a historian and expert on the dressing down of US society. "Everyone thinks they're middle class. That's how we envision our country as a democracy, and casual dress provided sort of a uniform for that democracy."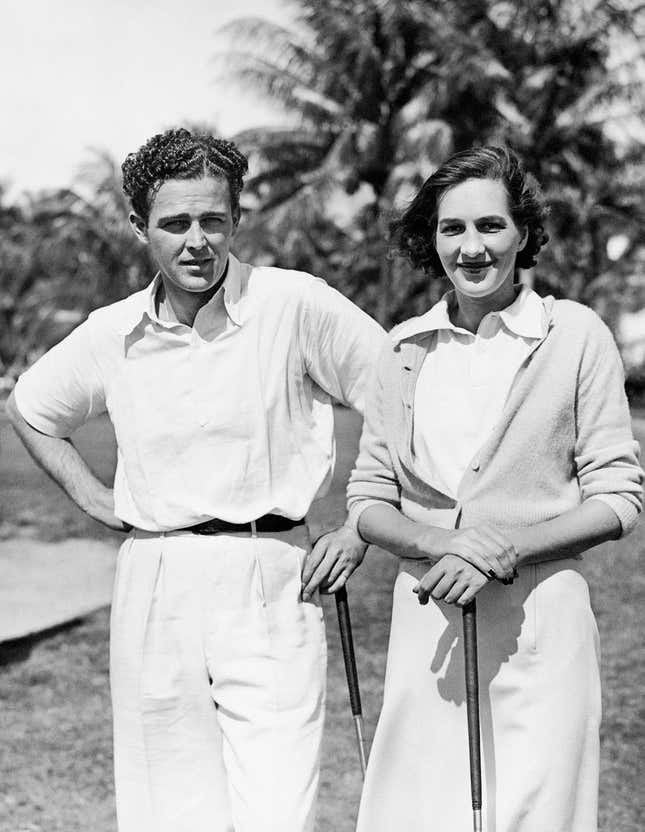 According to Clemente, the dressing down of US society began much earlier than most people believe. The 1960s often get the credit, but she says the process started just after 1900 with the arrival of sportswear as part of the everyday wardrobe. The US was changing as incomes rose, and Americans wanted clothes that reflected their new lifestyles. At the same time, clothes were losing their "specificity," as Clemente puts it, as either day or evening wear.
Sportswear introduced separates that could be mixed and matched, and importantly, it was designed for leisure activities (paywall)—including the "sports" part of "sportswear." For the first time, qualities such as comfort and freedom of movement became top priorities. It created the perfect opportunity for stretch to invade the American wardrobe.
In 1939, DuPont chemical company had an instant hit when it put nylon, the first true synthetic fiber, on the market, and it saw a chance to sell new fibers that fit this new lifestyle. In the years that followed, it introduced Orlon acrylic and Dacron polyester, and engaged in a highly successful campaign to sell synthetics to America, as business historian Regina Lee Blaszczyk described in a detailed 2006 study.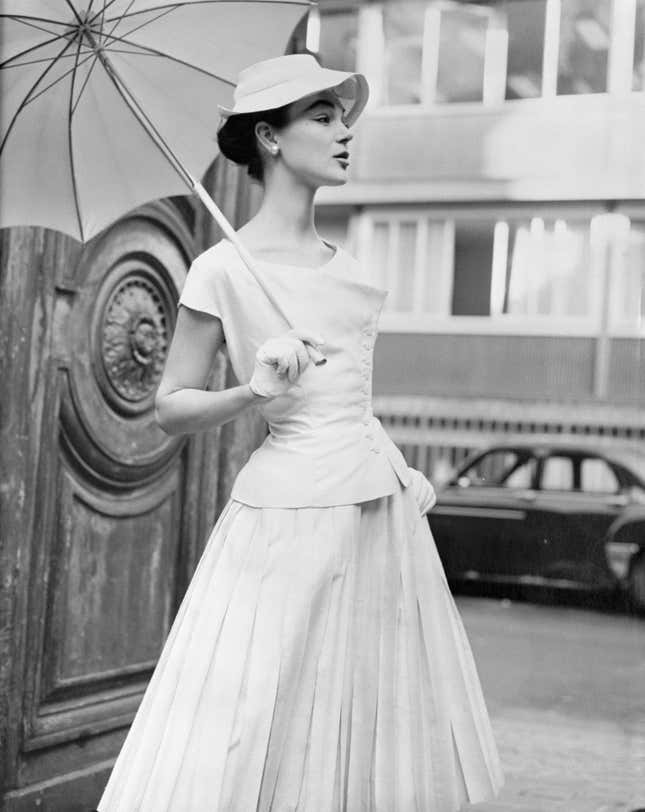 Manufacturers by then were making great strides blending man-made fibers with natural ones to create textiles that had the look and feel of traditional materials, which was important for consumers embracing them, yet with the benefits of these new materials. It set the stage for stretch to take hold in the American closet.
"If the synthetic-blend concept was born in the 1950s," Blaszczyk writes, "it took off with stretch fabrics made from Lycra spandex in the 1960s."
Stretch materials were seen as comfortable, versatile, and ideal for the lifestyle of the middle class. Italian designer Emilio Pucci predicted in 1961 that not only would stretch fabrics "revolutionize our clothes, but our whole sense of living." He foresaw "an end to dressing in things rigid."
DuPont made a fortune. According to Blaszczyk, total sales grew from $648.7 million in 1946 to $3.6 billion in 1970. "By the end of the sixties, fibers accounted for a third of these sales and 40 percent of DuPont's $356 million in profits," she writes. "As it broached the fabrics and fashion arenas, the firm tied synthetics' rising star to the democratization of consumption."
Use of synthetics isn't slowing today. Tecnon Orbichem, a research firm serving the chemical industry, forecasts that polyester production, for instance, will continue to grow in the decade to come, while cotton and wool will lag behind. Because synthetics aren't biodegradable and shed polluting microfibers when washed, the consequences for the environment could be significant.
Jeans as formalwear
The trend toward more casual, comfortable dress is still going, moving jeans up the scale of formality and creating room for more competition at the casual end.
Active bottoms such as yoga pants and sweatpants that were previously restricted to the gym are now common as everyday clothing. It's causing a decline in the cotton market. They arguably even have some of the cool factor that jeans have lost—because they remain inappropriate for many offices or church.
"I think what's interesting is with all of this stretch, it's just representative of this notion of comfort being the driving force in what consumers want and how they're picking their clothing," says McClendon. "It's really a shift that's had effects across the industry, but jeans I think are just the most visible."
There's little to suggest that this trend will reverse. By 2020, 40% of American workers are expected to be freelancers, many of whom will work from home and likely spend the day in soft, comfortable clothes. Meanwhile, many young kids insist on soft, unrestrictive styles, and are practically treating jeans as formalwear.
Americans, in short, keep finding new ways to dress down. Some might rail against the unrepentant slovenliness of wearing sweats and yoga pants all day, but in fact, it's a longstanding trait of US society, one that led to both the rise of jeans and now activewear.
The future
Even if there is some backlash to the idea, stretch materials in jeans—and other garments—will in all likelihood keep increasing, as Levi's stretchy new 501s suggest. Jeggings, the pinnacle of stretch denim, have been hugely popular since 2010. Synthetics can account for 40% of the fabric in a typical pair.
In an August advisory to clients on the denim market, Deutsche Bank noted that about 46% of the women's jeans styles available online at American Eagle Outfitters were jeggings, far outnumbering any other type.
Retailers have lamented the persistence of the skinny jean, since it has kept shoppers from buying new denim styles. But one reason it may be hanging around is that it has stealthily transformed jeans into a more comfortable option.
Textile companies, meanwhile, have engineered synthetics to be lighter, stronger, water-resistant, breathable, sweat-wicking, soft to the touch, and easy to clean. They've also gotten cheaper to make. Wool still has outstanding performance qualities, but high-quality wool is expensive. Cotton is comfortable, but it doesn't react well when it gets wet.
As denim makers look to the future, and seek to gain an edge over their activewear competition, they're looking past stretch to these qualities too. Skate brand Volcom is producing a new line of sweat-wicking jeans. Levi's "commuter" jeans are designed so you can ride your bike to work without needing a wardrobe change when you get there. They're flexible, but also water and dirt repellant.
The next stage is even smarter fabrics. Project Jacquard is a collaboration between Levi's and Google. By weaving conductive yarns directly into the fabric, it enables denim to respond to touch and gestures like your smartphone screen. At Levi's they call it "the copilot," Curleigh say, because it's "centered around helping you to navigate your life." In theory, if you were riding your bike while wearing a jacket made of the fabric, you could change the song you're listening to and get directions simply by swiping your sleeve. The interactive denim is in final beta testing now, Curleigh says, and Levi's is looking to launch its first product with the fabric in 2017.
As jeans adapt to consumer demand, shoppers appear to be responding, at least for the moment. According to NPD, sales of jeans in the US increased through the year ending in June due to a renewed focus on comfort and fit, marking their first rise in years.
But the battle is far from over. Curleigh, while optimistic, knows success isn't a given. "The original innovation on the 501 was the rivet," he says. "And imagine this: that patent expired in 1898. So we've had to work hard for the last 120 years just to stay relevant."
He believes the company's greatest asset is its history of being at the "center of culture," and that authenticity combined with Levi's focus on the future will secure its place in shoppers' closets. "What we appreciate and what we've been able to leverage is that, certainly for women, we put her in a pair of high-stretch skinny jeans with innovative materials that look great, that gives her versatility beyond just a pair of yoga pants," he says. "And versatility plus authenticity means we can leverage denim for women literally around the world."
Even as jeans and activewear compete, they're carried along by the currents that have shaped American clothing for a century. They're responding to the same pressures as the nature of work changes in the US. Both are finding ways to be more versatile, more expressive of individual style, and more culturally relevant. They are vying to be the comfortable, casual core of the average American wardrobe.