On Jan. 19, Drake released the hypnotic "God's Plan," the first single from his forthcoming album Scorpion. By Jan. 21, it was the most-streamed song on Spotify across the world. "God's Plan" would go on to be played over 1.1 billion times on the streaming site. It was the start of a remarkable 2018 run of dominance for a pop artist.
Drake's song would top Spotify's streaming charts on 158 days—over 43% of the year. In addition to the "God's Plan," the brilliant New Orleans bounce-inspired "Nice for What" and "In My Feelings" both spent considerable time atop the chart. (The latter of which was aided by the one of 2018s biggest memes.)
With these hits, Drake became the top singles-selling artist ever, according to the Recording Industry Association of America.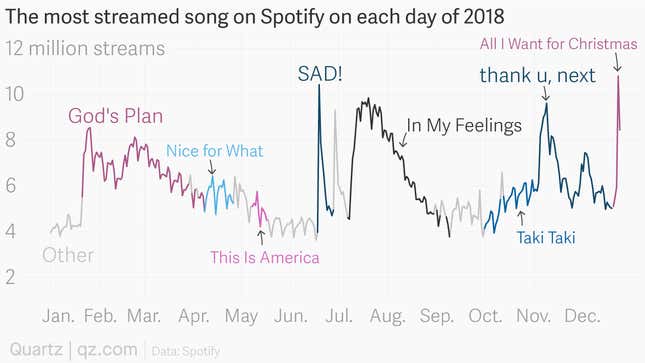 Post Malone and Ariana Grande followed Drake in terms of days with the most-streamed songs. Yet even if you add up the second through fifth artists on the list, it still wouldn't equal Drake's days at number one.
"My Mount Rushmore is me with four different expressions," Drake raps on "Scorpion." In 2018 pop terms, his bragging is well deserved.