I was not expecting to like my air fryer. I definitely was not expecting it to become something I use all the time. And the thought that it might make eating vegetables easier to prepare and more appealing to my entire family didn't even cross my mind.
But here we are. I like. I use it several times a week. And it's great at cooking vegetables.
Air fryers, despite their name, do not really fry anything. They are essentially tiny convection ovens. Hot dry air circulates around your food, crisping the outside into well-browned deliciousness. Broccoli, cauliflower, sweet potatoes, corn—anything you can imagine tossing in olive oil, salt and pepper, putting on a baking tray and then roasting in a very hot oven, can be made in the air fryer.
Why use this contraption to perform a job that can be done in an oven? Because it's simpler to cook, and often better tasting. With my electric stove, I find that that roasting vegetables at 400° F or 450° always produces at least some smoke, and that the baking sheet emerges sticky, hard to clean, perilously hot, and difficult to make room for on the counter. None of these problems exist with the air fryer.
The convection heat, and the wire basket the vegetables sit in when air fried, helps to remove moisture, making it much easier to roast frozen vegetables, which tend to be cheaper and often better quality than much of the fresh produce we get in the northeast United States, where I live, during the winter and spring months. In a regular oven they defrost and steam, and often end up soggy. This gadget is so good at crisping veg that Helen Rosner, writing for The New Yorker, even came up with an air fryer recipe for okra that blasts away its notorious sliminess.
Roasted vegetables make a great side dish, and are great to have on hand to throw into a frittata, or a farro salad, or an irresistible broccoli sandwich. Even kids find them approachable because they're bite-sized and dippable (tahini sauce or mayonnaise with a little lime juice and zest are the go-tos in my house).
I've developed a rotation of tasty, vegetable-based, and incredibly simple weeknight dishes that would take much longer to pull together without the air fryer: A bag of frozen corn, an avocado, cilantro, and a lime becomes a summery roasted corn salad in the space of 12 minutes. A bag of frozen broccoli is brought to charred deliciousness in about 15 minutes. A sweet potato dusted with smoked paprika becomes a vegetarian taco filling or grain bowl topping in less than 20 minutes.
It's also great for salad add-ons: Nuts toast in two or three minutes, and since the air fryer turns off automatically, you're never in danger of burning them to a crisp as I do about every third time I brown them in a pan or in the oven. A salad topped with warm toasted nuts is twice as satisfying as one without. The air fryer is your vegetable-consumption enabler.
Air fryer roasted vegetable master template
Read on for specific recipes, but here's your basic formula: Take your bag of vegetables (frozen is fine) and empty it into a bowl. If you're cooking something larger, such as sweet potatoes or winter squash, peel and then chop into bite-sized pieces. Drizzle two or three tablespoons of olive oil (or your favorite oil) on top and toss to evenly coat. Add a pinch of salt, and then whatever spices sound good—black pepper, sumac, five-spice powder, smoked paprika, cayenne pepper. You can also add half a thinly sliced red onion, or cloves of garlic that you've crushed and then peeled, but add a little more oil if you do this.
Put your mixture in the air fryer, following the manufacturer's instructions, and set it to 375° for 10 minutes. You're going to need more time than that, but it's a good start, and will remind you to shake your vegetables so they get evenly browned, caramelized on the outside and soft inside.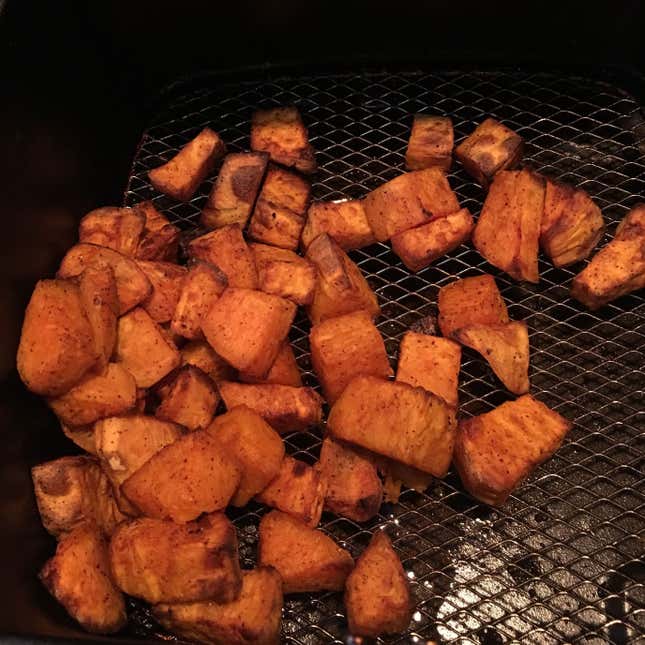 Corn will be somewhere between 10 and 12 minutes, depending on how brown you like the kernels, and broccoli and cauliflower around 12-17. Sweet potatoes, depending on how big the pieces are, may take up to 20 minutes. As you become familiar with your machine, check every few minutes after the first 10 minutes, to figure out the best timings for vegetables that suit your tastes.
Air fryer corn salad recipe
Empty a 12-ounce bag of frozen corn into a medium sized mixing bowl. Drizzle with two tablespoons olive oil and toss to coat evenly. Add a pinch of salt and half teaspoon each of smoked paprika and cayenne pepper. Toss again. Put in the air fryer basket at 375° for 12 minutes, checking halfway through to shake the basket and make sure it's browning evenly, and then every couple minutes at the end, adding time if you like your corn more charred. In a serving bowl, toss the corn with a diced avocado, a handful of chopped cilantro, the juice of half a lime, and salt to taste. It's great as a side dish, and even better topped with leftover chicken or carnitas from taco night for lunch.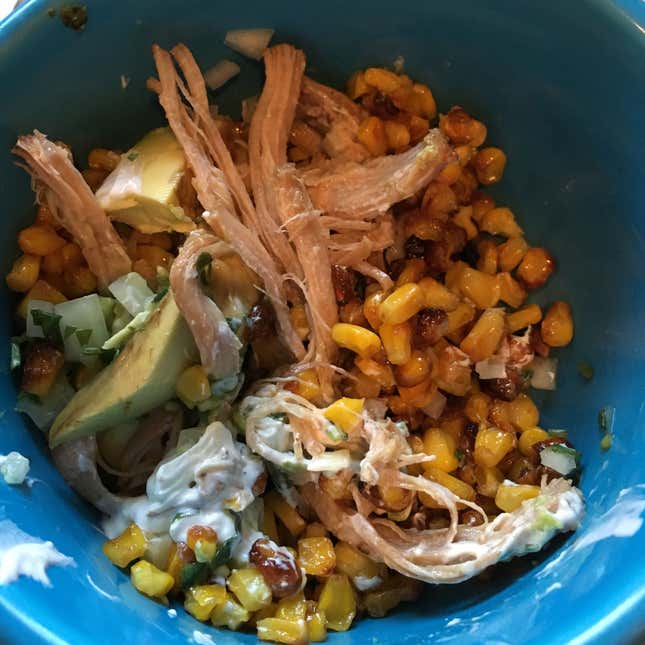 Perfectly charred broccoli
A little sweet, a little crunchy, with a slightly bitter, mustardy kick, this is one of my favorite ways to cook broccoli. How charred is up to you, and it's easy to control with the air fryer. I do this with a one-pound bag of frozen florets, but you can chop up a head of broccoli, too (even the stems are delicious roasted in the air fryer). Toss your pound of broccoli with three to four tablespoons olive oil, a generous dusting of salt and pepper, and four crushed garlic cloves. Toss well and put in the air fryer at 400° for 10 minutes. At the 10-minute mark really shake the basket well—the volume will have reduced quite a bit—then set for another 10 minutes at the same temp. Check and shake every few minutes and remove from heat when the char looks optimal. Finish with lemon and flaky salt if you want, or just devour.