Adidas is enlisting some new partners in its ongoing effort to upend the economics of sneaker production with its automated, super-fast "Speedfactories" in the US and Germany.
The athletic brand has teamed up with the sneaker retailer Foot Locker, and together the companies will seek input from consumers at different "cultural events and sport moments" throughout the year to quickly create batches of "consumer-inspired" sneakers. The companies will bring in select young designers and consumers for "intimate" design sessions to co-create some of the new shoes, an Adidas spokesperson said.
The forthcoming lots of sneakers will be part of Adidas's AM4 line—as in "Adidas made for"—which have so far been mostly tailored to the specific needs of running communities in various cities. The goal is to let local communities in on the creative process to make "hyperlocal" products, and Adidas says that because it is producing the shoes in its Atlanta Speedfactory, which was designed around digitized processes and automation, it will be able to deliver them "up to 36 times faster than standard industry production times."
The project kicks off this month with the AM4ATL (Adidas made for Atlanta) shoes and football cleats, which will go on sale Jan. 28 at Adidas and Foot Locker websites, including those of Foot Locker subsidiaries, as well as in select Atlanta-area Foot Locker and Champs Sports stores. The goal is to make the shoes from the new program available in key markets around the world too, the Adidas spokesperson said. Quantities available for each will vary.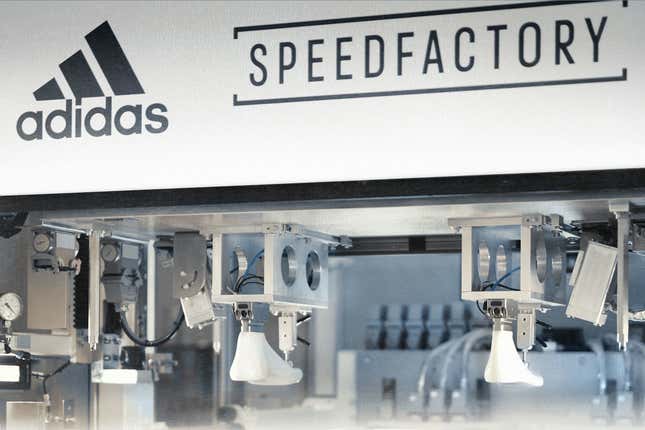 The standard production process for a pair of sneakers tends to be 12 to 18 months from idea to a finished product on a store shelf, since prototyping with physical samples can be slow, and the components in a sneaker are typically made at different specialized factories around Asia before being assembled. And then, of course, there's still shipping. With its Speedfactories, Adidas designs digitally, and concentrates most of the production process within the one facility, which tends to be located close to the final consumer market, providing a big advantage (paywall) by making Adidas far more nimble in responding to consumer demand.
The AM4 shoes, designed specifically to be produced at Speedfactory, aren't exactly starting from scratch each time. The other AM4 shoes have so far shared the same silhouette, and if the AM4ATL is any indication, these new sneakers are likely to as well (except for the cleats of course). The most outwardly noticeable differences tend to be aesthetic differences such as the color combinations used. But the shoes are meant to perform differently, too. Adidas fuses specially designed patches on the shoe upper in different combinations, for instance, to strategically alter the stretch characteristics of the knit material.
Whether or not customers will be impressed is yet to be determined. For Adidas, though, it's another step in how the company is using its Speedfactories to shape its business. Now it has Foot Locker on board too.