Seltzer is simple. In its purest form, it's just carbonated water. Some consumers may have an appetite for slightly adventurous flavors, like La Croix's pamplemousse, while others may even be drawn to Polar Seltzer's Instagram-ready limited edition options like Yeti Mischief and Unicorn Kisses. But in the end, it's all just water and flavoring.
Now that's beginning to change. A new crop of beverages that could be called seltzers with benefits promise more than just refreshment. Sparkling water enhanced with CBD has been trickling into the market since last summer. Anheuser-Busch will remind the US that "spiked seltzer" is a thing with Super Bowl ad next weekend. And yes, THC-infused, hop-flavored seltzer is on the way to the market, at least in California.
Arguably, bubbles improve almost any beverage. But these seltzers are even more ambitious. They aim to calm us down, pep us up, and get us drunk.
CBD seltzers come in flavors like Pom Hibiscus and Sweetgrass. Several incorporate adaptogens, another buzzy wellness concept that refers to herbs that purportedly help relieve stress. (From a scientific perspective, studies on the benefits of adaptogens are, as Vox's Cheryl Wischhover puts it, "conclusively inconclusive.")
"A can of Recess—which contains 10 mg of cannabidiol from full-spectrum hemp extract—simultaneously relaxes my body and gives me this low-key productivity buzz," writes Annie Daly on Bon Appetit, about Recess, a popular CBD seltzer that comes in a soothing, peachy-pink can. "I'm able to peacefully get my work done without checking Instagram every two seconds or taking a Very Important quiz to find out what my Zodiac sign reveals about what type of sandwich I am."
Other samplers have wondered about the placebo effect. "The thing about CBD is, as most people who have tried any sort of CBD product know, it's sometimes hard to really put a finger on actual visible benefits, especially when you are trying to gauge your emotional response," Rebecca Deczynski writes for Domino. "Was it my act of recognizing a need for stress relief and grabbing a seltzer to meet that need the cause for my moment of calm or was it the actual seltzer itself?"
Studies suggest that CBD targets proteins in the brain and nervous system that can affect pain, nausea, and anxiety.  My colleague Jenni Avins reports that "CBD may benefit our bones and immune systems and work broadly throughout the body as an anti-inflammatory and antioxidant, which may help protect cells from damages associated with neurodegenerative diseases," as well.
For a slightly stronger cannabis flavor, the California-based brewer Lagunitas has developed Hi-Fi Hops, a hops-infused seltzer in two different formulas, one with 5mg each CBD and THC, and another with 10mg THC. (CBD and THC are two different cannabinoids, compounds that naturally occur in marijuana. They both affect the brain, but in different ways—THC is famous for getting us high, while CBD is becoming famous for making us both more focused and more chill.) For obvious reasons, it's only available in California at the moment. Hi-Fi is supposed to taste like hops, but get you buzzed like an edible—the perfect solution for when a cannabis connoisseur ends up at an artisan beer party, sounds like.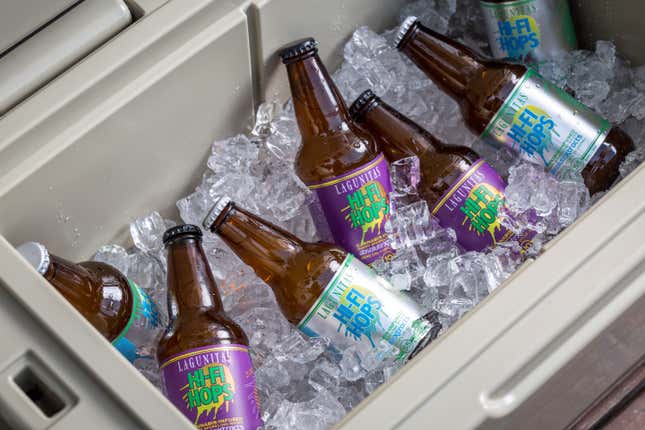 The effects of spiked seltzer are a bit simpler to gauge. Bon & Viv, the brand that plans to relaunch its new lower calorie, sugar-free formula via a Super Bowl ad starring mermaids, has 90 calories and clocks in at 4.5% alcohol, a tad higher than your average beer. Boston Beer Company has been selling Truly Spiked & Sparkling, which has 100 calories, since 2016. This is a modern version of Zima, in 2019-appropriate flavors like Pear Elderflower and Grapefruit Pomelo.
Spiked seltzer is like a vodka soda—long the beverage of choice for drinkers who are counting calories—with a nod toward both La Croix craze and the spritzer trend. And Bon & Viv even comes in an on-trend can.